Spotlight on: Medical Manufacturing Industry
NIKKEN have benefited from a long-standing partnership with the Medical Industry, taking pride in contributing our latest innovative solutions to manufacture the tools that
ensure
the wellbeing of others.
Given the current climate, our engineers have been working harder than ever to support the supply chain in manufacturing a whole range of medical equipment including life-saving breathing apparatus.
Complex Components
Due to the varied nature of medical devices and implants, machining these critical components often requires a solution that allows for efficient multi-sided machining despite restricted access. With the process demands and accuracy required being absolutely second to none, many of our solutions are specifically selected for the precise machining of orthopaedic and dental implants, where tight tolerances and incredibly smooth surfaces are of the highest importance.
A common set-up provided by NIKKEN for machining such parts often includes the incorporation of a work-holding solution to increase machine capabilities. Combining one of our 5-axis Rotary Tables with such a solution can create versatility, high positioning accuracy and scope for hard-to-reach areas. In particular, our 5AX-100 and 5AX-130 have proven a popular choice, due to their lightweight and powerful clamping with air hydro unit, ensuring complete rigidity and a smooth surface finish.
Application Study: Kirkstall Precision
Kirkstall Precision recently received their highest ever bulk order on hip cup impactors. Due to the complexity of the components, quality and functionality were of the highest importance. This led to them using a NIKKEN 5AX CNC Rotary Table with Triag work holding, ensuring a high standard of accuracy with a quick turnaround.
This was one of three NIKKEN Rotary Table investments by Kirkstall. Encouraged by the durability and high standard of the NIKKEN brand and having suffered reliability problems with the competitor's unit, Kirkstall went on to invest in two more NIKKEN 5AX-201 tables in the space of 6 months, including an additional investment for x 3 Triag vices to compliment the NIKKEN setup.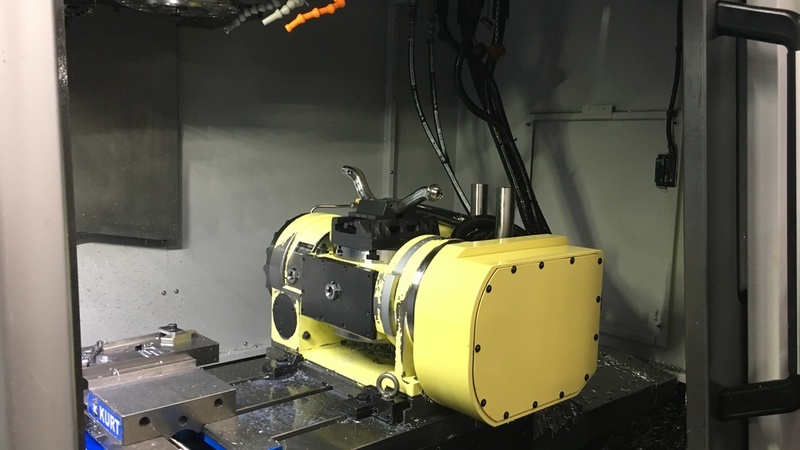 Versatile Materials
Medical devices can often be forged from a range of materials, being manufactured in everything from titanium to plastic. This variety requires a tooling solution that can not only adapt to each material but maintain the ability for precise detailing.
Our compact high-speed tooling solution, the NIKKEN Mini-Mini is the ultimate choice for this form of machining. Offering incredible accuracy at high speeds, the Mini-Mini also benefits from a scaled-down form factor, providing excellent clearance for tight to hit areas around components.
Expert Advice
Alongside our globally leading solutions, NIKKEN are able to offer a wealth of knowledge and technical assistance through our experienced and skilled engineers. Due to the complex production requirements that come hand in hand with manufacturing for the medical industry, our technical team are often approached to assist with design consultancy and specialist capabilities.
All our engineers have accumulated years of experience and have received full training in everything from the full NIKKEN product range to CAD design, CAM programming and process optimisation.
NIKKEN pride ourselves in ensuring our customers have the assistance to find a solution to any application or process, ranging from specific project-based activity to full technical partnership.
News Article: NIKKEN'S Danny Wells assists with the fight against Covid-19
In recent weeks, the UK government's request for manufacturers to help with the fight against the Coronavirus emergency has led to Roscomac experiencing a huge increase in demand for medical components.
To help with the effort, NIKKEN's own business manager Danny Wells has been working with Roscomac to assist in maintaining production. With over 13 years engineering experience as a Programmer and a previous employee of Roscomac, Danny has been seconded to help make medical components.
LEARN MORE ABOUT OUR SOLUTIONS FOR THE MEDICAL INDUSTRY