Angle Head
Our exclusive new angle head range, developed and manufactured in conjunction with our partner Alberti SRL, brings the accuracy and performance of NIKKEN's SK (Slim Chuck) 8 degree spindle taper, TiN Bearing Nut and 8 degree precision collet to the output spindle of an angle head. With a run-out guarantee of 5µm at 4 x diameter the solution provides substantially increased capabilities over than of similar ER based solutions.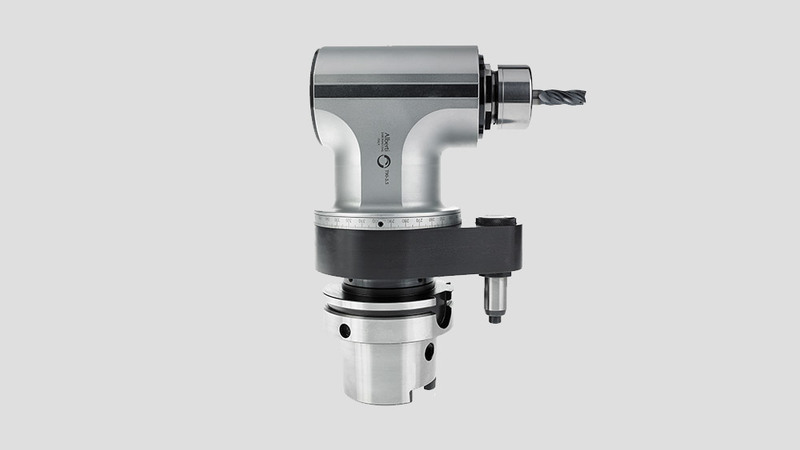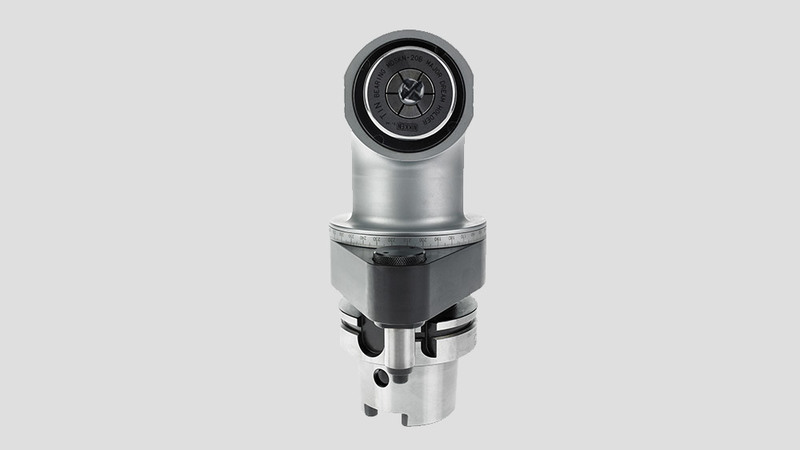 Construction Features:
Input Spindles:
Our input spindles are manufactured entirely in one single piece of hardened steel, which increases resistance to bending stresses by up to 25%. All spindles are completely finished ground and individually balanced to G6.3 to provide the possibility of higher running speeds without the risk of vibration.
Body:
For the main body, we choose high-quality GS600 stabilised spheroidal cast iron which provides improved vibration dampening and absorption. By its nature, in a similar vein to our rotary table castings, it also provides increased thermal stability and rigidity when compared to other materials such as steel and aluminium. The cast is 100% machined inside and out and features chromed external finish and ground internals for the bearing housings. The body also features a unique lapped guide surface to provide straight forward alignment when setting up the head in the machine.
Output Spindles:
Our output spindles, featuring NIKKEN SK internal 8-degree taper, are manufactured from hardened alloy steel with a double labyrinth seal. Completely ground on every surface with a manufacturing tolerance better than 5 microns to ensure life and longevity for the cutting tool.
Indexing Flange (location arm):
The flange arm is of monoblock construction with a pre-loaded integrated precision location pin to allow an increase in rigidity and stability to the entire structure during machining. Adopting a very precise pitch dimension allows a perfect match between the cylindrical location pin and the hardened bush within our standard location block (mounting on the machine spindle).
Bearings:
All SK angle heads feature angular contact super-precision bearings with ABEC 7 and nine accuracy ratings. Precisely located within the ground bearing housing of the cast iron body, this choice of bearing ensures a perfect concentricity and stability between all associated parts during any machining process.
Gears:
Our gears are manufactured from a steel superalloy. They are hardened, completely ground and treated with isotropic polishing. This polishing process allows us to achieve a surface roughness of 0.01Ra, which contributes to a dramatic reduction in friction and the associated vibration and heat. On the bigger models we also feature 4-key drive on all gears to transmit higher torque.
Mechanical Seals and Seals:
The sealing is absolutely critical to the reliability and performance of any angle head. We utilise both mechanical and low friction type sealing systems within our angle heads. In both cases, we chose to study and develop our own individual special seals and materials, rather than simply use an 'off the shelf solution', specifically designed to accommodate the demands of today's higher RPM and coolant pressures (up to 100 bar).
Our range:
We provide an expansive range of standard SK angle heads to suit a wide variety of components and requirements. Starting from SK6 (0.5mm to 6mm capacity) up to SK25 (2mm to 20mm capacity). The range consists of two individual product lines:
LINEA Control
Designed to be used on machine tools equipped with an ATC (automatic tool changer). These angle heads are positioned in the machine tool spindle using our standard stopper/location block and become locked during a tool change to allow them exchanged automatically from the spindle to the tool carousel/magazine.
LINEA Modular
These angle head are specially build for direct mounting onto the machine spindle face using an adaptation flange. They are supplied, as standard, with an interchangeable taper shank (to suit the machine spindle type/size) along with a universal flange. The overall length can also be adapted and increased using our range of extension spacers.