Spotlight on: Aerospace Manufacturing
From the foundation of the company and throughout the 60 years since, NIKKEN have been very proud and privileged to serve a long list of market-leading Aerospace Manufacturers and their contractors.
Our innovative developments, solutions and latest technology have ensured durable, precise and high-performance results when manufacturing and meeting the production demands of some of the worlds' most complex aerospace components and the materials they are created from.
Innovation
Innovation is the heart of everything we do at NIKKEN, this is why we have gone beyond traditional hardware and utilize the latest, cloud-based technology to provide data-driven solutions within the industry.
Over the last two years, NIKKEN has been honoured to support Boeing in forming a revolutionary procurement system, where the supply chain, warehouse and tool room functions are removed entirely from the production environment.
Incorporating our revolutionary TP32 system, NIKKEN and Boeing collaborate through a shared database, providing real-time information in both directions, ensuring visibility on the tooling situation across both sites – integrator and manufacturer.
News Article: TP32 and the Boeing Digital Supply Chain

With the world becoming more digital and connected, it is now easier than ever to share large volumes of information between suppliers and end-users of cutting tools and NC tooling.

A good example of this is the work that both Boeing and NIKKEN are collaborating on, where procurement, the warehouse and tool room are removed from the production environment. Production can then focus on programming and production rates, while the supply chain ensures that the required tools are ready, measured and set, at the machine when they're needed. The collection of data is key to this scenario as it is this data that provides the key insights to enable smooth-running, analysis and optimisation of the system.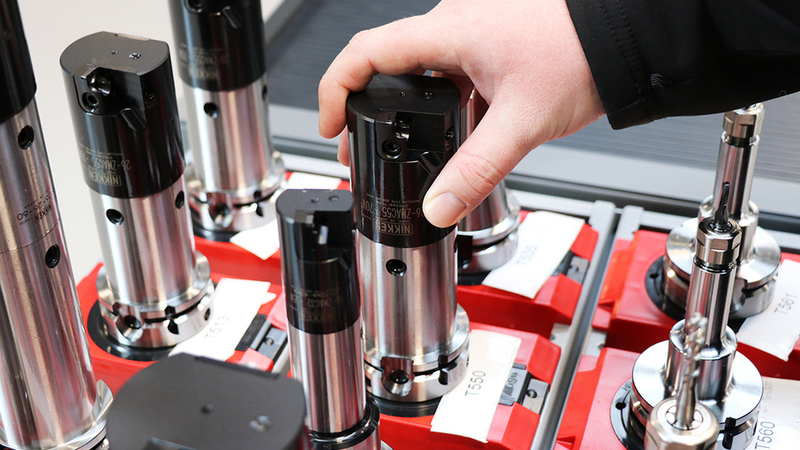 Product Development
Our dedication to serving the Aerospace Industry is best represented through NIKKEN's X-Treme Solution.
Uniquely developed to improve manufacturing times and reduce costs for a major aerospace manufacturer, the X-Treme has gone on to be deployed throughout the industry, in particular, aero-engine and airframe titanium machining facilities where it is not only adopted as the primary heavy-duty roughing solution but also for fine finishing processes where reliability and confidence in the tool holder is absolutely critical as a component nears the final stages of completion.
Taking the original attributes of our MULTI-LOCK, combined with unique patented retention technology, the X-Treme provides complete elimination of movement and 'creeping' of the end mill, making it the ultimate solution for accuracy when machining demanding materials.
Reliability and Performance
Our signature products, NIKKEN Rotary Tables, are renowned for their precision and performance, making them an essential in the machine shops and production facilities of many aerospace manufacturers world-wide.
Because of the strength and reliability of our solid carbide worm screw and hardened ION nitrided worm wheel NIKKEN's rotary tables provide the performance and durability required by this demanding industry. Utilised on anything from reliably indexing and positioning components for multi-face machining, precise, controlled rotation for simultaneous blade machining, right through to rigidly restraining and controlling a gear form whilst the broaching process is carried out! NIKKEN's rotary table solutions are respected in the industry and have proved themselves time and again absolutely second to none!
Application Study: Safran Landing Systems
Safran Landing Systems (previously known as Messier-Bugatti-Dowty) is the world leader in the design, development, manufacture and support of landing gear systems.
A unique combination of advanced engineering capabilities, integrated systems technology and experience on an exhaustive range of programs enables Safran Landing Systems to provide innovative solutions for a diverse range of aircraft.
Nikken were approached by the company in 2007 to work with them on a project to optimise an Airbus A350 Bogie Beam semi-finish machining application. The ultimate solution required 6 off 583kg Titanium Forgings to be machined simultaneously on a six-spindle Droop & Rein Vertical machine tool platform.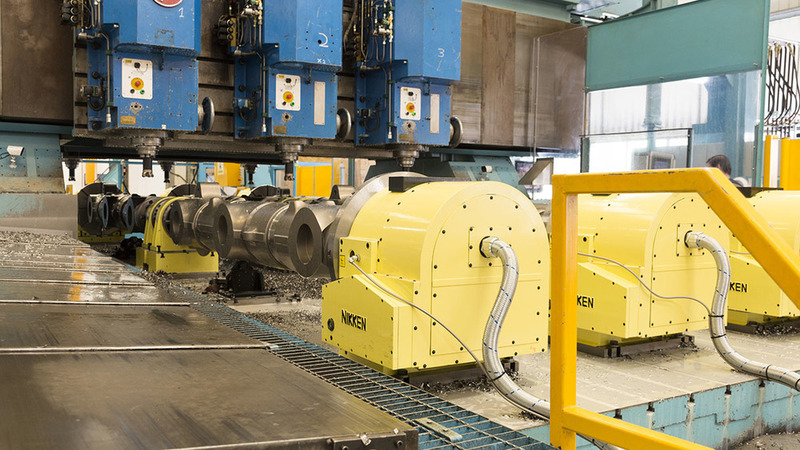 LEARN MORE ABOUT OUR SOLUTIONS FOR THE AEROSPACE INDUSTRY