TP32 and the Digital Supply Chain: Boeing
With the world becoming more digital and connected, it is easier than ever to share large volumes of information between suppliers and end users of cutting tools and NC tooling. By closing the loop between on-machine performance, tool specification, regrind, procurement and the tool room, the machining process can be continually optimised to improve cost-per-part and efficiency.
A good example of this is the work that both Boeing and Nikken are collaborating on, where procurement, the warehouse and tool room are removed from the production environment. Production can then focus on programming and production rates, while the supply chain ensures that the required tools are ready, measured and set, at the machine when they're needed. The collection of data is key to this scenario as it is this data that provides the key insights to enable smooth-running, analysis and optimisation of the system. For data handling, we use our TP32 Tool Management Solution.
TP32 Overview
TP32 is a complete, overall Tool Data Management Solution. At its core, TP32 is a stock management system which controls holders, collets, tools, inserts and accessories, the tooling assemblies that these form parts of, and the tooling sets made up from these tooling assemblies.
Providing complete visibility of stock and item locations allows the user to clearly identify areas where optimisation can occur to minimise tooling movement, stock requirements, and unique tooling items, to name a few. TP32 also uses the tooling sets to manage tool room setting sheets per machine and per part, ensuring correct gauge lengths are used and logged. Each tool can also be assigned specific operating parameters at this stage, aiding those programming new parts by providing a tooling catalogue to work from. Tooling drawings, dimensions, and 3D models are held in the database, which can be directly imported into several common CAD packages such as Catia, NX, and Vericut. If required, TP32 can also directly interface with a range of common machine tool controls to send tool measurements directly to the NC control and monitor the state of the carousel.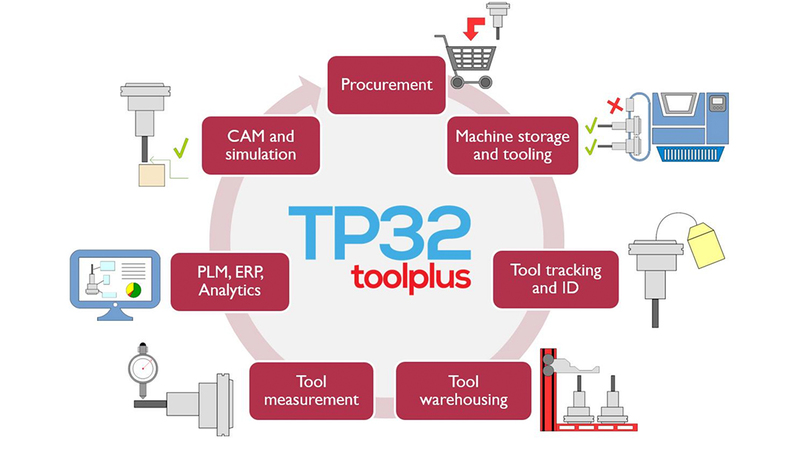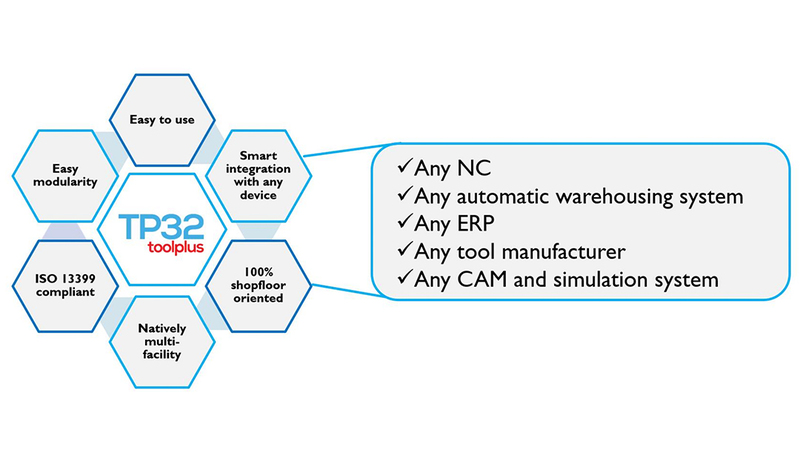 Digital Supply Chain and Collaborative Working
With a shared database between Boeing and Nikken, we can provide real-time information in both directions to provide visibility on the tooling situation across both sites. Stock visibility is key as all parties can see what the status of tools are in the warehouse, tool room, factory storage and on-machine. The tooling route is as follows:
Partners work together to identify appropriate tooling for a part or component,
Once decided, this tooling is entered into a web-based portal by the end-user,
The tool room then asses this requirement, specify any holding requirements, and update,
Procurement are then notified of any items that need ordering and begin the task of searching for the most suitable and competitive supplier,
Once found, the components are ordered and expected delivery dates entered into the system,
Meanwhile, the tool room prepare the breakdown of tooling, including 2D drawings, dimensions and 3D models, and enter into TP32,
The programmers can then use this information as digital twins for simulation and programming,
Once the orders are received and booked into stock, warehouse are automatically notified and these items are picked for the tool room,
The tool room then assembles the component parts, sets, and measures the tooling assembly,
The tool is assigned a unique ID which ties with measurement information and other key fields for the lifetime of that assembly,
The tool(s) are dispatched to the production site and any used tools are collected and returned to the tool room,
Each transaction is logged within TP32 with its associated data,
The returned tools are re-inspected and assessed – the usage information and wear level are logged within TP32 via the web-based portal.
This cycle and flow of information ensures that historical data can be reviewed, and the required stock is held for when production needs it. We constantly monitor usage levels and consumable stock levels to ensure that tools are delivered to the machine shop floor just in time. Once we have enough data on the usage of each tool, we begin the task of optimisation of process and supply chain.
LEARN MORE ABOUT OUR SUPPLY CHAIN SOLUTIONS