Integrating Industry 4.0
As a leading supplier to the advanced manufacturing sector, NIKKEN constantly strive to adopt the latest in advanced technology into not only our product range, but our entire supply chain.
The Industry 4.0 revolution has seen many companies reconsider the day-to-day running of their facilities; now more than ever customers are introducing automation and cloud-based data sharing into the manufacturing process. NIKKEN's global team of engineers are proud to have created a range of advanced digital solutions, designed to work alongside our renowned products to increase productivity and optimise any process.
Tool ID
Developed in collaboration with our partners, Elbo Controlli NIKKEN, to function alongside their acclaimed range of presetters, Tool ID is the ideal solution to introduce Industry 4.0 processes to your toolroom. Designed to provide two-way transfer of measurements between the Presetter and the machine's NC tool table, the TID solution incorporates a handheld scanner, fully integrated with the Presetter to scan and read a unique data matrix tag located on the tool. Once the tool has been measured, the measurement data is centralised within the TiD database, ready to be accessed from a similar scanner located at the machine. This simple, yet time-saving solution not only ensures the elimination of insertion errors, but makes it easier than ever to track tool life.
TP32 solution
An upgrade to the TID solution, TP32 is our all-encompassing tool data management system, designed to control all tooling assemblies and components, providing a complete database of stock, item locations and machines to name a few. Ideal for busy shop floors, TP32 has been designed to streamline any tooling process, providing overall management of setting sheets per machine and per part, ensuring correct gauge lengths are used and logged. Each tool can also be assigned specific operating parameters, providing a tooling catalogue to work from for engineers programming new parts. Benefiting from a user-friendly interface, the software can integrate with most existing CNC machines, automatic warehousing systems, vending machines, management solutions and a variety of CAD/CAM and simulation packages.
News Article: TP32 and the Boeing Digital Supply Chain

With the world becoming more digital and connected, it is now easier than ever to share large volumes of information between suppliers and end-users of cutting tools and NC tooling.

A good example of this is the work that both Boeing and NIKKEN are collaborating on, where procurement, the warehouse and tool room are removed from the production environment. Production can then focus on programming and production rates, while the supply chain ensures that the required tools are ready, measured and set, at the machine when they're needed. The collection of data is key to this scenario as it is this data that provides the key insights to enable smooth-running, analysis and optimisation of the system.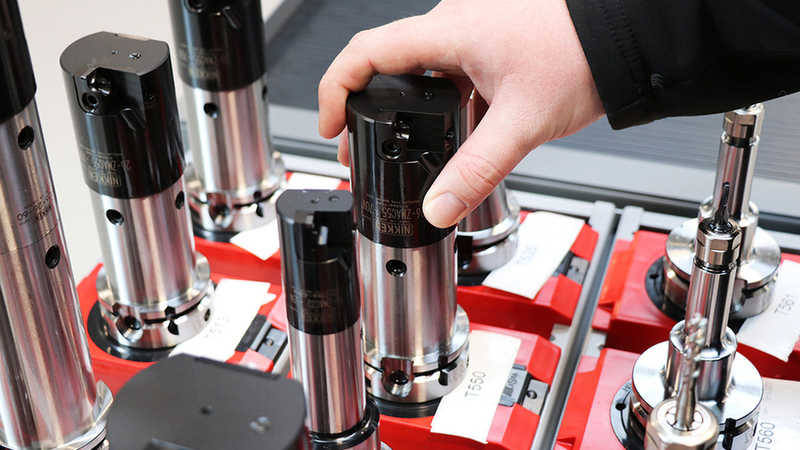 NIKKEN I/O
The ultimate solution for tracking your manufacturing performance, the NIKKEN I/O condition monitoring system allows customers to actively study the day-to-day functions of their NIKKEN rotary product via customisable data visuals. While all NIKKEN Rotary solutions are renowned for their lifelong durability, NIKKEN I/O can provide additional reassurance that equipment is functioning at maximum capacity by collecting live data on uptime, usage, collisions, backlash, and servo current.
Application Study: Sussex Precision Engineering
With over 50 years combined experience in precision manufacturing, West Sussex subcontractor Sussex Precision Engineering provide CNC machined components to a diverse range of industries.
Due to ever-increasing production demands, Sussex Precision added to their capacity this month with the investment of a 2nd NIKKEN 4th axis table with NIKKEN I/O integrated. This investment allows the team to be able to remotely monitor uptime, collision reports, backlash, oil temperature and current measurement.