Boeing Technical Partnership
NIKKEN named as integrator for first European facility.
NIKKEN Kosakusho Europe recently hosted a visit to their Innovation Centre on the Advanced Manufacturing Park from Boeing Senior executives and engineers to commemorate the signing of a long-term technical partnership between the two companies.
Boeing Senior executives Dave Hyem, Don Hendrickson and James Needham are pictured with Nikken Kosakusho Europe Director Gary Williamson and European C.E.O. Tony Bowkett, following the signing of an Integrator agreement to provide high precision toolholders, cutting tools and Tool presetting solutions to their new Boeing Sheffield manufacturing facility, the first in Europe, based within the High Value Manufacturing cluster in Sheffield.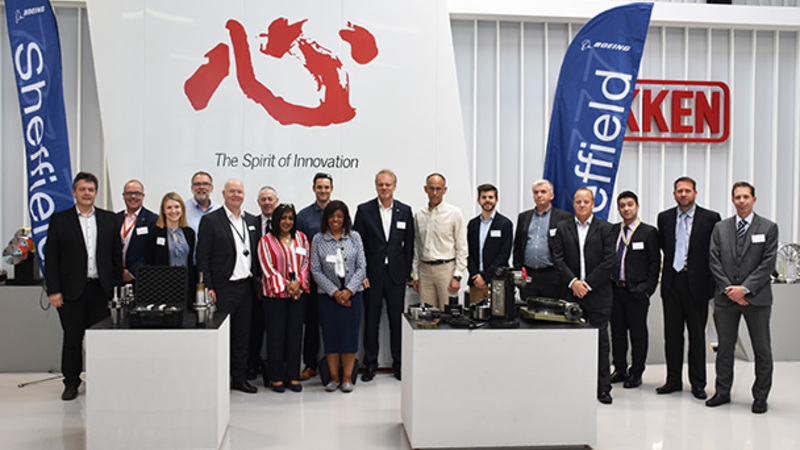 As Integrator and technical partner, Nikken will work closely with Boeing's Engineering team to help them optimise their manufacturing processes to achieve their production goals and Industry 4.0 ambitions.
Boeing Sheffield will employ approximately 30 people, including 18 apprentices, when it opens in 2018 as part of Boeing Commercial Airplanes' (BCA) Fabrication operations and will work closely with Boeing Portland, a company Center of Excellence for complex machining, gear systems and flight controls. Manufacture of high-tech components for Boeing's Next-Generation 737, 737 MAX and 777 aircraft is due to commence at the new facility in September 2018.
This is a very proud moment for the Nikken European team, resident here on the AMRC park. We have worked tirelessly to put together a total support solution that will allow the Boeing engineers to produce upwards of 10000 parts per month, supporting its Portland facility in the USA. It's a great opportunity for our engineering and logistics teams to integrate world class machine tools and equipment and to use their knowledge & experience to optimize their performance, resulting in productivity and efficiency gains

Nikken C.E.O, Tony Bowkett