NIKKEN Direct Drive Rotary Tables are simple and accurate. Direct Drive tables feature no mechanical reduction mechanism such as the worm system within a standard rotary table.
Direct Drive Rotary Tables have the motor effectively 'built-in' to the rotary table body directly driving the axes and faceplate.
The tables provide extremely high rotation speeds with high acceleration and deceleration. The only limit is the driving torque of the motor! The application needs to be considered but NIKKEN Direct Drive Rotary Tables are suitable for numerous applications where complicated forms and shapes can be machined effectively and quickly.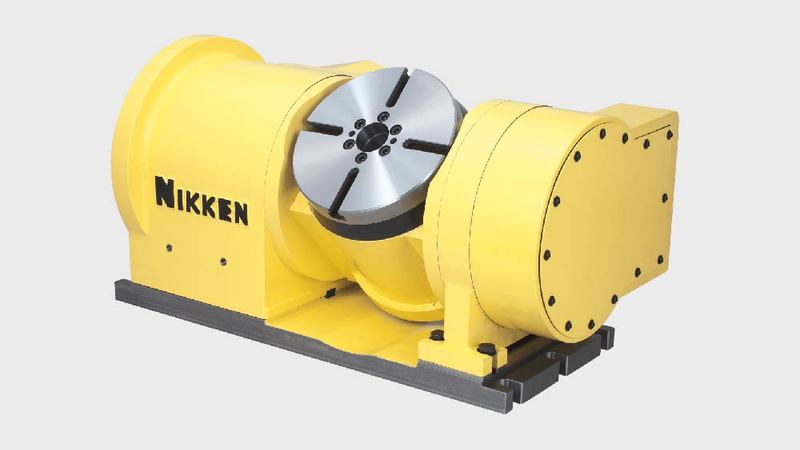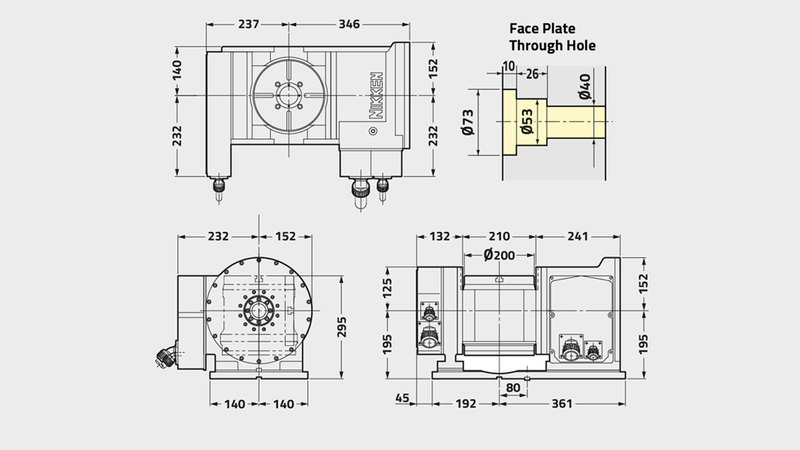 Exclusive 'Micro-Spike' braking system

High Acceleration

High Speed rotation and positioning

Compact footprints
No Deposit & 12 Months Interest Free
No Deposit, 12 month Interest free period may available for your purchase via the UK Governments Coronavirus Business Interruption Loan Scheme (CBILS) or the Bounce Back Loan Scheme (BBLS). Both Government backed schemes are there to support businesses cash flow when making asset purchases, these schemes fund 100% of the Net purchase price (no deposit) with the first 12 months interest and fee free. Further information is available on the www.gov.uk website or feel free to contact us to discuss with our appointed accredited lender.
5AX-DD200AF2
Face Plate Diameter[Ømm]
200
Diameter of Spindle Hole [Ømm H7]
53
Centre Height (90°) [mm]
195
Table Height in Horizontal Position (0°) [mm]
295
Width of T Slot [mm]
12
AXIS
Rotary
Tilting
Clamping System
AIR (0.5MPa)
AIR (0.5MPa)
Clamping Torque [Nm]
150
500
Motor [FANUC]
DiS60/400
DiS150/200
Encoder
αiCz 512A
Min. Increment [Degrees]
0.001
0.001
Rotation Speed [min1]
200
150
Indexing Accuracy [sec]
±10
±15
Max. Torque [Nm]
130
380
Constant Torque [Nm]
24
73/170
Net Weight [Kg]
190
Max. Work Load on Table 0° to 30° [Kg]
30
Max. Work Load on Table 30° to 90° [Kg]
15