Our E68BA Tool Presetting machine has been developed as the 'entry-level' higher spec option for our advanced tool presetting machines. It is also the starting level of the 68 range for our automatic measuring capabilties. Compared to the rest of our presetter model range the construction, design and capabilities offer considerable advantages.
Completely free-standing on its own integral base; E68BA features ground granite and stainless steel construction. All movements are servo drived guaranteeing ultimate precision. The single high-definition screen is linked to an outstanding camera system with digital zoom capabilities. The system employs industrial PC architecture providing operational and functional simplicity that is simple to learn and even incorporates additional capabilities focussed specifically on tool geometry.
Spindle System is fully interchangeable and utilises a one piece cartridge.

Integrated within the innovative software package is a complete tool management system and network port.
Spindle System
Featuring the ultimate high precision spindle system that is fully interchangeable and utilises a one-piece cartridge with full mechanical tool clamping (pneumatic system) capable of clamping ISO/BT, HSK and Polygonal taper tool shanks - eliminating the need for adaptors and the errors associated with their use. The construction of this system is more akin to a machine tool spindle than a tool presetter spindle!
Functionality
Integrated within the innovative software package is a complete tool management system and network port. Working via your DNC system this can convert measured tool data into CNC code for direct loading into your machine controller and associated tool offset pages. Also included with the system as standard is full WI-FI connectivity.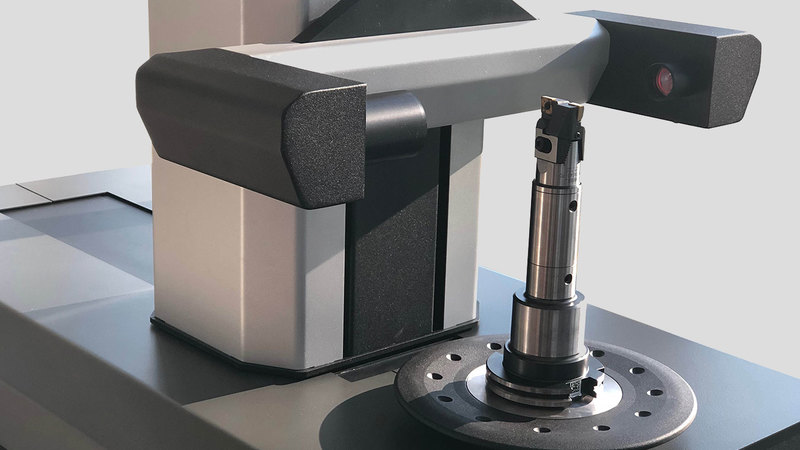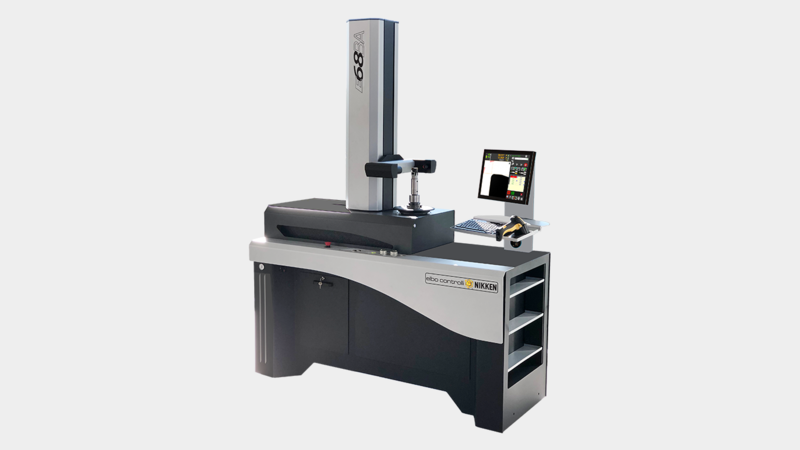 TECHNICAL DATA
Measuring range: Diameter max 600 mm (radius 300 mm); height max 800 mm.
Motor providing automatic rotation of the spindle with pneumatic engagement of the motion transmission providing zero backlash (patented system).
C Axis visualisation for the angular position of the spindle-holder with 0.01º resolution.
Elbo Controlli NIKKEN linear transducers in optical glass directly mounted onto granite supports. Slide GS371 certified with HP laser. Axes resolution: X = 1μm, Z = 1μm.
Standard mechanical/electronic and optical equipment:
Base and column made of natural granite to guarantee the maximum accuracy: linearity max Error 2 μm/Mt – certification with Taylor Hobson res.1 μm/Mt. electronic millesimal level. Monoblock machine structure in steel, floor mounted with 4 vibration damper adjustable supports.

ISO / BT / HSK / VDI... etc. Interchangeable rotating spindle-holder (to be specified) max run-out error < 2 μm.

Spindle Index in four angular positions: 0°-90°-180°-270°.

Spindle-holder Identification System (SP-ID) with NFC technology to automatically identify the spindle-holder after each replacement.

Linear slideways: 2 for X axis slideways and 1 for Z axis slideway.

Double re-circulating ball bearing slides (five in total), lubricated for life. Universal motorised mechanical tool clamping (ISO/BT/HSK/polygonal taper tooling – to be specified).

Pneumatic-mechanical braking of the spindle-holder rotation with 3 pistons at 1200 position.

Motorized axis movement.

Control panel with micrometric handwheels and rapid movement buttons (2.5 m/mm).

Constant load Archimedean spiral spring (as opposed to a mass counter-balance system).
Vision-system for tool measuring and cutting inspection consisting of:
C-MOS sensor – Framed image area 5 x 5 mm.

Magnification around 38X.

Bi-telecentric lens.

Illuminator: episcopic ring-light LED's, diascopic telecentric lenses spot-light red.
Machine operator interface through:
TFT 15" colour Touch Screen monitor.

Industrial motherboard with Intel Processor.

UBUNTU LINUX LTS operating system.

Data storage on solid state disk SSD.

Four USB ports

One LAN networking port and wireless connection.
Standard software:
Ease of use thanks to the integrated touchscreen.

CNC machine origin and spindle adaptor management.

Tool list creation and/or single tool. Also possibility to create a customized format.

Theoretical measurement and tolerance management.

Td SIX (tool data SIX) Post Processor universal generator.

Automatic change of CNC machine origin allocation.

Printable tool set report.

Spindle holder auto rotation with automatic tool measurement cycles for single cutter or multi-edged cutters.

Peripheral speed of spindle rotation is calculated and controlled based on the diameter of the current tool being measured.
Ready for TiD infrastructure for tool identification and data transfer using a data matrix tag/code.
Ready for Magnetic chip code-holders (Balluff for example, hardware not included and available as option).

Anti-dust cover provided for when not in use.
Overall dimensions: Length = 1700 mm, Height = 2300 mm, Depth = 700 mm. Net weight: 570 Kg.
| | E68BA |
| --- | --- |
| X Axis Measure (Diameter) | 600 |
| Z Axis Measure (Length) | 800 |
| Natural Granite Base & Column | ✓ |
| Interchangeable Spindle Cartridge | ✓ |
| C Axis Display Spindle Body and Spindle Cartridge | ✓ |
| Interchangeable Spindle Max. Run-Out Error | 2µm |
| Automatic Rotation of the Spindle | ✓ |
| Spindle Index in four Angular Positions (0º, -90º, -180º, -270º) | ✓ |
| Spindle Rotation Brake | Pneumatic 3 pistons @ 120º |
| Spindle Identification System (NFC recognition) | ✓ |
| Clamping System | Mechanic |
| Tool Inspection Function/Capability | ✓ |
| Elbo Controlli NIKKEN Triple Camera System (Cutting Edge Inspection) | ✗ |
| Main Camera System Resolution | ✗ |
| Main Camera System Measuring Range (C-MOS Sensor Framed Image Area) | 5mm x 5mm |
| Secondary 'Twin' Camera System Measuring Ranges (Framed Image Area) | ✗ |
| Main Camera Magnification | 38X |
| Secondary 'Twin' Camera System Magnifications | ✗ |
| Elbo Controlli NIKKEN Certified Optical Scale Axes Resolution | ✗ |
| Elbo Controlli NIKKEN GS371 Certified 'Natural Granite' Optical Scale Axes Resolution | 1µm |
| Touch Screen System (Operator Interface) | TFT 15" |
| Keyboard and Mouse | ✓ |
| Electronics/Processor | Industrial Motherboard with Intel Processor |
| Firmware/Operating System | Ubuntu Linux LTS |
| Data Storage | SSD |
| Elbo Controlli NIKKEN Tool Management Software | TdSIX |
| Tool Set Management and Post Processor Universal Generation | ✓ |
| DXF File Import and Creation | ✓ |
| Balluff Read/Write Ready (Balluff Hardware Required)? | ✓ |
| Elbo Controlli NIKKEN TiD Ready? | ✓ |
| Elbo Controlli NIKKEN TP32 Ready? | ✓ |
| Elbo Controlli NIKKEN IS 'Integrated Solution' with Twin Screen and Dual OS Option Ready? | ✗ |