The New E236+ Tool Presetting machine has been developed as the upgraded entry level option for our new generation of advanced tool presetting machines.
Designed and developed to guarantee a greater accuracy of measurements, improved dimensional stability and excellent reliability the E236+ features a ground natural granite base and column, stainless steel construction and improved ergonomic design. Combined with New firmware and our latest generation 7" TFT LED Touch Screen the system provides full operator control and selection of options and functions via an intuitive icon system allowing operational and functional simplicity that is second to none.
Spindle System utilises a one piece cartridge - eliminating the need for adaptors and the errors associated with their use.

New improved and upgraded axis positioning system to allow the framing of the tool profile within the centre of the screen to be made quickly and easily.

Featuring a natural ground granite base & column, with an upgraded 7" TFT LED Touch Screen.
Spindle System
The E236+ spindle system is fully interchangeable and utilises a one piece precision cartridge - eliminating the need for adaptors and the errors associated with their use.
Software Package
Also included with our E236+ model is our TD236+ software package. Working via your DNC system DPP converts measured tool data into CNC code for direct loading into the machine controller and associated tool offset pages.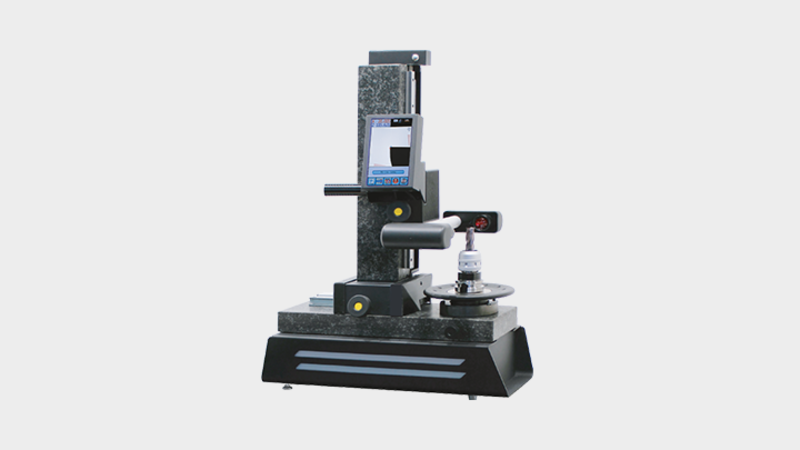 TECHNICAL DATA
VERSIONS
ISO/BT 40, 50 / HSK / VDI "INTERCHANGEABLE" rotating spindle-holder.
TECHNICAL FEATURES
Measuring range: X axis 130 mm (diameter 260 mm).
Measuring range: Z axis 360 mm.
Measuring resolution: X axis 0.001 mm.
Measuring resolution: Z axis 0.001 mm.
Electronics driver based on RISC 32 bit processor and integrated vision system.
C-MOS image sensor framed image area 5mm x 5mm.
Telecentric lens and LED illuminator.
Magnifications: 20X.
TFT colour LCD 7" LED backlight points matrix graphic display (86x150 mm image size).
Full touch-screen for all presetter operations.
Intuitive icons and menu-based software.
Display radius/diameter, mm/inch, abs/incr, analogical/digital.
Measurement capability by full-screen auto-targeting.
X axis and Z axis focusing control bars.
Radius and angle automatic computing cycle.
9 numerical machine origin management.
9 numerical tool tables management.
Tool corrector specific storage of T, Lx, Lz, insert radius.
Data storage on Flash memory.
USB port for PC connection (Windows OS).
BIOS update by USB port with TD236+.
External 24Vcc power supply.
TD236+ Software – Data Post Processing: correctors file generator, in more than 50 CNC machine-specific formats by the universal post-processors creator. User friendly backup and restore management of machine origins and tool-lists.
OPTIONS
Label printer.
ISO / BT / HSK / VDI interchangeable spindle-holders and adapters.
Machine Stand.
OVERALL DIMENSIONS
Length: 570 mm, height: 793 mm, depth: 408 mm, weight: 46 kg.
| | E236+ |
| --- | --- |
| X Axis Measure (Diameter) | 260 |
| Z Axis Measure (Length) | 360 |
| Natural Granite Base & Column | ✓ |
| Interchangeable Spindle Cartridge | ✓ |
| C Axis Display Spindle Body and Spindle Cartridge | ✗ |
| Interchangeable Spindle Max. Run-Out Error | 2µm |
| Automatic Rotation of the Spindle | ✗ |
| Spindle Index in four Angular Positions (0º, -90º, -180º, -270º) | ✗ |
| Spindle Rotation Brake | Manual |
| Spindle Identification System (NFC recognition) | ✗ |
| Clamping System | Manual |
| Tool Inspection Function/Capability | ✗ |
| Elbo Controlli NIKKEN Triple Camera System (Cutting Edge Inspection) | ✗ |
| Main Camera System Resolution | 1µm |
| Main Camera System Measuring Range (C-MOS Sensor Framed Image Area) | 5mm x 5mm |
| Secondary 'Twin' Camera System Measuring Ranges (Framed Image Area) | ✗ |
| Main Camera Magnification | 20X |
| Secondary 'Twin' Camera System Magnifications | ✗ |
| Elbo Controlli NIKKEN Certified Optical Scale Axes Resolution | 1µm |
| Elbo Controlli NIKKEN GS371 Certified 'Natural Granite' Optical Scale Axes Resolution | ✓ |
| Touch Screen System (Operator Interface) | TFT 7" |
| Keyboard and Mouse | ✗ |
| Electronics/Processor | RISC 32bit |
| Firmware/Operating System | Elbo NIKKEN |
| Data Storage | FLASH |
| Elbo Controlli NIKKEN Tool Management Software | TD236+ |
| Tool Set Management and Post Processor Universal Generation | ✓ |
| DXF File Import and Creation | ✗ |
| Balluff Read/Write Ready (Balluff Hardware Required)? | ✗ |
| Elbo Controlli NIKKEN TiD Ready? | ✗ |
| Elbo Controlli NIKKEN TP32 Ready? | ✗ |
| Elbo Controlli NIKKEN IS 'Integrated Solution' with Twin Screen and Dual OS Option Ready? | ✗ |