Spotlight On: Technology
Here at NIKKEN we are particularly proud of our long-standing relationships with various distinguished technology manufacturers, which sees NIKKEN solutions embedded in the manufacture of products that support everyday life. From components used in smartphones, household appliances, and electric vehicles through to satellites orbiting outer space and drones circulating the sky, NIKKEN provide the confidence and longevity required through our precise, reliable, and market-leading solutions to allow such manufacturers to develop tomorrow's innovations.
A SEAMLESS SOLUTION (5-axis)
The key to success for many technology manufacturers is high speed and high accuracy, which often sees the introduction of a 5-axis rotary table a fundamental to optimising the manufacturing process.
Many of our customers, such as watch and jewellery manufacturers, have chosen to select and integrate a NIKKEN 5 Axis Rotary Table because of its unique design and construction which contributes to optimum rigidity and absolute accuracy. A firm favourite is the 5AX-201 which provides a versatile 200mm faceplate within a compact and high-performance twin axis frame.
Applying a NIKKEN 5-axis rotary table allows multi-face machining to eliminate the requirement for multiple set-ups with parts instead processed in a single cycle (or the capability to manage and handle many smaller parts across multiple faces). This drastically reduces machine downtime and ultimately improves labour costs.
The addition of a 5-axis rotary table on a 3-axis machine has also allowed many electronics manufacturers to stay ahead of the curve and work more productively to continually meet the demands of the ever-growing technology industry whilst maximising ROI.
Offering superb rigidity, accuracy and longevity, the addition of a NIKKEN 5 Axis Rotary Table makes this an excellent sustainable investment allowing manufacturers to enjoy the benefits of NIKKEN 5-axis tables for years. In addition, minimising operating intervention and maximising machining efficiency reduces waste, creating a more environmentally sound option.
A compact footprint allows for the majority of NIKKEN's range to also be applied to smaller machines. Thus, creating an extremely versatile and cost-effective solution for any manufacturer! Not only suited to smaller batch quantities and single items but perfectly capable to support large production batches, reliably and consistently.
Another popular solution with those in the technology sector is NIKKEN's 5-axis Direct Drive (DD) tables which embrace simplicity and accuracy. With DD Tables, the motor is essentially built-in to the rotary table body to directly drive the axis and faceplate. Extremely high rotation speeds of up to 200rpm with optimised acceleration and deceleration are well suited to technology manufacturers and sub-contractors to meet the needs of this ever-increasing marketplace. Suitable for automation, when volume permits, NIKKEN solutions can also benefit and support the capabilities and advantages provided by standard robotics, Cobots and autonomous loading systems which have recently become very popular.
Application Study: 5-Axis capability at Cambridge Precision Limited
When Cambridge Precision Limited needed to expand their production capacity they had a choice, either a dedicated 5-Axis machine tool or a vertical machining centre with a separate, fully integrated 5-Axis rotary table.
After critically evaluating alternative solutions the decision was made to purchase a Doosan Vertical Machining Centre with a fully integrated NIKKEN 5AX-201 Rotary Table, a solution that stood "head and shoulders above the rest" commented Richard Hobbs, Cambridge Precision Managing Director. "One of the main reasons for going down this route is the flexibility this solution gives us; with the 5-Axis table at one end it is possible to do simple 3 Axis work whilst the table is still in situ, and if the full machine bed is needed the Table can be removed easily."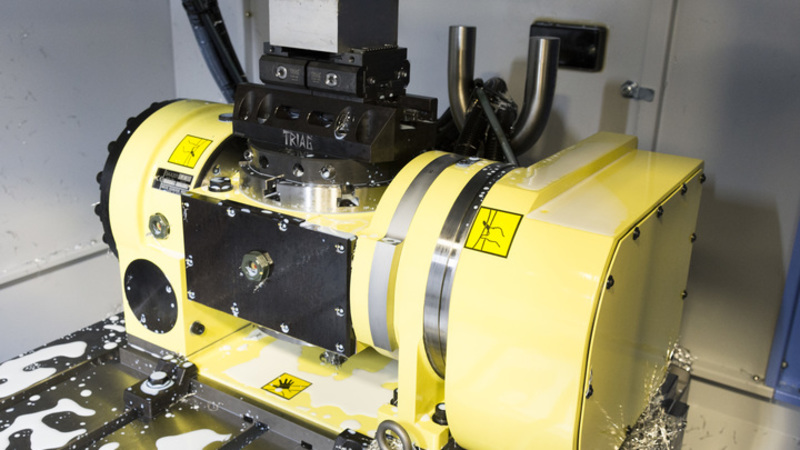 SHRINK FIT
Designed to meet the needs of competitive markets like technology production. NIKKEN EU has innovated the ultimate Shrink-Fit solution. This tool range has been developed and manufactured using carefully selected materials and processes to suit a high number of machines, spindle, tool shank and application requirements.
Once the body is heated, the main bore expands to allow the desired cutting tool to be loaded simply and effectively. The exacting design of our main bore means that the amount of heat required to make the shrink is somewhat reduced when compared to similar systems. This increases the longevity of the tool holder.
After the heating process is completed the bore contracts to grip and retain the tool shank accurately and reliably. Shrinking can provide more significant contact when compared to a standard tool holder or collet system. This is because the tool shank, with full cylindrical contact, is gripped and retained for 360 degrees down the entire bore length.
Machining hard-to-reach and confined places is often a requirement within the majority of technology manufacturers. NIKKEN EU's Shrink-Fit solution incorporates multiple choices for profile, diameter and length to ensure this requirement can be met.
Precise tool balancing allows high speed rotation as standard but also contributes, in conjunction with the precise main bore, to a high-quality surface finish provided by the incredible tool run-out of less than 0,003mm—a desirable requirement from all such manufacturers and contractors to meeting the consumer's demands.
NIKKEN are delighted to be able to offer a full range of third party manufactured THERMOGRIP® Shrink-Fit machines.
These solutions are our preferred choice with features and capabilities that complement some of the design elements 'built-in' to our new range of NIKKEN eu Shrink-Fit tool holders.
Our recommended solution is the ISG3400WK professional series which provides fully automatic shrinking and cooling for straight forward non-contact loading and removal of the cutting tool.