Cutting and Wear
Cutting & Wear are a globally renowned company supplying downhole drilling equipment within the oil and gas sector for manufacturers and service companies around the world.
Founded in 1968, the company provide the highest quality, industry leading technology, downhole tools and hard facing materials for this demanding and diverse industry.
Due to the harsh environment and requirements their equipment is utilised in, many solutions are required to be machined from 4145 & 4330 Alloy Steels or other hard materials such as Phosphor Bronze & Non-Magnetic Stainless Steels.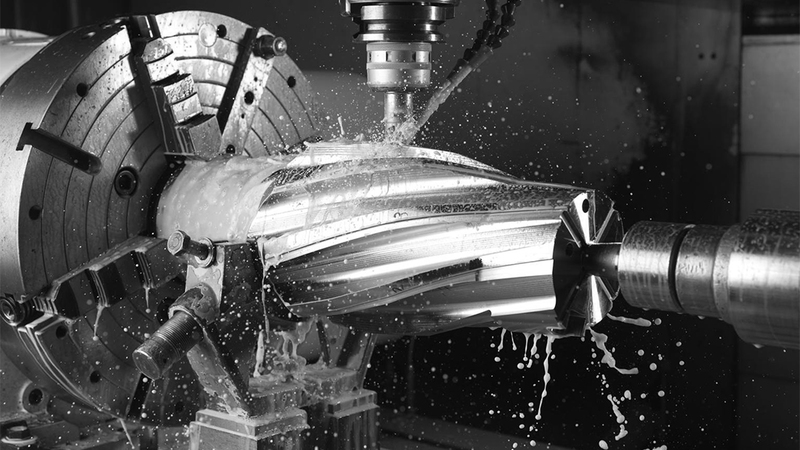 With the materials proving a challenge to machine and other tool holders failing to perform, causing vibration and poor tool life, NIKKEN were recommended upon purchase of a new 5 Axis Machine by the machine supplier, with a suggestion to utilise the face & taper contact of the machines spindle.
When looking for a tooling solution which would give face & taper contact, high gripping force, dampening properties, accuracy and a better all-round performing solution, Cutting & Wear chose to enquire with NIKKEN, based on our reputation for precision and quality alongside an extensive knowledge of extended length standard solutions.
Historically Cutting and Wear had previously invested in three NIKKEN single axis Rotary Tables which were Retro fitted to Large Milling Machines. All three tables have been used uninterrupted for over 20 years with maintained accuracy, reinforcing the durability of the NIKKEN brand.
This encouraged Cutting and Wear to invest in the NIKKEN Slim Chuck range alongside the NIKKEN MBT40 Multi-Lock C20 C32 & C25 milling chucks.
Since this investment the company have seen a huge increase in not only rigidity, but tool life.
The quality of NIKKEN products are 1st rate. - Matthew Cooper, Sales Manager