Apprentices
NIKKEN are proud to have 8 apprentices across the UK working in a variety of roles such as Engineering, Sales, Service, Manufacturing and Technical. Our apprentices follow an Advanced Apprenticeship and then if desired, progress onto a part time degree to develop their career.
Jack, Technical Sales Engineer
Jack joined NIKKEN 5 years ago in the Service Department,based at the Euro Centre. Since then, using the knowledge and experience he gained in Service, Jack has progressed his career into a Technical Sales Role, playing a pivotel role in the Sales Department.
Since completing his apprenticeship in Maitenance Engineering, Jack has completed a HNC in Electrical Engineering and has been nominated for the HNC "Achiever of the Year 2018" award with the AMRC.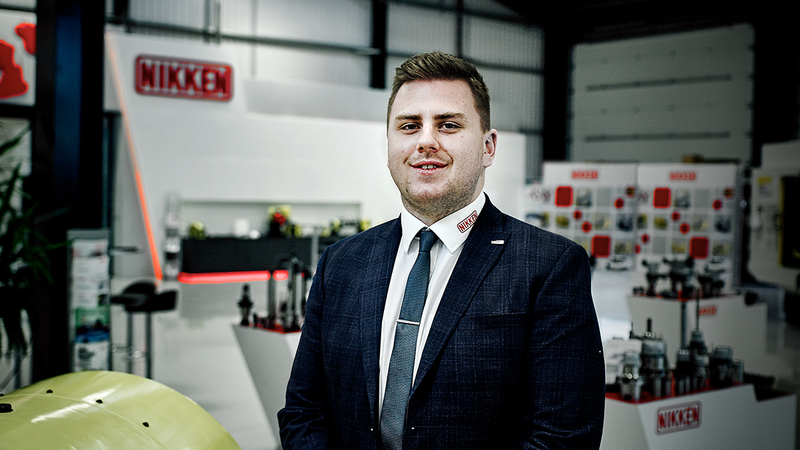 I have been a valuable team member at NIKKEN due to the varied work I have done on the Rotary Table section of our business. From service and installation to designing bespoke complimentary products, I know a lot about the product. I now train NIKKEN employees from around Europe and look after my own projects and sales. I believe this is the company's way of rewarding me for my hard work and showing that I have contributed to the success of the business.
Charles, Technical Apprentice
Our latest AMRC apprentice, Charles Corker has gone from strength to strength since joining the NIKKEN Innovation Centre as a Technical Apprentice.
Under the guidance of our expert engineers, Charlie has contributed to advanced machining projects for our global client base and assisted with running innovative demonstrations at NICe.

"An apprenticeship is a great way to get into a work sector you would otherwise have difficulty breaking into.

I have always built things at home whether this was a cupboard or workbench, choosing an apprenticeship with NIKKEN and the AMRC was a natural progression to enhance my skills further and get to see my ideas come to fruition."