X-TREME is an evolution of our world renowned Multi-Lock Milling Chuck and was developed as part of a larger project to meet the needs of a major aerospace manufacturer.
The customer requirement was to improve manufacturing times and the reduce costs associated with machining titanium (Ti 6Al 4V) jet engine fan hubs. The hubs consisted of a series of deep slots, 22 in total around the periphery, which finally would also be milled to a 'bulb' form shape.
The original process had been in place for many years and, based on tool failure alone, had demonstrated serious reliability issues which over time had proven extremely costly in both material and labour rates.
Early in the development a standard NIKKEN Multi-Lock was evaluated but, even with it's supremely high mechanical gripping force, ultimately it wasn't successful – though the best on test, once the end mill began to wear and the cutting forces increased, the end mill was finally 'drawn' and crept out of the chuck bore over repeated slots.
Optimum gripping

Designed for direct chucking of the end mill (no collet)

Patented shank retention system

Absolute cutter security and process reliablity

Fully sealed

Fully sealed system for coolant through the tool (external jet coolant conversion possible)
Wide option choice

X-TREME is available from stock to suit numerous spindle types/sizes

Ultimate performance

THE solution for demanding materials, applications & processes
Using the original Multi-Lock nose ring and construction as a reliable base, though with redesigned and larger nose ring construction, the X-TREME solution was evolved, tested and progressed. By incorporating twin retaining bolts and a location stopper behind the main bore the process was proven with end mill remaining firmly gripped and the entire fan hub being machined reliably - repeatably.
X-TREME, depending on tool shank, is available in 6 standard sizes:
C12EX - 12mm direct chucking of X-TREME proprietory shank.
C16EX - 16mm direct chucking of X-TREME proprietory shank.
C20EX - 20mm direct chucking of X-TREME proprietory shank.
C25EX - 25mm direct chucking of X-TREME proprietory shank.
C32EX - 32mm direct chucking of X-TREME proprietory shank.
C42EX - 42mm direct chucking of X-TREME proprietory shank.
For the customer the ultimate benefit by introducing X-TREME, as well as process confidence, was a drastic reduction in both cycle time and tooling costs (over 50%)! X-TREME is now used in the manufacture of all sizes of such components and for many more similar parts and processes based on the demands of difficult to machine and exotic materials.
Many other users and indeed cutting tool manufacturers are now developing and improving their own processes, cycles and capabilties by adopting the NIKKEN X-TREME solution.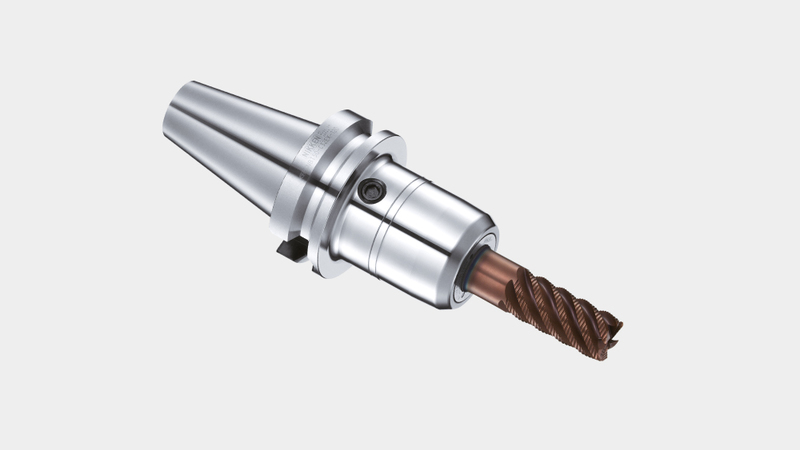 | | Capacity 'D' | Code | Length 'L' | Grip Length 'H' | Nut / Nose Dia. 'C' | Shank |
| --- | --- | --- | --- | --- | --- | --- |
| HSK100A-C12EX-95 | 12 | C12EX | 96 | 58 | 40 | HSK100A |
| HSK100A-C16EX-105 | 16 | C16EX | 106 | 68 | 48 | HSK100A |
| HSK100A-C20EX-115 | 20 | C20EX | 115 | 70 | 30 | HSK100A |
| HSK100A-C25EX-115 | 25 | C25EX | 115 | 76 | 55 | HSK100A |
| HSK100A-C32EX-120 | 32 | C32EX | 120 | 82 | 68 | HSK100A |
| HSK100A-C42EX-135 | 42 | C42EX | 135 | 85 | 86 | HSK100A |
| HSK125A-C20EX-120S | 20 | C20EX | 120S | 70 | 30 | HSK125A |
| HSK125A-C25EX-120S | 25 | C25EX | 120S | 76 | 55 | HSK125A |
| HSK125A-C32EX-135S | 32 | C32EX | 135S | 82 | 68 | HSK125A |
| HSK125A-C42EX-135S | 42 | C42EX | 135S | 85 | 86 | HSK125A |
| HSK63A-C12EX-95 | 12 | C12EX | 95 | 57 | 15 | HSK63A |
| HSK63A-C16EX-100 | 16 | C16EX | 100 | 67 | 20 | HSK63A |
| HSK63A-C20EX-105 | 20 | C20EX | 105 | 70 | 30 | HSK63A |
| NBT40-C12EX-85 | 12 | C12EX | 85 | 57 | 40 | NBT40 |
| NBT40-C16EX-95 | 16 | C16EX | 95 | 67 | 48 | NBT40 |
| NBT40-C20EX-95 | 20 | C20EX | 95 | 70 | 55 | NBT40 |
| NBT50-C12EX-95 | 12 | C12EX | 95 | 57 | 40 | NBT50 |
| NBT50-C16EX-105 | 16 | C16EX | 105 | 67 | 48 | NBT50 |
| NBT50-C20EX-115 | 20 | C20EX | 115 | 70 | 55 | NBT50 |
| NBT50-C25EX-115 | 25 | C25EX | 115 | 76 | 55 | NBT50 |
| NBT50-C32EX-120 | 32 | C32EX | 120 | 82 | 68 | NBT50 |
| NBT50-C42EX-125 | 42 | C42EX | 125 | 85 | 86 | NBT50 |
| NIT50-C12EX-95 | 12 | C12EX | 95 | 57 | 40 | NIT50 |
| NIT50-C16EX-105 | 16 | C16EX | 105 | 67 | 48 | NIT50 |
| NIT50-C20EX-105 | 20 | C20EX | 105 | 70 | 55 | NIT50 |
| NIT50-C25EX-110 | 25 | C25EX | 110 | 76 | 55 | NIT50 |
| NIT50-C32EX-115 | 32 | C32EX | 115 | 82 | 68 | NIT50 |
| NIT50-C42EX-125 | 42 | C42EX | 125 | 85 | 86 | NIT50 |