NIKKEN's VC Holder is effectively a hybrid solution more specifically developed for milling processes.
As such some of features and design advantages of two existing products, namely the Slim Chuck and the Mini-Mini chuck, have been incorporated and combined into what has become the enhanced VC Holder.
If two of the key characteristics experienced during any milling process are taken into account then the technology integrated in to the design and construction of our VC Holder becomes more clear. These relate to:
Increased cutting force and load, so, speed, feed and depth of cut, process, material e.t.c.
Milling introduces heavier loading and demands from the cutting tool. The milling process applies the load on to the side of tool rather than the front as experienced with a drilling process.
To provide the improved performance required from the conditions above the NIKKEN VC Holder utilises three key construction differences when compared to the standard Slim chuck:
Increased wall thickness and tapered cross section applied to the tool holder body (thicker and more rigid).
Larger contact area between collet shoulder face and TiN bearing clamping nut (improved clamping).
Extended length collet with a precise 'pilot' location diameter as also adopted by the NIKKEN Mini-Mini Chuck (optimum side load capabilities).
Run-Out guarantee

3µm at 4 x Diameter

TiN bearing Nut

8º Collet System

with pilot location for improved rigidity
Square Shoulder Pushing

High speed

as standard up to 40,000rpm @ G2.5

Jet Coolant

options available
The Anniversary VC Holder is limited to two sizes to suit predominantly smaller diameter milling processes.
VC6 holds up to 6mm diameter cutting tools with the VC13 catering for anything up to 12mm. The clamping nut is smooth and the whole assembly is high speed as standard. This means that the GH handle is a necessary option for tool clamping.
VC Holder uses it's own proprietary VCK collet system. The VCK collet is a 'size for size' collet so, just like the SK milling collet ranges, it provides no collapse. This means nominal cutter shank sizes only:
VCK6 - Diameters 2.0mm to 6.0mm.
VCK13 - Diameters 3.0mm to 12.0mm.
NIKKEN's 'Jetter' system is also an option for the VC Holder.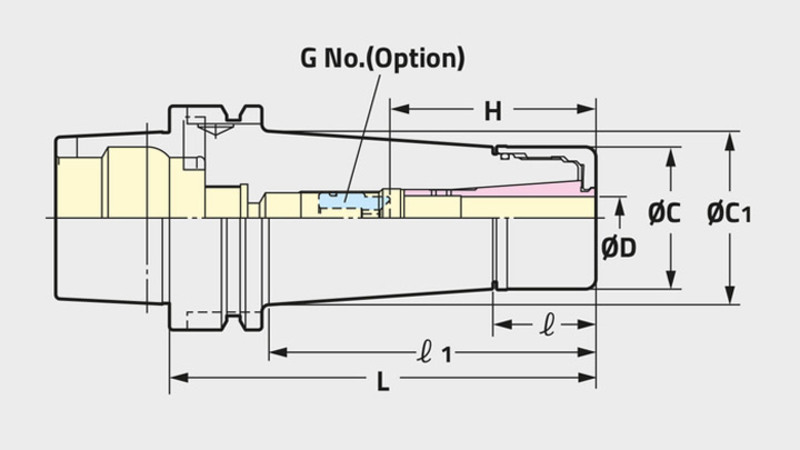 | | Capacity 'D' | Code | Grip Length 'H' | Length 'L' | Nut / Nose Dia 'D1' | Shank |
| --- | --- | --- | --- | --- | --- | --- |
| BT30-VC13-120 | 3.0-12.0 | VC13 | 50-60 | 120 | 40 | BT30 |
| BT30-VC13-60 | 3.0-12.0 | VC13 | 50-60 | 60 | 40 | BT30 |
| BT30-VC13-90 | 3.0-12.0 | VC13 | 50-60 | 90 | 40 | BT30 |
| BT30-VC6-45 | 2.0-6.0 | VC6 | 35-45 | 45 | 27.5 | BT30 |
| BT30-VC6-60 | 2.0-6.0 | VC6 | 35-45 | 60 | 27.5 | BT30 |
| BT30-VC6-90 | 2.0-6.0 | VC6 | 35-45 | 90 | 27.5 | BT30 |
| BT40-VC13-120 | 3.0-12.0 | VC13 | 50-60 | 120 | 40 | BT40 |
| BT40-VC13-60 | 3.0-12.0 | VC13 | 50-60 | 60 | 40 | BT40 |
| BT40-VC13-90 | 3.0-12.0 | VC13 | 50-60 | 90 | 40 | BT40 |
| BT40-VC6-120 | 2.0-6.0 | VC6 | 35-45 | 120 | 27.5 | BT40 |
| BT40-VC6-60 | 2.0-6.0 | VC6 | 35-45 | 60 | 27.5 | BT40 |
| BT40-VC6-90 | 2.0-6.0 | VC6 | 35-45 | 90 | 27.5 | BT40 |
| BT50-VC13-105 | 3.0-12.0 | VC13 | 50-60 | 105 | 40 | BT50 |
| BT50-VC13-135 | 3.0-12.0 | VC13 | 50-60 | 135 | 40 | BT50 |
| BT50-VC13-165 | 3.0-12.0 | VC13 | 50-60 | 165 | 40 | BT50 |
| BT50-VC6-105 | 2.0-6.0 | VC6 | 35-45 | 105 | 27.5 | BT50 |
| BT50-VC6-135 | 2.0-6.0 | VC6 | 35-45 | 135 | 27.5 | BT50 |
| BT50-VC6-165 | 2.0-6.0 | VC6 | 35-45 | 165 | 27.5 | BT50 |
| HSK100A-VC13-105 | 3.0-12.0 | VC13 | 50-60 | 105 | 40 | HSK100A |
| HSK100A-VC13-135 | 3.0-12.0 | VC13 | 50-60 | 135 | 40 | HSK100A |
| HSK100A-VC13-166 | 3.0-12.0 | VC13 | 50-60 | 166 | 40 | HSK100A |
| HSK100A-VC6-105 | 2.0-6.0 | VC6 | 35-45 | 105 | 28 | HSK100A |
| HSK100A-VC6-135 | 2.0-6.0 | VC6 | 35-45 | 135 | 28 | HSK100A |
| HSK100A-VC6-165 | 2.0-6.0 | VC6 | 35-45 | 165 | 28 | HSK100A |
| HSK40A-VC13-120 | 3.0-12.0 | VC13 | 50-60 | 120 | 40 | HSK40A |
| HSK40A-VC13-90 | 3.0-12.0 | VC13 | 50-60 | 90 | 40 | HSK40A |
| HSK40A-VC6-65 | 2.0-6.0 | VC6 | 35-45 | 65 | 28 | HSK40A |
| HSK40A-VC6-90 | 2.0-6.0 | VC6 | 35-45 | 90 | 28 | HSK40A |
| HSK40E-VC13-120 | 40 | 3.0-12.0 | HSK40E | 50-60 | VC13 | 120 |
| HSK40E-VC13-90 | 3.0-12.0 | VC13 | 50-60 | 90 | 40 | HSK40E |
| HSK40E-VC6-65 | 2.0-6.0 | VC6 | 35-45 | 65 | 28 | HSK40E |
| HSK40E-VC6-90 | 2.0-6.0 | VC6 | 35-45 | 90 | 28 | HSK40E |
| HSK50A-VC13-120 | 3.0-12.0 | VC13 | 50-60 | 120 | 40 | HSK50A |
| HSK50A-VC13-90 | 3.0-12.0 | VC13 | 50-60 | 90 | 40 | HSK50A |
| HSK50A-VC6-120 | 2.0-6.0 | VC6 | 35-45 | 120 | 28 | HSK50A |
| HSK50A-VC6-70 | 2.0-6.0 | VC6 | 35-45 | 70 | 28 | HSK50A |
| HSK50A-VC6-90 | 2.0-6.0 | VC6 | 35-45 | 90 | 28 | HSK50A |
| HSK50E-VC13-120 | 3.0-12.0 | VC13 | 50-60 | 120 | 40 | HSK50E |
| HSK50E-VC13-90 | 3.0-12.0 | VC13 | 50-60 | 90 | 40 | HSK50E |
| HSK50E-VC6-120 | 2.0-6.0 | VC6 | 35-45 | 120 | 28 | HSK50E |
| HSK50E-VC6-70 | 2.0-6.0 | VC6 | 35-45 | 70 | 28 | HSK50E |
| HSK50E-VC6-90 | 2.0-6.0 | VC6 | 35-45 | 90 | 28 | HSK50E |
| HSK63A-VC13-120 | 3.0-12.0 | VC13 | 50-60 | 120 | 40 | HSK63A |
| HSK63A-VC13-90 | 3.0-12.0 | VC13 | 50-60 | 90 | 40 | HSK63A |
| HSK63A-VC6-120 | 2.0-6.0 | VC6 | 35-45 | 120 | 28 | HSK63A |
| HSK63A-VC6-70 | 2.0-6.0 | VC6 | 35-45 | 70 | 28 | HSK63A |
| HSK63A-VC6-90 | 2.0-6.0 | VC6 | 35-45 | 90 | 28 | HSK63A |
| HSK63E-VC13-120 | 3.0-12.0 | VC13 | 50-60 | 120 | 40 | HSK63E |
| HSK63E-VC13-90 | 3.0-12.0 | VC13 | 50-60 | 90 | 40 | HSK63E |
| HSK63E-VC6-120 | 2.0-6.0 | VC6 | 35-45 | 120 | 28 | HSK63E |
| HSK63E-VC6-70 | 2.0-6.0 | VC6 | 35-45 | 70 | 28 | HSK63E |
| HSK63E-VC6-90 | 2.0-6.0 | VC6 | 35-45 | 90 | 28 | HSK63E |
| HSK63F-VC13-120 | 3.0-12.0 | VC13 | 50-60 | 120 | 40 | HSK63F |
| HSK63F-VC13-90 | 3.0-12.0 | VC13 | 50-60 | 90 | 40 | HSK40F |
| HSK63F-VC6-120 | 2.0-6.0 | VC6 | 35-45 | 120 | 28 | HSK63F |
| HSK63F-VC6-65 | 2.0-6.0 | VC6 | 35-45 | 65 | 28 | HSK63F |
| HSK63F-VC6-90 | 2.0-6.0 | VC6 | 35-45 | 90 | 28 | HSK63F |
| IT40X-VC13-120 | 3.0-12.0 | VC13 | 50-60 | 120 | 40 | IT40X |
| IT40X-VC13-60 | 3.0-12.0 | VC13 | 50-60 | 60 | 40 | IT40X |
| IT40X-VC13-90 | 3.0-12.0 | VC13 | 50-60 | 90 | 40 | IT40X |
| IT40X-VC6-120 | 2.0-6.0 | VC6 | 35-45 | 120 | 27.5 | IT40X |
| IT40X-VC6-60 | 2.0-6.0 | VC6 | 35-45 | 60 | 27.5 | IT40X |
| IT40X-VC6-90 | 2.0-6.0 | VC6 | 35-45 | 90 | 27.5 | IT40X |
| IT50X-VC13-135 | 3.0-12.0 | VC13 | 50-60 | 135 | 40 | IT50X |
| IT50X-VC13-165 | 3.0-12.0 | VC13 | 50-60 | 165 | 40 | IT50X |
| IT50X-VC6-105 | 2.0-6.0 | VC6 | 35-45 | 105 | 27.5 | IT50X |
| IT50X-VC6-135 | 2.0-6.0 | VC6 | 35-45 | 135 | 27.5 | IT50X |
| IT50X-VC6-165 | 2.0-6.0 | VC6 | 35-45 | 165 | 27.5 | IT50X |
| MBT40-VC13-120 | 3.0-12.0 | VC13 | 50-60 | 120 | 40 | MBT40 |
| MBT40-VC13-60 | 3.0-12.0 | VC13 | 50-60 | 60 | 40 | MBT40 |
| MBT40-VC13-90 | 3.0-12.0 | VC13 | 50-60 | 90 | 40 | MBT40 |
| MBT40-VC6-120 | 2.0-6.0 | VC6 | 35-45 | 120 | 27.5 | MBT40 |
| MBT40-VC6-60 | 2.0-6.0 | VC6 | 35-45 | 60 | 27.5 | MBT40 |
| MBT40-VC6-90 | 2.0-6.0 | VC6 | 35-45 | 90 | 27.5 | MBT40 |
| MBT50-VC13-105 | 3.0-12.0 | VC13 | 50-60 | 105 | 40 | MBT50 |
| MBT50-VC13-135 | 3.0-12.0 | VC13 | 50-60 | 135 | 40 | MBT50 |
| MBT50-VC13-165 | 3.0-12.0 | VC13 | 50-60 | 165 | 40 | MBT50 |
| MBT50-VC6-105 | 3.0-12.0 | VC13 | 50-60 | 105 | 40 | MBT50 |
| MBT50-VC6-135 | 2.0-6.0 | VC6 | 35-45 | 135 | 27.5 | MBT50 |
| MBT50-VC6-165 | 2.0-6.0 | VC6 | 35-45 | 165 | 27.5 | MBT50 |
| MIT40-VC13-120 | 3.0-12.0 | VC13 | 50-60 | 120 | 40 | MIT40 |
| MIT40-VC13-60 | 3.0-12.0 | VC13 | 50-60 | 60 | 40 | MIT40 |
| MIT40-VC13-90 | 3.0-12.0 | VC13 | 50-60 | 90 | 40 | MIT40 |
| MIT40-VC6-120 | 2.0-6.0 | VC6 | 35-45 | 120 | 27.5 | MIT40 |
| MIT40-VC6-90 | 2.0-6.0 | VC6 | 35-45 | 90 | 27.5 | MIT40 |
| MIT50-VC13-105 | 3.0-12.0 | VC13 | 50-60 | 105 | 40 | MIT50 |
| MIT50-VC13-135 | 3.0-12.0 | VC13 | 50-60 | 135 | 40 | MIT50 |
| MIT50-VC13-165 | 3.0-12.0 | VC13 | 50-60 | 165 | 40 | MIT50 |
| MIT50-VC6-105 | 2.0-6.0 | VC6 | 35-45 | 105 | 27.5 | MIT50 |
| MIT50-VC6-135 | 2.0-6.0 | VC6 | 35-45 | 135 | 27.5 | MIT50 |
| MIT50-VC6-165 | 2.0-6.0 | VC6 | 35-45 | 165 | 27.5 | MIT50 |
| NBT30-VC13-120 | 3.0-12.0 | VC13 | 50-60 | 120 | 40 | NBT30 |
| NBT30-VC13-60 | 3.0-12.0 | VC13 | 50-60 | 60 | 40 | NBT30 |
| NBT30-VC13-90 | 3.0-12.0 | VC13 | 50-60 | 90 | 40 | NBT30 |
| NBT30-VC6-45 | 2.0-6.0 | VC6 | 35-45 | 45 | 27.5 | NBT30 |
| NBT30-VC6-60 | 2.0-6.0 | VC6 | 35-45 | 60 | 27.5 | NBT30 |
| NBT30-VC6-90 | 2.0-6.0 | VC6 | 35-45 | 90 | 27.5 | NBT30 |
| NBT40-VC13-120 | 3.0-12.0 | VC13 | 50-60 | 120 | 40 | NBT40 |
| NBT40-VC13-60 | 3.0-12.0 | VC13 | 50-60 | 60 | 40 | NBT40 |
| NBT40-VC13-90 | 3.0-12.0 | VC13 | 50-60 | 90 | 40 | NBT40 |
| NBT40-VC6-120 | 2.0-6.0 | VC6 | 35-45 | 120 | 27.5 | NBT40 |
| NBT40-VC6-60 | 2.0-6.0 | VC6 | 35-45 | 60 | 27.5 | NBT40 |
| NBT40-VC6-90 | 2.0-6.0 | VC6 | 35-45 | 90 | 27.5 | NBT40 |
| NBT50-VC13-105 | | | | | | |
| NBT50-VC13-135 | 3.0-12.0 | VC13 | 50-60 | 135 | 40 | NBT50 |
| NBT50-VC13-165 | 3.0-12.0 | VC13 | 50-60 | 165 | 40 | NBT50 |
| NBT50-VC6-105 | 2.0-6.0 | VC6 | 35-45 | 105 | 27.5 | NBT50 |
| NBT50-VC6-135 | 2.0-6.0 | VC6 | 35-45 | 135 | 27.5 | NBT50 |
| NBT50-VC6-165 | 2.0-6.0 | VC6 | 35-45 | 165 | 27.5 | NBT50 |
| NIT40X-VC13-120 | 3.0-12.0 | VC13 | 50-60 | 120 | 40 | NIT40X |
| NIT40X-VC13-60 | 3.0-12.0 | VC13 | 50-60 | 60 | 40 | NIT40X |
| NIT40X-VC13-90 | 3.0-12.0 | VC13 | 50-60 | 90 | 40 | NIT40X |
| NIT40X-VC6-120 | 2.0-6.0 | VC6 | 35-45 | 120 | 27.5 | NIT40X |
| NIT40X-VC6-60 | 2.0-6.0 | VC6 | 35-45 | 60 | 27.5 | NIT40X |
| NIT40X-VC6-90 | 2.0-6.0 | VC6 | 35-45 | 90 | 27.5 | NIT40X |
| NIT50X-VC13-105 | 3.0-12.0 | VC13 | 50-60 | 105 | 40 | NIT50X |
| NIT50X-VC13-135 | 3.0-12.0 | VC13 | 50-60 | 135 | 40 | NIT50X |
| NIT50X-VC13-165 | 3.0-12.0 | VC13 | 50-60 | 165 | 40 | NIT50X |
| NIT50X-VC6-105 | 2.0-6.0 | VC6 | 35-45 | 105 | 27.5 | NIT50X |
| NIT50X-VC6-135 | 2.0-6.0 | VC6 | 35-45 | 135 | 27.5 | NIT50X |
| NIT50X-VC6-165 | 2.0-6.0 | VC6 | 35-45 | 165 | 27.5 | NIT50X |