The NIKKEN Slim Chuck is our standard and precise collet chuck solution.
The construction consists of three components – the main body/shank with fine, molybdenum coated, external ground thread and internal collet bore, an external clamping nut with unique TiN bearing, fine internal coated ground thread and finally a precision collet. Both the collet and the body feature a highly accurate 8 degree taper. Competitor solutions (ER systems and the like) are normally based around a 16 degree collet taper so in reality provide less that half the accuracy and gripping capability of the Slim Chuck.
Operation is very simple. The collet is loaded into the nut before the two parts, now 'as one' are screwed onto the main/body shank of the holder. The cutting tool is then loaded into the bore of the collet at the required length before tightening in a clockwise direction. Normally starting by hand, and then with the appropriate wrench, this rotation moves the nut up the thread of the holder and, very effectively and precisely, collapses the collet to grip and retain the cutting tool. It is straight forward and common sense to appreciate when the Slim Chuck is tightened correctly, however, should it be preferred, torque wrenches are available to achieve our absolute recommended tightening torque for each size of Slim Chuck.
Run-Out guarantee 5µm at 4 x Diameter (3µm with precision collets)

TiN Bearing Nut

8º Collet System
Square Shoulder Pushing

High speed options available up to 40,000rpm @ G2.5

Jet Coolant options available
The Slim Chuck is available to suit all processes with numerous shank sizes, lengths and configurations available. The Slim chuck body shape is avalable in two configurations: Standard parallel SK and externally tapered SKT. These two forms allow versatility to suit most applications and requirements.
The scope for the Slim Chuck can also be extended to NIKKEN's Multi-Lock Milling Chuck by using the 'straight shank' Slim Chuck in conjunction with a Multi-Lock which, in this case, then becomes a rigid and reliable base holder.
As is common for several products the standard Slim Chuck features a notched nut requiring a flat/hook type wrench and the 'high speed' variant is smooth too suit the 'GH Handle' roller bearing wrench. Unlike the Multi-Lock the Slim Chuck absolutely requires a collet. A collet first requires selecting and loading into the nut (direct chucking is not possible).
Slim Chuck, depending on tool shank, is available in 6 sizes:
SK6 - to suit diameters 0.7mm to 6.0mm.
SK10 - to suit diameters 1.75mm to 10.0mm.
SK13 - to suit diameters 2.75mm to 13.0mm.
SK16 - to suit diameters 2.75mm to 16.0mm.
SK20 - to suit diameters 3.5mm to 20.0mm.
SK25 - to suit diameters 7.5mm to 25.4mm.
The Slim Chuck currently has 4 types of 8 degree collet available to select from to hone and fine tune both accuracy and coolant control. They are:
Standard Collet - Example SK16-16 (Maximum 0.5mm collapse & 5 microns accuracy).
Precision Collet - Example SK16-16P (Maximum 0.5mm collapse & 3 microns accuracy).
Milling Collet - Example SK16-16A (No collapse & 3 microns accuracy).
NEW Mechanically Sealed Coolant Collet - Example SK16-16AC (Designed for coolant hole cutters. No collapse & 3 microns accuracy).
The standard, precison and milling SK collets can also be used in conjunction with our 'Jetter' system. By selecting the appropriate optional 'Jetter' nut and cap it is possible to control the coolant supply to suit your specific process - depending on the cutter type and requirement.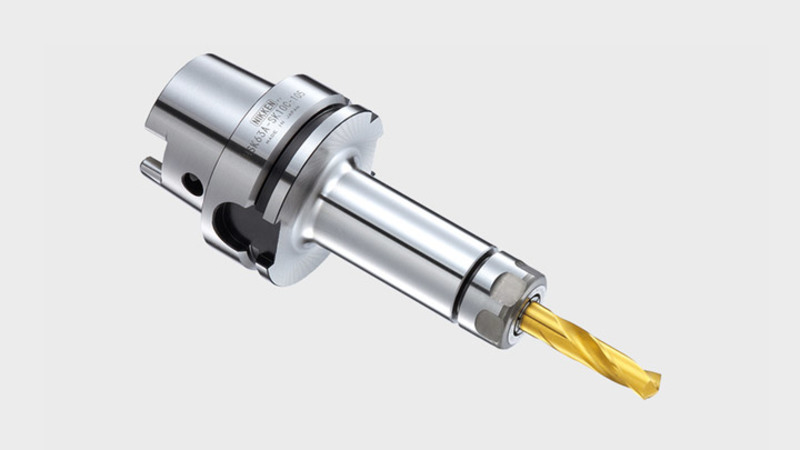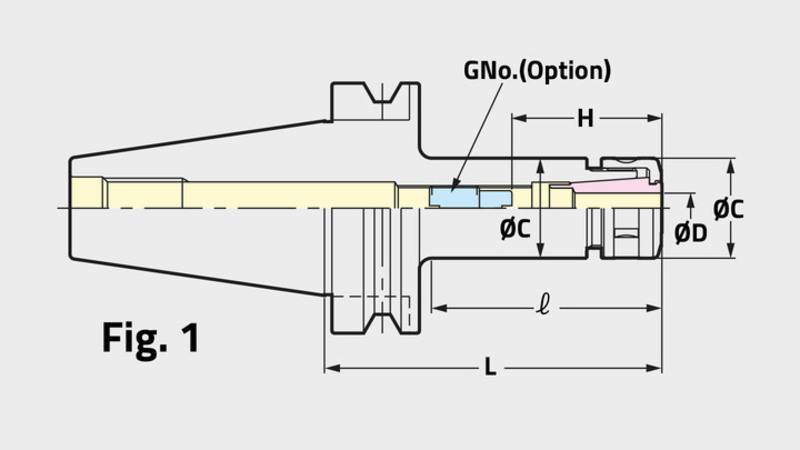 | | Capacity 'D' | Code | Grip Length 'H' | Length 'L' | Nut/Nose Dia. 'C' | Shank Size |
| --- | --- | --- | --- | --- | --- | --- |
| BT30-SK10-120 | 1.75-10.0 | SK10 | 30-50 | 120 | 27.5 | BT30 |
| BT30-SK10-45 | 1.75-10.0 | SK10 | 30-50 | 45 | 27.5 | BT30 |
| BT30-SK10-60 | 1.75-10.0 | SK10 | 30-50 | 60 | 27.5 | BT30 |
| BT30-SK10-75 | 1.75-10.0 | SK10 | 30-50 | 75 | 27.5 | BT30 |
| BT30-SK10-90 | 1.75-10.0 | SK10 | 30-50 | 90 | 27.5 | BT30 |
| BT30-SK13-120 | 2.75-13.0 | SK13 | 31-65 | 120 | 33 | BT30 |
| BT30-SK13-60 | 2.75-13.0 | SK13 | 31-50 | 60 | 33 | BT30 |
| BT30-SK13-75 | 2.75-13.0 | SK13 | 31-65 | 75 | 33 | BT30 |
| BT30-SK13-90 | 2.75-13.0 | SK13 | 31-65 | 90 | 33 | BT30 |
| BT30-SK16-120 | 2.75-16.0 | SK16 | 40-70 | 120 | 40 | BT30 |
| BT30-SK16-60 | 2.75-16.0 | SK16 | 45-60 | 60 | 40 | BT30 |
| BT30-SK16-75 | 2.75-16.0 | SK16 | 45-65 | 75 | 40 | BT30 |
| BT30-SK16-90 | 2.75-16.0 | SK16 | 45-65 | 90 | 40 | BT30 |
| BT30-SK20-60 | 3.5-20.0 | SK20 | 65-70 | 60 | 48.5 | BT30 |
| BT30-SK20-75 | 3.5-20.0 | SK20 | 70-75 | 75 | 48.5 | BT30 |
| BT30-SK20-90 | 3.5-20.0 | SK20 | 65-75 | 90 | 48.5 | BT30 |
| BT30-SK25-90 | 7.5-25.4 | SK25 | 55-75 | 90 | 55 | BT30 |
| BT30-SK6-120 | 0.7-6.0 | SK6 | 21-35 | 120 | 19.5 | BT30 |
| BT30-SK6-60 | 0.7-6.0 | SK6 | 21-35 | 60 | 19.5 | BT30 |
| BT30-SK6-90 | 0.7-6.0 | SK6 | 21-35 | 90 | 19.5 | BT30 |
| BT30-SZF10-90 | 1.75-10.0 | SZF10 | 30-50 | 90 | 27.5 | BT30 |
| BT30-SZF16-105 | 2.75-16.0 | SZF16 | 45-65 | 105 | 40 | BT30 |
| BT30-SZF6-90 | 0.7-6.0 | SZF6 | 21-35 | 90 | 19.5 | BT30 |
| BT40-SK10-120 | 1.75-10.0 | SK10 | 30-50 | 120 | 27.5 | BT40 |
| BT40-SK10-150 | 1.75-10.0 | SK10 | 30-50 | 150 | 27.5 | BT40 |
| BT40-SK10-180 | 1.75-10.0 | SK10 | 30-50 | 180 | 27.5 | BT40 |
| BT40-SK10-200 | 1.75-10.0 | SK10 | 30-50 | 200 | 27.5 | BT40 |
| BT40-SK10-250 | 1.75-10.0 | SK10 | 30-50 | 250 | 27.5 | BT40 |
| BT40-SK10-60 | 1.75-10.0 | SK10 | 30-50 | 60 | 27.5 | BT40 |
| BT40-SK10-75 | 1.75-10.0 | SK10 | 30-50 | 75 | 27.5 | BT40 |
| BT40-SK10-90 | 1.75-10.0 | SK10 | 30-50 | 90 | 27.5 | BT40 |
| BT40-SK13-120 | 2.75-13.0 | SK13 | 31-65 | 120 | 33 | BT40 |
| BT40-SK13-150 | 2.75-13.0 | SK13 | 31-65 | 150 | 33 | BT40 |
| BT40-SK13-180 | 2.75-13.0 | SK13 | 31-65 | 180 | 33 | BT40 |
| BT40-SK13-200 | 2.75-13.0 | SK13 | 31-65 | 200 | 33 | BT40 |
| BT40-SK13-250 | 2.75-13.0 | SK13 | 31-65 | 250 | 33 | BT40 |
| BT40-SK13-60 | 2.75-13.0 | SK13 | 31-65 | 60 | 33 | BT40 |
| BT40-SK13-75 | 2.75-13.0 | SK13 | 31-65 | 75 | 33 | BT40 |
| BT40-SK13-90 | 2.75-13.0 | SK13 | 31-65 | 90 | 33 | BT40 |
| BT40-SK16-120 | 2.75-16.0 | SK16 | 45-60 | 120 | 40 | BT40 |
| BT40-SK16-150 | 2.75-16.0 | SK16 | 45-60 | 150 | 40 | BT40 |
| BT40-SK16-180 | 2.75-16.0 | SK16 | 45-60 | 180 | 40 | BT40 |
| BT40-SK16-200 | 2.75-16.0 | SK16 | 45-60 | 200 | 40 | BT40 |
| BT40-SK16-250 | 2.75-16.0 | SK16 | 45-60 | 250 | 40 | BT40 |
| BT40-SK16-60 | 2.75-16.0 | SK16 | 50-65 | 60 | 40 | BT40 |
| BT40-SK16-75 | 2.75-16.0 | SK16 | 40-67 | 75 | 40 | BT40 |
| BT40-SK16-90 | 2.75-16.0 | SK16 | 45-60 | 90 | 40 | BT40 |
| BT40-SK20-120 | 3.5-20.0 | SK20 | 47-80 | 120 | 48.5 | BT40 |
| BT40-SK20-60 | 3.5-20.0 | SK20 | 47-60 | 60 | 48.5 | BT40 |
| BT40-SK20-75 | 3.5-20.0 | SK20 | 47-70 | 75 | 48.5 | BT40 |
| BT40-SK20-90 | 3.5-20.0 | SK20 | 47-80 | 90 | 48.5 | BT40 |
| BT40-SK25-120 | 7.5-25.4 | SK25 | 55-85 | 120 | 55 | BT40 |
| BT40-SK25-75 | 7.5-25.4 | SK25 | 55-75 | 75 | 55 | BT40 |
| BT40-SK25-90 | 7.5-25.4 | SK25 | 55-75 | 90 | 55 | BT40 |
| BT40-SK6-120 | 0.7-6.0 | SK6 | 21-35 | 120 | 19.5 | BT40 |
| BT40-SK6-150 | 0.7-6.0 | SK6 | 21-35 | 150 | 19.5 | BT40 |
| BT40-SK6-60 | 0.7-6.0 | SK6 | 21-35 | 60 | 19.5 | BT40 |
| BT40-SK6-90 | 0.7-6.0 | SK6 | 21-35 | 90 | 19.5 | BT40 |
| BT40-SZF10-150 | 1.75-10.0 | SZF10 | 30-50 | 150 | 27.5 | BT40 |
| BT40-SZF10-90 | 1.75-10.0 | SZF10 | 30-50 | 90 | 27.5 | BT40 |
| BT40-SZF16-150 | 2.75-16.0 | SZF16 | 45-65 | 150 | 40 | BT40 |
| BT40-SZF16-90 | 2.75-16.0 | SZF16 | 45-65 | 90 | 40 | BT40 |
| BT40-SZF25-120 | 7.5-25.4 | SZF25 | 55-85 | 120 | 55 | BT40 |
| BT40-SZF25-150 | 7.5-25.4 | SZF25 | 55-85 | 150 | 55 | BT40 |
| BT40-SZF6-150 | 0.7-6.0 | SZF6 | 21-35 | 150 | 19.5 | BT40 |
| BT40-SZF6-90 | 0.7-6.0 | SZF6 | 21-35 | 90 | 19.5 | BT40 |
| BT50-SK10-105 | 1.75-10.0 | SK10 | 30-50 | 105 | 27.5 | BT50 |
| BT50-SK10-135 | 1.75-10.0 | SK10 | 30-50 | 135 | 27.5 | BT50 |
| BT50-SK10-165 | 1.75-10.0 | SK10 | 30-50 | 165 | 27.5 | BT50 |
| BT50-SK10-200 | 1.75-10.0 | SK10 | 30-50 | 200 | 27.5 | BT50 |
| BT50-SK10-225 | 1.75-10.0 | SK10 | 30-50 | 225 | 27.5 | BT50 |
| BT50-SK10-250 | 1.75-10.0 | SK10 | 30-50 | 250 | 27.5 | BT50 |
| BT50-SK10-300 | 1.75-10.0 | SK10 | 30-50 | 300 | 27.5 | BT50 |
| BT50-SK13-105 | 2.75-13.0 | SK13 | 31-65 | 105 | 33 | BT50 |
| BT50-SK13-135 | 2.75-13.0 | SK13 | 31-65 | 135 | 33 | BT50 |
| BT50-SK13-165 | 2.75-13.0 | SK13 | 31-65 | 165 | 33 | BT50 |
| BT50-SK13-200 | 2.75-13.0 | SK13 | 31-65 | 200 | 33 | BT50 |
| BT50-SK13-250 | 2.75-13.0 | SK13 | 31-65 | 250 | 33 | BT50 |
| BT50-SK13-300 | 2.75-13.0 | SK13 | 31-65 | 300 | 33 | BT50 |
| BT50-SK16-105 | 2.75-16.0 | SK16 | 45-70 | 105 | 40 | BT50 |
| BT50-SK16-135 | 2.75-16.0 | SK16 | 45-70 | 135 | 40 | BT50 |
| BT50-SK16-165 | 2.75-16.0 | SK16 | 45-70 | 165 | 40 | BT50 |
| BT50-SK16-200 | 2.75-16.0 | SK16 | 45-70 | 200 | 40 | BT50 |
| BT50-SK16-250 | 2.75-16.0 | SK16 | 45-70 | 250 | 40 | BT50 |
| BT50-SK16-300 | 2.75-16.0 | SK16 | 45-70 | 300 | 40 | BT50 |
| BT50-SK20-105 | 3.5-20.0 | SK20 | 47-80 | 105 | 48.5 | BT50 |
| BT50-SK20-135 | 3.5-20.0 | SK20 | 47-80 | 135 | 48.5 | BT50 |
| BT50-SK20-165 | 3.5-20.0 | SK20 | 47-80 | 165 | 48.5 | BT50 |
| BT50-SK20-250 | 3.5-20.0 | SK20 | 47-80 | 250 | 48.5 | BT50 |
| BT50-SK20-300 | 3.5-20.0 | SK20 | 47-80 | 300 | 48.5 | BT50 |
| BT50-SK25-105 | 7.5-25.4 | SK25 | 50-85 | 135 | 55 | BT50 |
| BT50-SK25-135 | 7.5-25.4 | SK25 | 50-85 | 135 | 55 | BT50 |
| BT50-SK25-165 | 7.5-25.4 | SK25 | 50-85 | 165 | 55 | BT50 |
| BT50-SK25-200 | 7.5-25.4 | SK25 | 50-85 | 200 | 55 | BT50 |
| BT50-SK25-250 | 7.5-25.4 | SK25 | 50-85 | 250 | 55 | BT50 |
| BT50-SK25-300 | 7.5-25.4 | SK25 | 50-85 | 300 | 55 | BT50 |
| BT50-SK6-135 | 0.7-6.0 | | 21-35 | 135 | 19.5 | BT50 |
| BT50-SK6-165 | 0.7-6.0 | | 21-35 | 165 | 19.5 | BT50 |
| BT50-SK6-200 | 0.7-6.0 | | 21-35 | 200 | 19.5 | BT50 |
| BT50-SZF10-105 | 1.75-10.0 | SZF10 | 30-50 | 105 | 27.5 | BT50 |
| BT50-SZF10-165 | 1.75-10.0 | SZF10 | 30-50 | 165 | 27.5 | BT50 |
| BT50-SZF16-105 | 2.75-16.0 | SZF16 | 45-65 | 105 | 40 | BT50 |
| BT50-SZF16-165 | 2.75-16.0 | SZF16 | 45-65 | 165 | 40 | BT50 |
| BT50-SZF25-135 | 7.5-25.4 | SZF25 | 55-85 | 135 | 55 | BT50 |
| BT50-SZF25-165 | 7.5-25.4 | SZF25 | 55-85 | 165 | 55 | BT50 |
| BT50-SZF6-105 | 0.7-6.0 | SZF6 | 21-35 | 105 | 19.5 | BT50 |
| BT50-SZF6-165 | 0.7-6.0 | SZF6 | 21-35 | 165 | 19.5 | BT50 |
| HSK100A-SK10C-105 | 1.75-10.0 | SK10C | 33-41 | 105 | 27.5 | HSK100A |
| HSK100A-SK10C-120 | 1.75-10.0 | SK10C | 33-41 | 120 | 27.5 | HSK100A |
| HSK100A-SK10C-150 | 1.75-10.0 | SK10C | 33-41 | 150 | 27.5 | HSK100A |
| HSK100A-SK10C-200 | 1.75-10.0 | SK10C | 33-41 | 200 | 27.5 | HSK100A |
| HSK100A-SK13-105 | 2.75-13.0 | SK13 | 63 | 105 | 33 | HSK100A |
| HSK100A-SK13C-120 | 2.75-13.0 | SK13C | 39-51 | 120 | 33 | HSK100A |
| HSK100A-SK13C-150 | 2.75-13.0 | SK13C | 39-51 | 150 | 33 | HSK100A |
| HSK100A-SK13C-200 | 2.75-13.0 | SK13C | 39-51 | 200 | 33 | HSK100A |
| HSK100A-SK16-105 | 2.75-16.0 | SK16 | 45-60 | 105 | 40 | HSK100A |
| HSK100A-SK16C-120 | 2.75-16.0 | SK16C | 45-52 | 120 | 40 | HSK100A |
| HSK100A-SK16C-150 | 2.75-16.0 | SK16C | 45-52 | 150 | 40 | HSK100A |
| HSK100A-SK16C-200 | 2.75-16.0 | SK16C | 45-52 | 200 | 40 | HSK100A |
| HSK100A-SK20C-120 | 3.5-20.0 | SK20C | 50-55 | 120 | 48.5 | HSK100A |
| HSK100A-SK20C-150 | 3.5-20.0 | SK20C | 47-63 | 150 | 48.5 | HSK100A |
| HSK100A-SK20C-200 | 3.5-20.0 | SK20C | 47-63 | 200 | 48.5 | HSK100A |
| HSK100A-SK25-120 | 7.5-25.4 | SK25 | 55-75 | 120 | 55 | HSK100A |
| HSK100A-SK25C-145 | 7.5-25.4 | SK25C | 60-65 | 145 | 55 | HSK100A |
| HSK100A-SK6C-105 | 0.7-6.0 | SK6C | 26-31 | 105 | 19.5 | HSK100A |
| HSK100A-SZF10C-150 | 1.75-10.0 | SZF10C | 35-41 | 150 | 27.5 | HSK100A |
| HSK100A-SZF16C-150 | 2.75-16.0 | SZF16C | 45-57 | 150 | 40 | HSK100A |
| HSK100A-SZF25C-150 | 7.5-25.4 | SZF25C | 60-65 | 150 | 55 | HSK100A |
| HSK100A-SZF6C-120 | 0.7-6.0 | SZF6C | 26-31 | 120 | 19.5 | HSK100A |
| HSK40A-SK10-60 | 1.75-10.0 | SK10 | 40 | 60 | 27.5 | HSK40A |
| HSK40A-SK10-75 | 1.75-10.0 | SK10 | 29-36 | 75 | 27.5 | HSK40A |
| HSK40A-SK10C-100 | 1.75-10.0 | SK10C | 33-41 | 100 | 27.5 | HSK40A |
| HSK40A-SK13-75 | 2.75-13.0 | SK13 | 55 | 75 | 33 | HSK40A |
| HSK40A-SK13C-120 | 2.75-13.0 | SK13C | 39-51 | 120 | 33 | HSK40A |
| HSK40A-SK16-120 | 2.75-16.0 | SK16 | 45-52 | 120 | 40 | HSK40A |
| HSK40A-SK16-80 | 2.75-16.0 | SK16 | 60 | 80 | 40 | HSK40A |
| HSK40A-SK6-60 | 0.7-6.0 | SK6 | 40 | 60 | 19.5 | HSK40A |
| HSK40A-SK6C-80 | 0.7-6.0 | SK6C | 26-31 | 80 | 19.5 | HSK40A |
| HSK40A-SZF10C-105 | 1.75-10.0 | SZF10C | 35-41 | 105 | 27.5 | HSK40A |
| HSK40A-SZF16C-120 | 2.75-16.0 | SZF16C | 45-57 | 120 | 40 | HSK40A |
| HSK40A-SZF6C-105 | 0.7-6.0 | SZF6C | 26-31 | 105 | 19.5 | HSK40A |
| HSK50A-SK10-60 | 1.75-10.0 | SK10 | 35 | 60 | 27.5 | HSK50A |
| HSK50A-SK10C-105 | 1.75-10.0 | SK10C | 35-41 | 105 | 27.5 | HSK50A |
| HSK50A-SK10C-90 | 1.75-10.0 | SK10C | 35-41 | 90 | 27.5 | HSK50A |
| HSK50A-SK13-105 | 2.75-13.0 | SK13 | 31-47 | 105 | 33 | HSK50A |
| HSK50A-SK13-70 | 2.75-13.0 | SK13 | 47 | 70 | 33 | HSK50A |
| HSK50A-SK13C-120 | 2.75-13.0 | SK13C | 39-51 | 120 | 33 | HSK50A |
| HSK50A-SK16-105 | 2.75-16.0 | SK16 | 50-58 | 105 | 40 | HSK50A |
| HSK50A-SK16-80 | 2.75-16.0 | SK16 | 52 | 80 | 40 | HSK50A |
| HSK50A-SK16C-120 | 2.75-16.0 | SK16C | 45-52 | 120 | 40 | HSK50A |
| HSK50A-SK6-60 | 0.7-6.0 | SK6 | 37 | 60 | 19.5 | HSK50A |
| HSK50A-SK6C-80 | 0.7-6.0 | SK6C | 26-31 | 80 | 19.5 | HSK50A |
| HSK50A-SZF10C-120 | 1.75-10.0 | SZF10C | 35-41 | 120 | 27.5 | HSK50A |
| HSK50A-SZF16C-135 | 2.75-16.0 | SZF16C | 45-57 | 135 | 40 | HSK50A |
| HSK50A-SZF25C-135 | 7.5-25.4 | SZF25C | 60-65 | 135 | 55 | HSK50A |
| HSK50A-SZF6C-120 | 0.7-6.0 | SZF6C | 26-31 | 120 | 19.5 | HSK50A |
| HSK63A-SK10-60 | 1.75-10.0 | SK10 | 35 | 60 | 27.5 | HSK63A |
| HSK63A-SK10C-105 | 1.75-10.0 | SK10C | 33-41 | 105 | 27.5 | HSK63A |
| HSK63A-SK10C-120 | 1.75-10.0 | SK10C | 33-41 | 120 | 27.5 | HSK63A |
| HSK63A-SK10C-135 | 1.75-10.0 | SK10C | 33-41 | 135 | 27.5 | HSK63A |
| HSK63A-SK10C-150 | 1.75-10.0 | SK10C | 33-41 | 150 | 27.5 | HSK63A |
| HSK63A-SK13-105 | 2.75-13.0 | SK13 | 31-47 | 105 | 33 | HSK63A |
| HSK63A-SK13-70 | 2.75-13.0 | SK13 | 45 | 70 | 33 | HSK63A |
| HSK63A-SK13C-120 | 2.75-13.0 | SK13C | 39-51 | 120 | 33 | HSK63A |
| HSK63A-SK13C-150 | 2.75-13.0 | SK13C | 39-51 | 150 | 33 | HSK63A |
| HSK63A-SK16-105 | 2.75-16.0 | SK16 | 50-58 | 105 | 40 | HSK63A |
| HSK63A-SK16-80 | 2.75-16.0 | SK16 | 52 | 80 | 40 | HSK63A |
| HSK63A-SK16C-120 | 2.75-16.0 | SK16C | 45-52 | 120 | 40 | HSK63A |
| HSK63A-SK16C-150 | 2.75-16.0 | SK16C | 45-57 | 150 | 40 | HSK63A |
| HSK63A-SK20-105 | 3.5-20.0 | SK20 | 50-57 | 105 | 48.5 | HSK63A |
| HSK63A-SK20-90 | 3.5-20.0 | SK20 | 59 | 90 | 48.5 | HSK63A |
| HSK63A-SK20C-120 | 3.5-20.0 | SK20C | 50-55 | 120 | 48.5 | HSK63A |
| HSK63A-SK20C-135 | 3.5-20.0 | SK20C | 50-55 | 135 | 48.5 | HSK63A |
| HSK63A-SK25-90 | 7.5-25.4 | SK25 | 63 | 90 | 55 | HSK63A |
| HSK63A-SK25C-135 | 7.5-25.4 | SK25C | 63 | 135 | 60-65 | HSK63A |
| HSK63A-SK6-60 | 0.7-6.0 | SK6 | 38 | 60 | 19.5 | HSK63A |
| HSK63A-SK6C-100 | 0.7-6.0 | SK6C | 26-31 | 100 | 19.5 | HSK63A |
| HSK63A-SK6C-120 | 0.7-6.0 | SK6C | 26-31 | 120 | 19.5 | HSK63A |
| HSK63A-SK6C-150 | 0.7-6.0 | SK6C | 26-31 | 150 | 19.5 | HSK63A |
| HSK63A-SZF10C-105 | 1.75-10.0 | SZF10C | 35-41 | 105 | 27.5 | HSK63A |
| HSK63A-SZF10C-150 | 1.75-10.0 | SZF10C | 35-41 | 150 | 27.5 | HSK63A |
| HSK63A-SZF16C-150 | 2.75-16.0 | SZF16C | 45-57 | 150 | 40 | HSK63A |
| HSK63A-SZF25C-135 | 7.5-25.4 | SZF25C | 60-65 | 135 | 55 | HSK63A |
| HSK63A-SZF6C-120 | 0.7-6.0 | SZF6C | 26-31 | 120 | 19.5 | HSK63A |
| IT40-SK10-120 | 1.75-10.0 | SK10 | 30-50 | 120 | 27.5 | IT40 |
| IT40-SK10-150 | 1.75-10.0 | SK10 | 30-50 | 150 | 27.5 | IT40 |
| IT40-SK10-180 | 1.75-10.0 | SK10 | 30-50 | 180 | 27.5 | IT40 |
| IT40-SK10-60 | 1.75-10.0 | SK10 | 30-50 | 60 | 27.5 | IT40 |
| IT40-SK10-90 | 1.75-10.0 | SK10 | 30-50 | 90 | 27.5 | IT40 |
| IT40-SK13-120 | 2.75-13.0 | SK13 | 31-65 | 120 | 33 | IT40 |
| IT40-SK13-150 | 2.75-13.0 | SK13 | 31-65 | 150 | 33 | IT40 |
| IT40-SK13-180 | 2.75-13.0 | SK13 | 31-65 | 180 | 33 | IT40 |
| IT40-SK13-60 | 2.75-13.0 | SK13 | 31-65 | 60 | 33 | IT40 |
| IT40-SK13-90 | 2.75-13.0 | SK13 | 31-65 | 90 | 33 | IT40 |
| IT40-SK16-120 | 2.75-16.0 | SK16 | 45-70 | 120 | 40 | IT40 |
| IT40-SK16-120 | 2.75-16.0 | SK16 | 45-70 | 120 | 40 | IT40 |
| IT40-SK16-150 | 2.75-16.0 | SK16 | 45-70 | 150 | 40 | IT40 |
| IT40-SK16-180 | 2.75-16.0 | SK16 | 45-70 | 180 | 40 | IT40 |
| IT40-SK16-60 | 2.75-16.0 | SK16 | 50-65 | 60 | 40 | IT40 |
| IT40-SK16-90 | 2.75-16.0 | SK16 | 45-70 | 90 | 40 | IT40 |
| IT40-SK20-120 | 3.5-20.0 | SK20 | 47-80 | 120 | 48.5 | IT40 |
| IT40-SK20-90 | 3.5-20.0 | SK20 | 47-80 | 90 | 48.5 | IT40 |
| IT40-SK25-120 | 7.5-25.4 | SK25 | 55-75 | 120 | 55 | IT40 |
| IT40-SK25-90 | 7.5-25.4 | SK25 | 55-75 | 90 | 55 | IT40 |
| IT40-SK6-120 | 0.7-6.0 | SK6 | 21-35 | 120 | 19.5 | IT40 |
| IT40-SK6-150 | 0.7-6.0 | SK6 | 21-35 | 150 | 19.5 | IT40 |
| IT40-SK6-60 | 0.7-6.0 | SK6 | 21-35 | 60 | 19.5 | IT40 |
| IT40-SK6-90 | 0.7-6.0 | SK6 | 21-35 | 90 | 19.5 | IT40 |
| IT40-SZF10-120 | 1.75-10.0 | SZF10 | 30-50 | 120 | 27.5 | IT40 |
| IT40-SZF10-150 | 1.75-10.0 | SZF10 | 30-50 | 150 | 27.5 | IT40 |
| IT40-SZF16-120 | 2.75-16.0 | SZF16 | 45-65 | 120 | 40 | IT40 |
| IT40-SZF16-150 | 2.75-16.0 | SZF16 | 45-65 | 150 | 40 | IT40 |
| IT40-SZF25-120 | 7.5-25.4 | SZF25 | 55-85 | 120 | 55 | IT40 |
| IT40-SZF25-150 | 7.5-25.4 | SZF25 | 55-85 | 150 | 55 | IT40 |
| IT40-SZF6-150 | 0.7-6.0 | SZF6 | 21-35 | 150 | 19.5 | IT40 |
| IT40-SZF6-90 | 0.7-6.0 | SZF6 | 21-35 | 90 | 19.5 | IT40 |
| IT50-SK10-105 | 1.75-10.0 | SK10 | 30-50 | 105 | 27.5 | IT50 |
| IT50-SK10-135 | 1.75-10.0 | SK10 | 30-50 | 135 | 27.5 | IT50 |
| IT50-SK10-165 | 1.75-10.0 | SK10 | 30-50 | 165 | 27.5 | IT50 |
| IT50-SK10-200 | 1.75-10.0 | SK10 | 30-50 | 200 | 27.5 | IT50 |
| IT50-SK13-105 | 2.75-13.0 | SK13 | 31-65 | 105 | 33 | IT50 |
| IT50-SK13-135 | 2.75-13.0 | SK13 | 31-65 | 135 | 33 | IT50 |
| IT50-SK13-165 | 2.75-13.0 | SK13 | 31-65 | 165 | 33 | IT50 |
| IT50-SK13-200 | 2.75-13.0 | SK13 | 31-65 | 200 | 33 | IT50 |
| IT50-SK16-105 | 2.75-16.0 | SK16 | 40-70 | 105 | 40 | IT50 |
| IT50-SK16-135 | 2.75-16.0 | SK16 | 40-70 | 135 | 40 | IT50 |
| IT50-SK16-165 | 2.75-16.0 | SK16 | 40-70 | 165 | 40 | IT50 |
| IT50-SK16-200 | 2.75-16.0 | SK16 | 40-70 | 200 | 40 | IT50 |
| IT50-SK20-105 | 3.5-20.0 | SK20 | 47-80 | 105 | 48.5 | IT50 |
| IT50-SK20-135 | 3.5-20.0 | SK20 | 47-80 | 135 | 48.5 | IT50 |
| IT50-SK20-165 | 3.5-20.0 | SK20 | 47-80 | 165 | 48.5 | IT50 |
| IT50-SK20-200 | 3.5-20.0 | SK20 | 47-80 | 200 | 48.5 | IT50 |
| IT50-SK25-105 | 7.5-25.4 | SK25 | 50-85 | 105 | 55 | IT50 |
| IT50-SK25-135 | 7.5-25.4 | SK25 | 50-85 | 135 | 55 | IT50 |
| IT50-SK25-165 | 7.5-25.4 | SK25 | 50-85 | 165 | 55 | IT50 |
| IT50-SK25-200 | 7.5-25.4 | SK25 | 50-85 | 200 | 55 | IT50 |
| IT50-SK6-105 | 0.7-6.0 | SK6 | 21-35 | 105 | 19.5 | IT50 |
| IT50-SK6-135 | 0.7-6.0 | SK6 | 21-35 | 135 | 19.5 | IT50 |
| IT50-SK6-165 | 0.7-6.0 | SK6 | 21-35 | 165 | 19.5 | IT50 |
| IT50-SK6-200 | 0.7-6.0 | SK6 | 21-35 | 200 | 19.5 | IT50 |
| IT50-SZF10-105 | 1.75-10.0 | SZF10 | 30-50 | 105 | 27.5 | IT50 |
| IT50-SZF10-165 | 1.75-10.0 | SZF10 | 30-50 | 165 | 27.5 | IT50 |
| IT50-SZF16-105 | 2.75-16.0 | SZF16 | 45-65 | 105 | 40 | IT50 |
| IT50-SZF16-165 | 2.75-16.0 | SZF16 | 45-65 | 165 | 40 | IT50 |
| IT50-SZF25-120 | 7.5-25.4 | SZF25 | 55-85 | 120 | 55 | IT50 |
| IT50-SZF25-165 | 7.5-25.4 | SZF25 | 55-85 | 165 | 55 | IT50 |
| IT50-SZF6-105 | 0.7-6.0 | SZF6 | 21-35 | 105 | 19.5 | IT50 |
| IT50-SZF6-165 | 0.7-6.0 | SZF6 | 21-35 | 165 | 19.5 | IT50 |
| MBT40-SKT10C-120 | 1.75-10.0 | SKT10C | 35-41 | 120 | 27.5 | MBT40 |
| MBT40-SKT10C-150 | 1.75-10.0 | SKT10C | 35-41 | 150 | 27.5 | MBT40 |
| MBT40-SKT10C-90 | 1.75-10.0 | SKT10C | 35-41 | 90 | 27.5 | MBT40 |
| MBT40-SKT13C-120 | 2.75-13.0 | SKT13C | 39-51 | 120 | 33 | MBT40 |
| MBT40-SKT13C-150 | 2.75-13.0 | SKT13C | 39-51 | 150 | 33 | MBT40 |
| MBT40-SKT13C-90 | 2.75-13.0 | SKT13C | 39-51 | 90 | 33 | MBT40 |
| MBT40-SKT16C-120 | 2.75-16.0 | SKT16C | 45-57 | 120 | 40 | MBT40 |
| MBT40-SKT16C-150 | 2.75-16.0 | SKT16C | 45-57 | 150 | 40 | MBT40 |
| MBT40-SKT16C-90 | 2.75-16.0 | SKT16C | 45-57 | 90 | 40 | MBT40 |
| MBT40-SKT20C-120 | 3.5-20.0 | SKT20C | 47-63 | 120 | 48.5 | MBT40 |
| MBT40-SKT20C-90 | 3.5-20.0 | SKT20C | 47-63 | 90 | 48.5 | MBT40 |
| MBT40-SKT25C-120 | 7.5-25.4 | SKT25C | 60-65 | 120 | 55 | MBT40 |
| MBT40-SKT25C-90 | 7.5-25.4 | SKT25C | 60-65 | 90 | 55 | MBT40 |
| MBT40-SKT6C-120 | 0.7-6.0 | SKT6C | 26-31 | 120 | 19.5 | MBT40 |
| MBT40-SKT6C-90 | 0.7-6.0 | MBT40 | 26-31 | 90 | 19.5 | MBT40 |
| MBT40-SZF10C-150 | 1.75-10.0 | SZF10C | 30-50 | 150 | 27.5 | MBT40 |
| MBT40-SZF10C-90 | 1.75-10.0 | SZF10C | 30-50 | 90 | 27.5 | MBT40 |
| MBT40-SZF16C-150 | 2.75-16.0 | SZF16C | 45-65 | 150 | 40 | MBT40 |
| MBT40-SZF16C-90 | 2.75-16.0 | SZF16C | 45-65 | 90 | 40 | MBT40 |
| MBT40-SZF25C-120 | 7.5-25.4 | SZF25C | 55-85 | 120 | 55 | MBT40 |
| MBT40-SZF25C-150 | 7.5-25.4 | SZF25C | 55-85 | 150 | 55 | MBT40 |
| MBT40-SZF6C-150 | 0.7-6.0 | SZF6C | 21-35 | 150 | 19.5 | MBT40 |
| MBT40-SZF6C-90 | 0.7-6.0 | SZF6C | 21-35 | 90 | 19.5 | MBT40 |
| MBT50-SKT10C-105 | 1.75-10.0 | SKT10C | 35-41 | 105 | 27.5 | MBT50 |
| MBT50-SKT10C-165 | 1.75-10.0 | SKT10C | 35-41 | 165 | 27.5 | MBT50 |
| MBT50-SKT13C-105 | 2.75-13.0 | SKT13C | 39-51 | 105 | 33 | MBT50 |
| MBT50-SKT13C-165 | 2.75-13.0 | SKT13C | 39-51 | 165 | 33 | MBT50 |
| MBT50-SKT16C-105 | 2.75-16.0 | SKT16C | 45-57 | 105 | 40 | MBT50 |
| MBT50-SKT16C-165 | 2.75-16.0 | SKT16C | 45-57 | 165 | 40 | MBT50 |
| MBT50-SKT20C-105 | 3.5-20.0 | SKT20C | 47-63 | 105 | 48.5 | MBT50 |
| MBT50-SKT20C-165 | 3.5-20.0 | SKT20C | 47-63 | 165 | 48.5 | MBT50 |
| MBT50-SKT20C-165 | 3.5-20.0 | SKT20C | 47-63 | 105 | 48.5 | MBT50 |
| MBT50-SKT25C-105 | 7.5-25.4 | SKT25C | 60-65 | 105 | 55 | MBT50 |
| MBT50-SKT25C-165 | 7.5-25.4 | SKT25C | 60-65 | 165 | 55 | MBT50 |
| MBT50-SKT6C-105 | 0.7-6.0 | SKT6C | 26-31 | 105 | 19.5 | MBT50 |
| MBT50-SKT6C-165 | 0.7-6.0 | SKT6C | 26-31 | 165 | 19.5 | MBT50 |
| MBT50-SZF10C-105 | 1.75-10.0 | SZF10C | 30-50 | 105 | 27.5 | MBT50 |
| MBT50-SZF10C-165 | 1.75-10.0 | SZF10C | 30-50 | 165 | 27.5 | MBT50 |
| MBT50-SZF16C-105 | 2.75-16.0 | SZF16C | 45-65 | 105 | 40 | MBT50 |
| MBT50-SZF16C-165 | 2.75-16.0 | SZF16C | 45-65 | 165 | 40 | MBT50 |
| MBT50-SZF25C-135 | 7.5-25.4 | SZF25C | 55-85 | 135 | 55 | MBT50 |
| MBT50-SZF25C-165 | 7.5-25.4 | SZF25C | 55-85 | 165 | 55 | MBT50 |
| MBT50-SZF25C-165 | 7.5-25.4 | SZF25C | 55-85 | 165 | 55 | MBT50 |
| MBT50-SZF6C-105 | 0.7-6.0 | SZF6C | 21-35 | 105 | 19.5 | MBT50 |
| MBT50-SZF6C-165 | 0.7-6.0 | SZF6C | 21-35 | 165 | 19.5 | MBT50 |
| MIT40-SKT10C-120 | 1.75-10.0 | SKT10C | 35-41 | 120 | 27.5 | MIT40 |
| MIT40-SKT10C-150 | 1.75-10.0 | SKT10C | 35-41 | 150 | 27.5 | MIT40 |
| MIT40-SKT10C-90 | 1.75-10.0 | SKT10C | 35-41 | 90 | 27.5 | MIT40 |
| MIT40-SKT13C-120 | 2.75-13.0 | SKT13C | 39-51 | 120 | 33 | MIT40 |
| MIT40-SKT13C-150 | 2.75-13.0 | SKT13C | 39-51 | 150 | 33 | MIT40 |
| MIT40-SKT13C-90 | 2.75-13.0 | SKT13C | 39-51 | 90 | 33 | MIT40 |
| MIT40-SKT16C-120 | 2.75-16.0 | SKT16C | 45-57 | 120 | 40 | MIT40 |
| MIT40-SKT16C-150 | 2.75-16.0 | SKT16C | 45-57 | 150 | 40 | MIT40 |
| MIT40-SKT16C-90 | 2.75-16.0 | SKT16C | 45-57 | 90 | 40 | MIT40 |
| MIT40-SKT20C-120 | 4.0-20.0 | SKT20C | 47-63 | 120 | 48.5 | MIT40 |
| MIT40-SKT20C-90 | 4.0-20.0 | SKT20C | 47-63 | 90 | 48.5 | MIT40 |
| MIT40-SKT25C-120 | 8.0-25.4 | SKT25C | 60-65 | 120 | 55 | MIT40 |
| MIT40-SKT25C-90 | 8.0-25.4 | SKT25C | 60-65 | 90 | 55 | MIT40 |
| MIT40-SKT6C-120 | 0.7-6.0 | SKT6C | 26-31 | 120 | 19.5 | MIT40 |
| MIT40-SKT6C-90 | 0.7-6.0 | SKT6C | 26-31 | 90 | 19.5 | MIT40 |
| MIT50-SKT10C-105 | 1.75-10.0 | SKT10C | 35-41 | 105 | 27.5 | MIT50 |
| MIT50-SKT10C-165 | 1.75-10.0 | SKT10C | 35-41 | 165 | 27.5 | MIT50 |
| MIT50-SKT13C-105 | 2.75-13.0 | SKT13C | 39-51 | 105 | 33 | MIT50 |
| MIT50-SKT13C-165 | 2.75-13.0 | SKT13C | 39-51 | 165 | 33 | MIT50 |
| MIT50-SKT16C-105 | 2.75-16.0 | SKT16C | 45-57 | 105 | 40 | MIT50 |
| MIT50-SKT16C-165 | 2.75-16.0 | SKT16C | 45-57 | 165 | 40 | MIT50 |
| MIT50-SKT20C-105 | 4.0-20.0 | SKT20C | 47-63 | 105 | 48.5 | MIT50 |
| MIT50-SKT20C-165 | 4.0-20.0 | SKT20C | 47-63 | 165 | 48.5 | MIT50 |
| MIT50-SKT25C-120 | 8.0-25.4 | SKT25C | 60-70 | 120 | 55 | MIT50 |
| MIT50-SKT25C-165 | 8.0-25.4 | SKT25C | 60-70 | 165 | 55 | MIT50 |
| MIT50-SKT6C-105 | 0.7-6.0 | SKT6C | 26-31 | 105 | 19.5 | MIT50 |
| MIT50-SKT6C-165 | 0.7-6.0 | SKT6C | 26-31 | 165 | 19.5 | MIT50 |
| NBT30-SK10C-120 | 1.75-10.0 | SK10C | 33-41 | 120 | 27.5 | NBT30 |
| NBT30-SK10C-45 | 1.75-10.0 | SK10C | 33-41 | 45 | 27.5 | NBT30 |
| NBT30-SK10C-60 | 1.75-10.0 | SK10C | 33-41 | 60 | 27.5 | NBT30 |
| NBT30-SK10C-75 | 1.75-10.0 | SK10C | 33-41 | 75 | 27.5 | NBT30 |
| NBT30-SK10C-90 | 1.75-10.0 | SK10C | 33-41 | 90 | 27.5 | NBT30 |
| NBT30-SK13C-120 | 2.75-13.0 | SK13C | 39-51 | 120 | 33 | NBT30 |
| NBT30-SK13C-60 | 2.75-13.0 | SK13C | 39-51 | 60 | 33 | NBT30 |
| NBT30-SK13C-75 | 2.75-13.0 | SK13C | 39-51 | 75 | 33 | NBT30 |
| NBT30-SK13C-90 | 2.75-13.0 | SK13C | 39-51 | 90 | 33 | NBT30 |
| NBT30-SK16C-120 | 2.75-16.0 | SK16C | 45-57 | 120 | 40 | NBT30 |
| NBT30-SK16C-60 | 2.75-16.0 | SK16C | 47-52 | 60 | 40 | NBT30 |
| NBT30-SK16C-75 | 2.75-16.0 | SK16C | 45-52 | 75 | 40 | NBT30 |
| NBT30-SK16C-90 | 2.75-16.0 | SK16C | 45-57 | 90 | 40 | NBT30 |
| NBT30-SK20-60 | 3.5-20.0 | SK20 | 65-70 | 60 | 48.5 | NBT30 |
| NBT30-SK20C-75 | 3.5-20.0 | SK20C | 55-55 | 75 | 48.5 | NBT30 |
| NBT30-SK20C-90 | 3.5-20.0 | SK20C | 47-63 | 90 | 48.5 | NBT30 |
| NBT30-SK20C-90 | 3.5-20.0 | SK20C | 47-63 | 90 | 48.5 | NBT30 |
| NBT30-SK25-90 | 7.5-25.4 | SK25 | 55-75 | 90 | 55 | NBT30 |
| NBT30-SK6C-120 | 0.7-6.0 | SK6C | 26-31 | 120 | 19.5 | NBT30 |
| NBT30-SK6C-60 | 0.7-6.0 | SK6C | 26-31 | 60 | 19.5 | NBT30 |
| NBT30-SK6C-90 | 0.7-6.0 | SK6C | 26-31 | 90 | 19.5 | NBT30 |
| NBT30-SZF10C-90 | 1.75-10.0 | SZF10C | 30-50 | 90 | 27.5 | NBT30 |
| NBT30-SZF16C-105 | 2.75-16.0 | SZF16C | 45-65 | 105 | 40 | NBT30 |
| NBT30-SZF6C-90 | 0.7-6.0 | SZF6C | 21-35 | 90 | 19.5 | NBT30 |
| NBT40-SK10C-150 | 1.75-10.0 | SK10C | 33-41 | 150 | 27.5 | NBT40 |
| NBT40-SK10C-180 | 1.75-10.0 | SK10C | 33-41 | 180 | 27.5 | NBT40 |
| NBT40-SK10C-200 | 1.75-10.0 | SK10C | 33-41 | 200 | 27.5 | NBT40 |
| NBT40-SK10C-250 | 1.75-10.0 | SK10C | 33-41 | 250 | 27.5 | NBT40 |
| NBT40-SK10C-60 | 1.75-10.0 | SK10C | 33-41 | 60 | 27.5 | NBT40 |
| NBT40-SK10C-75 | 1.75-10.0 | SK10C | 33-41 | 75 | 27.5 | NBT40 |
| NBT40-SK10C-90 | 1.75-10.0 | SK10C | 33-41 | 90 | 27.5 | NBT40 |
| NBT40-SK10C-90 | 1.75-10.0 | SK10C | 33-41 | 90 | 27.5 | NBT40 |
| NBT40-SK13C-120 | 2.75-13.0 | SK13C | 39-51 | 120 | 33 | NBT40 |
| NBT40-SK13C-150 | 2.75-13.0 | SK13C | 39-51 | 150 | 33 | NBT40 |
| NBT40-SK13C-180 | 2.75-13.0 | SK13C | 39-51 | 180 | 33 | NBT40 |
| NBT40-SK13C-200 | 2.75-13.0 | SK13C | 39-51 | 200 | 33 | NBT40 |
| NBT40-SK13C-250 | 2.75-13.0 | SK13C | 39-51 | 250 | 33 | NBT40 |
| NBT40-SK13C-60 | 2.75-13.0 | SK13C | 39-51 | 60 | 33 | NBT40 |
| NBT40-SK13C-75 | 2.75-13.0 | SK13C | 39-51 | 75 | 33 | NBT40 |
| NBT40-SK13C-90 | 2.75-13.0 | SK13C | 39-51 | 90 | 33 | NBT40 |
| NBT40-SK16C-120 | 2.75-16.0 | SK16C | 45-57 | 120 | 40 | NBT40 |
| NBT40-SK16C-150 | 2.75-16.0 | SK16C | 45-57 | 150 | 40 | NBT40 |
| NBT40-SK16C-180 | 2.75-16.0 | SK16C | 45-57 | 180 | 40 | NBT40 |
| NBT40-SK16C-200 | 2.75-16.0 | SK16C | 45-57 | 200 | 40 | NBT40 |
| NBT40-SK16C-250 | 2.75-16.0 | SK16C | 45-57 | 250 | 40 | NBT40 |
| NBT40-SK16C-60 | 2.75-16.0 | SK16C | 45-52 | 60 | 40 | NBT40 |
| NBT40-SK16C-75 | 2.75-16.0 | SK16C | 45-57 | 75 | 40 | NBT40 |
| NBT40-SK16C-90 | 2.75-16.0 | SK16C | 45-57 | 90 | 40 | NBT40 |
| NBT40-SK20C-120 | 3.5-20.0 | SK20C | 47-63 | 120 | 48.5 | NBT40 |
| NBT40-SK20C-60 | 3.5-20.0 | SK20C | 57-63 | 60 | 48.5 | NBT40 |
| NBT40-SK20C-75 | 3.5-20.0 | SK20C | 47-63 | 75 | 48.5 | NBT40 |
| NBT40-SK20C-90 | 3.5-20.0 | SK20C | 47-63 | 90 | 48.5 | NBT40 |
| NBT40-SK25C-120 | 7.5-25.4 | SK25C | 60-70 | 120 | 55 | NBT40 |
| NBT40-SK25C-75 | 7.5-25.4 | SK25C | 60-65 | 75 | 55 | NBT40 |
| NBT40-SK25C-90 | 7.5-25.4 | SK25C | 60-65 | 90 | 55 | NBT40 |
| NBT40-SK6C-120 | 0.7-6.0 | SK6C | 26-31 | 120 | 19.5 | NBT40 |
| NBT40-SK6C-150 | 0.7-6.0 | SK6C | 26-31 | 150 | 19.5 | NBT40 |
| NBT40-SK6C-60 | 0.7-6.0 | SK6C | 26-31 | 60 | 19.5 | NBT40 |
| NBT40-SK6C-90 | 0.7-6.0 | SK6C | 26-31 | 90 | 19.5 | NBT40 |
| NBT40-SZF10C-150 | 1.75-10.0 | SZF10C | 30-50 | 150 | 27.5 | NBT40 |
| NBT40-SZF10C-90 | 1.75-10.0 | SZF10C | 30-50 | 90 | 27.5 | NBT40 |
| NBT40-SZF16C-150 | 2.75-16.0 | SZF16C | 45-65 | 150 | 40 | NBT40 |
| NBT40-SZF16C-90 | 2.75-16.0 | SZF16C | 45-65 | 90 | 40 | NBT40 |
| NBT40-SZF25C-120 | 7.5-25.4 | SZF25C | 55-85 | 120 | 55 | NBT40 |
| NBT40-SZF25C-150 | 7.5-25.4 | SZF25C | 55-85 | 150 | 55 | NBT40 |
| NBT40-SZF6C-150 | 0.7-6.0 | SZF6C | 21-35 | 150 | 19.5 | NBT40 |
| NBT40-SZF6C-90 | 0.7-6.0 | SZF6C | 21-35 | 90 | 19.5 | NBT40 |
| NBT50-SK10C-105 | 1.75-10.0 | SK10C | 33-41 | 105 | 27.5 | NBT50 |
| NBT50-SK10C-135 | 1.75-10.0 | SK10C | 33-41 | 135 | 27.5 | NBT50 |
| NBT50-SK10C-165 | 1.75-10.0 | SK10C | 33-41 | 165 | 27.5 | NBT50 |
| NBT50-SK10C-200 | 1.75-10.0 | SK10C | 33-41 | 200 | 27.5 | NBT50 |
| NBT50-SK10C-225 | 1.75-10.0 | SK10C | 33-41 | 225 | 27.5 | NBT50 |
| NBT50-SK10C-250 | 1.75-10.0 | SK10C | 33-41 | 250 | 27.5 | NBT50 |
| NBT50-SK10C-300 | 1.75-10.0 | SK10C | 33-41 | 300 | 27.5 | NBT50 |
| NBT50-SK13C-105 | 2.75-13.0 | SK13C | 39-51 | 105 | 33 | NBT50 |
| NBT50-SK13C-135 | 2.75-13.0 | SK13C | 39-51 | 135 | 33 | NBT50 |
| NBT50-SK13C-165 | 2.75-13.0 | SK13C | 39-51 | 165 | 33 | NBT50 |
| NBT50-SK13C-200 | 2.75-13.0 | SK13C | 39-51 | 200 | 33 | NBT50 |
| NBT50-SK13C-250 | 2.75-13.0 | SK13C | 39-51 | 250 | 33 | NBT50 |
| NBT50-SK13C-300 | 2.75-13.0 | SK13C | 39-51 | 300 | 33 | NBT50 |
| NBT50-SK16C-105 | 2.75-16.0 | SK16C | 45-57 | 105 | 40 | NBT50 |
| NBT50-SK16C-135 | 2.75-16.0 | SK16C | 45-57 | 135 | 40 | NBT50 |
| NBT50-SK16C-165 | 2.75-16.0 | SK16C | 45-57 | 165 | 40 | NBT50 |
| NBT50-SK16C-200 | 2.75-16.0 | SK16C | 45-57 | 200 | 40 | NBT50 |
| NBT50-SK16C-250 | 2.75-16.0 | SK16C | 45-57 | 250 | 40 | NBT50 |
| NBT50-SK16C-300 | 2.75-16.0 | SK16C | 45-57 | 300 | 40 | NBT50 |
| NBT50-SK20C-105 | 3.5-20.0 | SK20C | 47-63 | 105 | 48.5 | NBT50 |
| NBT50-SK20C-135 | 3.5-20.0 | SK20C | 47-63 | 135 | 48.5 | NBT50 |
| NBT50-SK20C-165 | 3.5-20.0 | SK20C | 47-63 | 165 | 48.5 | NBT50 |
| NBT50-SK20C-200 | 3.5-20.0 | SK20C | 47-63 | 200 | 48.5 | NBT50 |
| NBT50-SK20C-250 | 3.5-20.0 | SK20C | 47-63 | 250 | 48.5 | NBT50 |
| NBT50-SK20C-300 | 3.5-20.0 | SK20C | 47-63 | 300 | 48.5 | NBT50 |
| NBT50-SK25C-105 | 7.5-25.4 | SK25C | 60-70 | 105 | 55 | NBT50 |
| NBT50-SK25C-135 | 7.5-25.4 | SK25C | 60-70 | 135 | 55 | NBT50 |
| NBT50-SK25C-165 | 7.5-25.4 | SK25C | 60-70 | 165 | 55 | NBT50 |
| NBT50-SK25C-200 | 7.5-25.4 | SK25C | 60-70 | 200 | 55 | NBT50 |
| NBT50-SK25C-250 | 7.5-25.4 | SK25C | 60-70 | 250 | 55 | NBT50 |
| NBT50-SK25C-300 | 7.5-25.4 | SK25C | 60-70 | 300 | 55 | NBT50 |
| NBT50-SK6C-105 | 0.7-6.0 | SK6C | 26-31 | 105 | 19.5 | NBT50 |
| NBT50-SK6C-135 | 0.7-6.0 | SK6C | 26-31 | 135 | 19.5 | NBT50 |
| NBT50-SK6C-165 | 0.7-6.0 | SK6C | 26-31 | 165 | 19.5 | NBT50 |
| NBT50-SK6C-200 | 0.7-6.0 | SK6C | 26-31 | 200 | 19.5 | NBT50 |
| NBT50-SZF10C-105 | 1.75-10.0 | SZF10C | 30-50 | 105 | 27.5 | NBT50 |
| NBT50-SZF10C-165 | 1.75-10.0 | SZF10C | 30-50 | 165 | 27.5 | NBT50 |
| NBT50-SZF16C-105 | 2.75-16.0 | SZF16C | 45-65 | 105 | 40 | NBT50 |
| NBT50-SZF16C-165 | 2.75-16.0 | SZF16C | 45-65 | 165 | 40 | NBT50 |
| NBT50-SZF25C-135 | 7.5-25.4 | SZF25C | 55-85 | 135 | 55 | NBT50 |
| NBT50-SZF25C-165 | 7.5-25.4 | SZF25C | 55-85 | 165 | 55 | NBT50 |
| NBT50-SZF6C-105 | 0.7-6.0 | SZF6C | 21-35 | 105 | 19.5 | NBT50 |
| NBT50-SZF6C-165 | 0.7-6.0 | SZF6C | 21-35 | 165 | 19.5 | NBT50 |
| NIT40-SK10C-120 | 1.75-10.0 | SK10C | 30-50 | 120 | 27.5 | NIT40 |
| NIT40-SK10C-150 | 1.75-10.0 | SK10C | 30-50 | 150 | 27.5 | NIT40 |
| NIT40-SK10C-180 | 1.75-10.0 | SK10C | 30-50 | 180 | 27.5 | NIT40 |
| NIT40-SK10C-60 | 1.75-10.0 | SK10C | 30-50 | 60 | 27.5 | NIT40 |
| NIT40-SK10C-90 | 1.75-10.0 | SK10C | 30-50 | 90 | 27.5 | NIT40 |
| NIT40-SK13C-120 | 2.75-13.0 | SK13C | 31-65 | 120 | 33 | NIT40 |
| NIT40-SK13C-150 | 2.75-13.0 | SK13C | 31-65 | 150 | 33 | NIT40 |
| NIT40-SK13C-180 | 2.75-13.0 | SK13C | 31-65 | 180 | 33 | NIT40 |
| NIT40-SK13C-60 | 2.75-13.0 | SK13C | 31-65 | 60 | 33 | NIT40 |
| NIT40-SK13C-90 | 2.75-13.0 | SK13C | 31-65 | 90 | 33 | NIT40 |
| NIT40-SK16C-120 | 2.75-16.0 | SK16C | 45-70 | 120 | 40 | NIT40 |
| NIT40-SK16C-150 | 2.75-16.0 | SK16C | 45-70 | 150 | 40 | NIT40 |
| NIT40-SK16C-180 | 2.75-16.0 | SK16C | 45-70 | 180 | 40 | NIT40 |
| NIT40-SK16C-60 | 2.75-16.0 | SK16C | 50-65 | 60 | 40 | NIT40 |
| NIT40-SK16C-90 | 2.75-16.0 | SK16C | 45-70 | 90 | 40 | NIT40 |
| NIT40-SK20C-120 | 3.5-20.0 | SK20C | 47-80 | 120 | 48.5 | NIT40 |
| NIT40-SK20C-90 | 3.5-20.0 | SK20C | 47-80 | 90 | 48.5 | NIT40 |
| NIT40-SK25C-120 | 7.5-25.4 | SK25C | 55-75 | 120 | 55 | NIT40 |
| NIT40-SK25C-90 | 7.5-25.4 | SK25C | 55-75 | 90 | 55 | NIT40 |
| NIT40-SK6C-120 | 0.7-6.0 | SK6C | 21-35 | 120 | 19.5 | NIT40 |
| NIT40-SK6C-150 | 0.7-6.0 | SK6C | 21-35 | 150 | 19.5 | NIT40 |
| NIT40-SK6C-60 | 0.7-6.0 | SK6C | 21-35 | 60 | 19.5 | NIT40 |
| NIT40-SK6C-90 | 0.7-6.0 | SK6C | 21-35 | 90 | 19.5 | NIT40 |
| NIT50-SK10C-105 | 1.75-10.0 | SK10C | 30-50 | 105 | 27.5 | NIT50 |
| NIT50-SK10C-135 | 1.75-10.0 | SK10C | 30-50 | 135 | 27.5 | NIT50 |
| NIT50-SK10C-165 | 1.75-10.0 | SK10C | 30-50 | 165 | 27.5 | NIT50 |
| NIT50-SK10C-200 | 1.75-10.0 | SK10C | 30-50 | 200 | 27.5 | NIT50 |
| NIT50-SK13C-105 | 2.75-13.0 | SK13C | 31-65 | 105 | 33 | NIT50 |
| NIT50-SK13C-135 | 2.75-13.0 | SK13C | 31-65 | 135 | 33 | NIT50 |
| NIT50-SK13C-165 | 2.75-13.0 | SK13C | 31-65 | 165 | 33 | NIT50 |
| NIT50-SK13C-200 | 2.75-13.0 | SK13C | 31-65 | 200 | 33 | NIT50 |
| NIT50-SK16C-105 | 2.75-16.0 | SK16C | 40-70 | 105 | 40 | NIT50 |
| NIT50-SK16C-135 | 2.75-16.0 | SK16C | 40-70 | 135 | 40 | NIT50 |
| NIT50-SK16C-165 | 2.75-16.0 | SK16C | 40-70 | 165 | 40 | NIT50 |
| NIT50-SK16C-200 | 2.75-16.0 | SK16C | 40-70 | 200 | 40 | NIT50 |
| NIT50-SK20C-105 | 3.5-20.0 | SK20C | 47-80 | 105 | 48.5 | NIT50 |
| NIT50-SK20C-135 | 3.5-20.0 | SK20C | 47-80 | 135 | 48.5 | NIT50 |
| NIT50-SK20C-165 | 3.5-20.0 | SK20C | 47-80 | 165 | 48.5 | NIT50 |
| NIT50-SK20C-200 | 3.5-20.0 | SK20C | 47-80 | 200 | 48.5 | NIT50 |
| NIT50-SK25C-105 | 7.5-25.4 | SK25C | 50-85 | 105 | 55 | NIT50 |
| NIT50-SK25C-135 | 7.5-25.4 | SK25C | 50-85 | 135 | 55 | NIT50 |
| NIT50-SK25C-165 | 7.5-25.4 | SK25C | 50-85 | 165 | 55 | NIT50 |
| NIT50-SK25C-200 | 7.5-25.4 | SK25C | 50-85 | 200 | 55 | NIT50 |
| NIT50-SK6C-105 | 0.7-6.0 | SK6C | 21-35 | 105 | 19.5 | NIT50 |
| NIT50-SK6C-135 | 0.7-6.0 | SK6C | 21-35 | 135 | 19.5 | NIT40 |
| NIT50-SK6C-165 | 0.7-6.0 | SK6C | 21-35 | 165 | 19.5 | NIT50 |
| NIT50-SK6C-200 | 0.7-6.0 | SK6C | 21-35 | 200 | 19.5 | NIT50 |