NIKKEN's Mini-Mini Advanced Alpha is the latest generation of our Mini-Mini chuck.
Recently completely redesigned the system, as with the Slim Chuck and Major Dream Holder, is based around an 8 degree collet system. The Mini-Mini differs is in its construction by adopting a collet which is extended and uses a precise 'pilot' location diameter with a threaded bore at the rear.
Once loaded into the holder the collet engages with an internal drawbar which is actuated from the side using precision internal gears effectively pulling the collet backwards to clamp. This concept completely negates the requirement for an external clamping nut and allows Mini-Mini to be one of the most effective and compact collet systems on the market.
The key advantage, and ultimate benefit of this design, is that because the external nut and it's associated thread are eliminated the front nose diameter can be considerably more compact. This provides the customer excellent access and clearance for demanding and tight to hit areas around parts and components.
Run-Out guarantee

3µm at 4 x Diameter

TiN

NEW for Mini-Mini Advanced Alpha - Double internal TiN bearing System

8º Collet System

with extended length and rear pilot location for improved rigidity
Compact Design

High speed

as standard up to 30,000rpm @ G2.5

Jet Coolant

options available
Mini-Mini Advanced Alpha is available in two designs: The standard 'AA' version features clamping using twin internal bevel gears. The first 'drive' gear is accessed with the clamp key from the side of the holder with the second, rotated by the drive gear and integral to the drawbar, drawing and clamping the collet. As an alternative the 'AT' solution is now also available. This design, mainly for HSK tapers, is a lot simpler in construction with direct clamping using only a single internal 'Direct Screw' drawbar. The clamp key is extended and accesses the drawbar from the rear of the taper to directly clamp the collet.
Keep watching this space for our NEW and improved 'Mini-Mini Master' range. Expanding the scope and capabilities of our Mini-Mini solution by providing two new larger capacity sizes perfectly suited to trochoidal milling and Aerospace processes. Also available at launch will be our NEW Hybrid Shrink-Fit solution which loads directly into the Mini-Mini Master holder to provide a versatile and cost effective alternative to standard Shrink-Fit choices.
As with other NIKKEN collet solutions the scope for Mini-Mini is wide and varied. Options are available to suit all processes with choices for shank size, length and configuration. Mini-Mini is high speed as standard and can also be supplied in both extended length and straight shank variants to further increase its application capabilities.
All Mini-Mini chucks use simple hexagon type wrenches for the clamping of the collet which is normally included as a standard accessory.
Mini-Mini, depending on tool shank, is available in 3 sizes:
MMC4 - to suit diameters 1.0mm to 4.0mm.
MMC8 - to suit diameters 2.0mm to 8.0mm.
MMC12 - to suit diameters 4.0mm to 12.0mm.
For collet choice, when using our 'centre through' type Mini-Mini chuck option, we can provide two main options. A mechanically sealed collet (VMK) for cutting tools which feature a coolant hole and also an alternative 'jet' type collet (VMK-J) featuring three 'V' form grooves down the main bore to supply the coolant down the outside of the cutting tool. Both of course are very effective in swarf removal and placing the coolant exactly where it needs to be!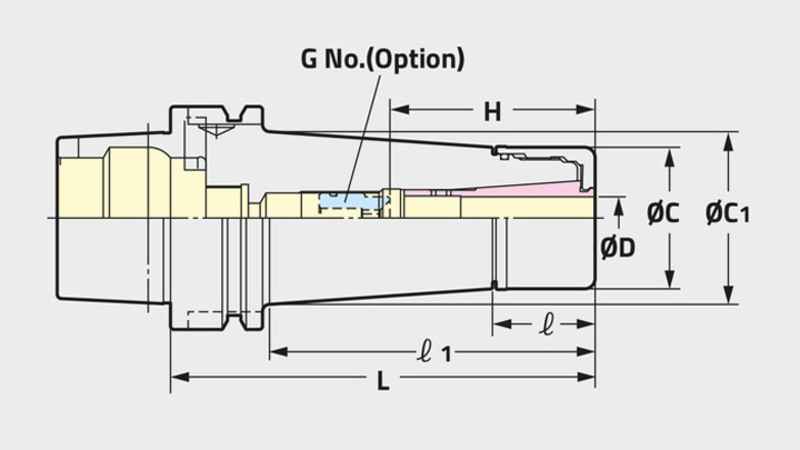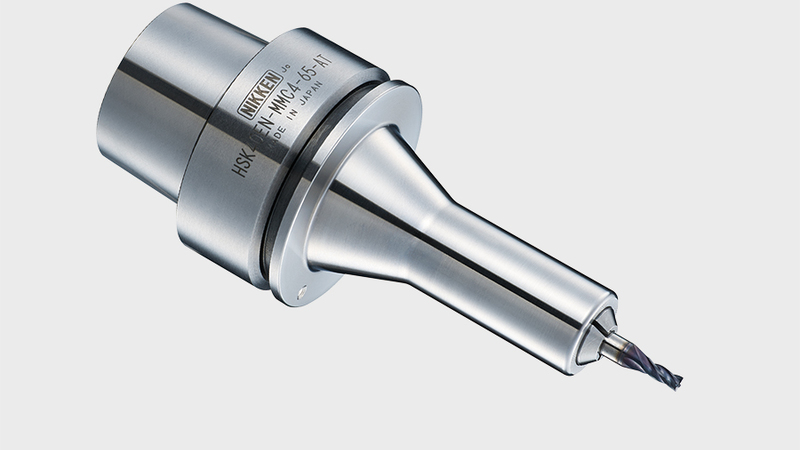 | | Capacity 'D' | Code | Grip Length 'H' | Length 'L' | Nut / Nose Dia 'D1' | Shank |
| --- | --- | --- | --- | --- | --- | --- |
| BT30-MMC12-105 | 4.0-12.0 | MMC12 | 20.0-31.0 | 105 | 30 | BT30 |
| BT30-MMC4-105 | 1.0-4.0 | MMC4 | 5.5-15.0 | 105 | 15 | BT30 |
| BT30-MMC8-105 | 2.0-8.0 | MMC8 | 9.4-15.0 | 105 | 20 | BT30 |
| BT40-MMC12-120 | 4.0-12.0 | MMC12 | 20.0-31.0 | 120 | 30 | BT40 |
| BT40-MMC12-150 | 4.0-12.0 | MMC12 | 20.0-31.0 | 150 | 30 | BT40 |
| BT40-MMC12-90 | 4.0-12.0 | MMC12 | 20.0-31.0 | 90 | 30 | BT40 |
| BT40-MMC4-90 | 1.0-4.0 | MMC4 | 5.5-15.0 | 90 | 15 | BT40 |
| BT40-MMC8-120 | 2.0-8.0 | MMC8 | 9.4-15.0 | 120 | 20 | BT40 |
| BT40-MMC8-150 | 2.0-8.0 | MMC8 | 9.4-15.0 | 150 | 20 | BT40 |
| BT40-MMC8-90 | 2.0-8.0 | MMC8 | 9.4-15.0 | 90 | 20 | BT40 |
| BT50-MMC12-105 | 4.0-12.0 | MMC12 | 20.0-31.0 | 105 | 30 | BT50 |
| BT50-MMC12-135 | 4.0-12.0 | MMC12 | 20.0-31.0 | 135 | 30 | BT50 |
| BT50-MMC12-135 | 4.0-12.0 | MMC12 | 20.0-31.0 | 135 | 30 | BT50 |
| BT50-MMC12-165 | 4.0-12.0 | MMC12 | 20.0-31.0 | 165 | 30 | BT50 |
| BT50-MMC12-195 | 4.0-12.0 | MMC12 | 20.0-31.0 | 195 | 30 | BT50 |
| BT50-MMC4-105 | 1.0-4.0 | MMC4 | 5.5-15.0 | 105 | 15 | BT50 |
| BT50-MMC8-105 | 2.0-8.0 | MMC8 | 9.4-15.0 | 105 | 20 | BT50 |
| BT50-MMC8-135 | 2.0-8.0 | MMC8 | 9.4-15.0 | 135 | 20 | BT50 |
| BT50-MMC8-165 | 2.0-8.0 | MMC8 | 9.4-15.0 | 165 | 20 | BT50 |
| BT50-MMC8-195 | 2.0-8.0 | MMC8 | 9.4-15.0 | 195 | 20 | BT50 |
| HSK100A-MMC12C-120-AT | 4.0-12.0 | MMC12C | 20.0-31.0 | 120-AT | 30 | HSK100A |
| HSK100A-MMC12C-130 | 4.0-12.0 | MMC12C | 20.0-31.0 | 130 | 30 | HSK100A |
| HSK100A-MMC12C- 145-AT | 4.0-12.0 | MMC12C | 20.0-31.0 | 145-AT | 30 | HSK100A |
| HSK100A-MMC12C-160 | 4.0-12.0 | MMC12C | 20.0-31.0 | 160 | 30 | HSK100A |
| HSK100A-MMC12C-190 | 4.0-12.0 | MMC12C | 20.0-31.0 | 190 | 30 | HSK100A |
| HSK100A-MMC4-131 | 1.0-4.0 | MMC4 | 5.5-15.0 | 131 | 15 | HSK100A |
| HSK100A-MMC8C-117-AT | 2.0-8.0 | MMC8C | 9.4-15.0 | 117-AT | 20 | HSK100A |
| HSK100A-MMC8C-130 | 2.0-8.0 | MMC8C | 9.4-15.0 | 130 | 20 | HSK100A |
| HSK100A-MMC8C- 145-AT | 2.0-8.0 | MMC8C | 9.4-15.0 | 145-AT | 20 | HSK100A |
| HSK100A-MMC8C-160 | 2.0-8.0 | MMC8C | 9.4-15.0 | 160 | 20 | HSK100A |
| HSK100A-MMC8C-190 | 2.0-8.0 | MMC8C | 9.4-15.0 | 190 | 20 | HSK100A |
| HSK25EN-MMC4-60-AT | 1.0-4.0 | MMC4 | 5.5-15.0 | 60-AT | 15 | HSK25EN |
| HSK32EN-MMC4-65-AT | 1.0-4.0 | MMC4 | 5.5-15.0 | 65-AT | 15 | HSK32EN |
| HSK40AN-MMC4-65-AT | 1.0-4.0 | MMC4 | 5.5-15.0 | 65-AT | 15 | HSK40AN |
| HSK40EN-MMC4-65-AT | 1.0-4.0 | MMC4 | 5.5-15.0 | 65-AT | 15 | HSK40EN |
| HSK50A-MMC12C-129 | 4.0-12.0 | MMC12C | 20.0-31.0 | 129 | 30 | HSK50A |
| HSK50A-MMC12C-159 | 4.0-12.0 | MMC12C | 20.0-31.0 | 159 | 30 | HSK50A |
| HSK50A-MMC12C-189 | 4.0-12.0 | MMC12C | 20.0-31.0 | 189 | 30 | HSK50A |
| HSK50A-MMC4-128 | 1.0-4.0 | MMC4 | 5.5-15.0 | 128 | 15 | HSK50A |
| HSK50A-MMC4-70-AT | 1.0-4.0 | MMC4 | 5.5-15.0 | 70-AT | 15 | HSK50A |
| HSK50A-MMC8C-127 | 2.0-8.0 | MMC8C | 9.4-15.0 | 127 | 20 | HSK50A |
| HSK50A-MMC8C-157 | 2.0-8.0 | MMC8C | 9.4-15.0 | 157 | 20 | HSK50A |
| HSK50A-MMC8C-187 | 2.0-8.0 | MMC8C | 9.4-15.0 | 187 | 20 | HSK50A |
| HSK50E-MMC12C-129 | 4.0-12.0 | MMC12C | 20.0-31.0 | 129 | 30 | HSK50E |
| HSK50E-MMC4-128 | 1.0-4.0 | MMC4 | 5.5-15.0 | 128 | 15 | HSK50E |
| HSK50E-MMC4-70-AT | 1.0-4.0 | MMC4 | 5.5-15.0 | 70-AT | 15 | HSK50E |
| HSK50E-MMC8C-127 | 2.0-8.0 | MMC8C | 9.4-15.0 | 127 | 20 | HSK50E |
| HSK63A-MMC12C-110-AT | 4.0-12.0 | MMC12C | 20.0-31.0 | 110-AT | 30 | HSK63A |
| HSK63A-MMC12C-117 | 4.0-12.0 | MMC12C | 20.0-31.0 | 117 | 30 | HSK63A |
| HSK63A-MMC12C- 135-AT | 4.0-12.0 | MMC12C | 20.0-31.0 | 135-AT | 30 | HSK63A |
| HSK63A-MMC12C-147 | 4.0-12.0 | MMC12C | 20.0-31.0 | 147 | 30 | HSK63A |
| HSK63A-MMC12C-177 | 4.0-12.0 | MMC12C | 20.0-31.0 | 177 | 30 | HSK63A |
| HSK63A-MMC4-116 | 1.0-4.0 | MMC4 | 5.5-15.0 | 116 | 15 | HSK63A |
| HSK63A-MMC8C-107-AT | 2.0-8.0 | MMC8C | 9.4-15.0 | 107-AT | 20 | HSK63A |
| HSK63A-MMC8C-115 | 2.0-8.0 | MMC8C | 9.4-15.0 | 115 | 20 | HSK63A |
| HSK63A-MMC8C- 135-AT | 2.0-8.0 | MMC8C | 9.4-15.0 | 135-AT | 20 | HSK63A |
| HSK63A-MMC8C-145 | 2.0-8.0 | MMC8C | 9.4-15.0 | 145 | 20 | HSK63A |
| HSK63A-MMC8C-175 | 2.0-8.0 | MMC8C | 9.4-15.0 | 175 | 20 | HSK63A |
| HSK63E-MMC12C-110-AT | 4.0-12.0 | MMC12C | 20.0-31.0 | 110-AT | 30 | HSK63E |
| HSK63E-MMC12C-117 | 4.0-12.0 | MMC12C | 20.0-31.0 | 117 | 30 | HSK63E |
| HSK63E-MMC12C- 135-AT | 4.0-12.0 | MMC12C | 20.0-31.0 | 135-AT | 30 | HSK63E |
| HSK63E-MMC4-116 | 1.0-4.0 | MMC4 | 5.5-15.0 | 116 | 15 | HSK63E |
| HSK63E-MMC8C-107-AT | 2.0-8.0 | MMC8C | 9.4-15.0 | 107-AT | 20 | HSK63E |
| HSK63E-MMC8C-115 | 2.0-8.0 | MMC8C | 9.4-15.0 | 115 | 20 | HSK63E |
| HSK63E-MMC8C- 135-AT | 2.0-8.0 | MMC8C | 9.4-15.0 | 135-AT | 20 | HSK63E |
| HSK63F-MMC12C-129 | 4.0-12.0 | MMC12C | 20.0-31.0 | 129 | 30 | HSK63F |
| HSK63F-MMC4-128 | 1.0-4.0 | MMC4 | 5.5-15.0 | 128 | 15 | HSK63F |
| HSK63F-MMC4-70-AT | 1.0-4.0 | MMC4 | 5.5-15.0 | 70-AT | 15 | HSK63F |
| HSK63F-MMC8C-127 | 2.0-8.0 | MMC8C | 9.4-15.0 | 127 | 20 | HSK63F |
| IT40-MMC12-120 | 4.0-12.0 | MMC12 | 20.0-31.0 | 120 | 30 | IT40 |
| IT40-MMC12-90 | 4.0-12.0 | MMC12 | 20.0-31.0 | 90 | 30 | IT40 |
| IT40-MMC4-90 | 1.0-4.0 | MMC4 | 5.5-15.0 | 90 | 15 | IT40 |
| IT40-MMC8-120 | 2.0-8.0 | MMC8 | 9.4-15.0 | 120 | 20 | IT40 |
| IT40-MMC8-90 | 2.0-8.0 | MMC8 | 9.4-15.0 | 90 | 20 | IT40 |
| IT50-MMC12-105 | 4.0-12.0 | MMC12 | 20.0-31.0 | 105 | 30 | IT50 |
| IT50-MMC12-135 | 4.0-12.0 | MMC12 | 20.0-31.0 | 135 | 30 | IT50 |
| IT50-MMC12-165 | 4.0-12.0 | MMC12 | 20.0-31.0 | 165 | 30 | IT50 |
| IT50-MMC4-105 | 1.0-4.0 | MMC4 | 5.5-15.0 | 105 | 15 | IT50 |
| IT50-MMC8-105 | 2.0-8.0 | MMC8 | 9.4-15.0 | 105 | 20 | IT50 |
| IT50-MMC8-135 | 2.0-8.0 | MMC8 | 9.4-15.0 | 135 | 20 | IT50 |
| IT50-MMC8-165 | 2.0-8.0 | MMC8 | 9.4-15.0 | 165 | 20 | IT50 |
| MBT40-MMC12-120 | 4.0-12.0 | MMC12 | 20.0-31.0 | 120 | 30 | MBT40 |
| MBT40-MMC12-90 | 4.0-12.0 | MMC12 | 20.0-31.0 | 90 | 30 | MBT40 |
| MBT40-MMC4-90 | 1.0-4.0 | MMC4 | 5.5-15.0 | 90 | 15 | MBT40 |
| MBT40-MMC8-120 | 2.0-8.0 | MMC8 | 9.4-15.0 | 120 | 20 | MBT40 |
| MBT40-MMC8-90 | 2.0-8.0 | MMC8 | 9.4-15.0 | 90 | 20 | MBT40 |
| MBT50-MMC12-105 | 4.0-12.0 | MMC12 | 20.0-31.0 | 105 | 30 | MBT50 |
| MBT50-MMC12-135 | 4.0-12.0 | MMC12 | 20.0-31.0 | 135 | 30 | MBT50 |
| MBT50-MMC12-165 | 4.0-12.0 | MMC12 | 20.0-31.0 | 165 | 30 | MBT50 |
| MBT50-MMC4-105 | 1.0-4.0 | MMC4 | 5.5-15.0 | 105 | 15 | MBT50 |
| MBT50-MMC8-105 | 2.0-8.0 | MMC8 | 9.4-15.0 | 105 | 20 | MBT50 |
| MBT50-MMC8-135 | 2.0-8.0 | MMC8 | 9.4-15.0 | 135 | 20 | MBT50 |
| MBT50-MMC8-165 | 2.0-8.0 | MMC8 | 9.4-15.0 | 165 | 20 | MBT50 |
| MIT40-MMC12-120 | 4.0-12.0 | MMC12 | 20.0-31.0 | 120 | 30 | MIT40 |
| MIT40-MMC12-90 | 4.0-12.0 | MMC12 | 20.0-31.0 | 90 | 30 | MIT40 |
| MIT40-MMC8-120 | 2.0-8.0 | MMC8 | 9.4-15.0 | 120 | 20 | MIT40 |
| MIT40-MMC8-90 | 2.0-8.0 | MMC8 | 9.4-15.0 | 90 | 20 | MIT40 |
| MIT50-MMC12-105 | 4.0-12.0 | MMC12 | 20.0-31.0 | 105 | 30 | MIT50 |
| MIT50-MMC12-135 | 4.0-12.0 | MMC12 | 20.0-31.0 | 135 | 30 | MIT50 |
| MIT50-MMC12-165 | 4.0-12.0 | MMC12 | 20.0-31.0 | 165 | 30 | MIT50 |
| MIT50-MMC8-105 | 2.0-8.0 | MMC8 | 9.4-15.0 | 105 | 20 | MIT50 |
| MIT50-MMC8-135 | 2.0-8.0 | MMC8 | 9.4-15.0 | 135 | 20 | MIT50 |
| MIT50-MMC8-165 | 2.0-8.0 | MMC8 | 9.4-15.0 | 165 | 20 | MIT50 |
| NBT30-MMC12-105 | 4.0-12.0 | MMC12 | 20.0-31.0 | 105 | 30 | NBT30 |
| NBT30-MMC4-105 | 1.0-4.0 | MMC4 | 5.5-15.0 | 105 | 15 | NBT30 |
| NBT30-MMC8-105 | 2.0-8.0 | MMC8 | 9.4-15.0 | 105 | 20 | NBT30 |
| NBT40-MMC12-120 | 4.0-12.0 | MMC12 | 20.0-31.0 | 120 | 30 | NBT40 |
| NBT40-MMC12-150 | 4.0-12.0 | MMC12 | 20.0-31.0 | 150 | 30 | NBT40 |
| NBT40-MMC12-90 | 4.0-12.0 | MMC12 | 20.0-31.0 | 90 | 30 | NBT40 |
| NBT40-MMC4-90 | 1.0-4.0 | MMC4 | 5.5-15.0 | 90 | 15 | NBT40 |
| NBT40-MMC8-120 | 2.0-8.0 | MMC8 | 9.4-15.0 | 120 | 20 | NBT40 |
| NBT40-MMC8-150 | 2.0-8.0 | MMC8 | 9.4-15.0 | 150 | 20 | NBT40 |
| NBT40-MMC8-90 | 2.0-8.0 | MMC8 | 9.4-15.0 | 90 | 20 | NBT40 |
| NBT50-MMC12-105 | 4.0-12.0 | MMC12 | 20.0-31.0 | 105 | 30 | NBT50 |
| NBT50-MMC12-135 | 4.0-12.0 | MMC12 | 20.0-31.0 | 135 | 30 | NBT50 |
| NBT50-MMC12-165 | 4.0-12.0 | MMC12 | 20.0-31.0 | 165 | 30 | NBT50 |
| NBT50-MMC12-195 | 4.0-12.0 | MMC12 | 20.0-31.0 | 195 | 30 | NBT50 |
| NBT50-MMC4-105 | 1.0-4.0 | MMC4 | 5.5-15.0 | 105 | 15 | NBT50 |
| NBT50-MMC8-105 | 2.0-8.0 | MMC8 | 9.4-15.0 | 105 | 20 | NBT50 |
| NBT50-MMC8-135 | 2.0-8.0 | MMC8 | 9.4-15.0 | 135 | 20 | NBT50 |
| NBT50-MMC8-165 | 2.0-8.0 | MMC8 | 9.4-15.0 | 165 | 20 | NBT50 |
| NBT50-MMC8-195 | 2.0-8.0 | MMC8 | 9.4-15.0 | 195 | 20 | NBT50 |
| NIT40-MMC12-120 | 4.0-12.0 | MMC12 | 20.0-31.0 | 120 | 30 | NIT40 |
| NIT40-MMC12-90 | 4.0-12.0 | MMC12 | 20.0-31.0 | 90 | 30 | NIT40 |
| NIT40-MMC8-120 | 2.0-8.0 | MMC8 | 9.4-15.0 | 120 | 20 | NIT40 |
| NIT40-MMC8-90 | 2.0-8.0 | MMC8 | 9.4-15.0 | 90 | 20 | NIT40 |
| NIT50-MMC12-105 | 4.0-12.0 | MMC12 | 20.0-31.0 | 105 | 30 | NIT50 |
| NIT50-MMC12-135 | 4.0-12.0 | MMC12 | 20.0-31.0 | 135 | 30 | NIT50 |
| NIT50-MMC12-165 | 4.0-12.0 | MMC12 | 20.0-31.0 | 165 | 30 | NIT50 |
| NIT50-MMC8-105 | 2.0-8.0 | MMC8 | 9.4-15.0 | 105 | 20 | NIT50 |
| NIT50-MMC8-135 | 2.0-8.0 | MMC8 | 9.4-15.0 | 135 | 20 | NIT50 |
| NIT50-MMC8-165 | 2.0-8.0 | MMC8 | 9.4-15.0 | 165 | 20 | NIT50 |