Since the early days, originally to accommodate automatic work holding for the CNC Rotary Tables used on our production lines (with our 'New Century' Arbor), Nikken have always strived to provide solutions to counter the effects of vibration for both the workpiece and tool holding.
Vibration is unfortunately experienced during the majority of machining processes. Should it become excessive then workpiece accuracy, surface finish and tool life can and is ultimately be compromised.
The design and build of many Nikken tool solutions in fact do provide anti-vibration and dampening characteristics as standard.
The Multi-Lock (with its internal guide cage and rollers) and indeed all our collet based systems can effectively reduce, to a degree, some of these potential issues – after all the itself collet could actually be considered as a hardened spring!
NIKKEN's Major Dream is different. Its internals and construction are focussed solely to reduce and ultimately eliminate in-process vibration.
Within the MDSK assembly is a pre-loaded split taper cone which, during manufacture, is forced forwards into a recess within the front body containing disk type springs. This means that the entire assembly is under pre-load the result of which being that cone and springs can effectively absorb any vibration from the cutting edge as it is transmitted up through the tool holder.
The key benefits to in-process dampening are that the machine spindle is protected along with both the life of the cutting tool and workpiece surface finish being drastically improved.
Run-out guarantee 3µm at 4 x Diameter (with recommended 'A' type collet)

TiN Bearing Nut

Unique internal construction provides 'built-in' dampening and anti-vibration
8º Collet System

Square Shoulder Pushing

High speed options available up to 30,000rpm @ G2.5
Like the Slim Chuck, on which it is based, Major Dream is available to suit all processes with numerous shank sizes, lengths and configurations available.
The Major Dream Holder, as standard, is fitted with the 'high speed' variant of nut which is smooth too suit the 'GH Handle' roller bearing wrench.
Major Dream, depending on tool shank, is available in 6 sizes:
MDSK6 - to suit diameters 3.0mm to 6.0mm.
MDSK10 - to suit diameters 3.0mm to 10.0mm.
MDSK13 - to suit diameters 3.0mm to 13.0mm.
MDSK16 - to suit diameters 3.0mm to 16.0mm.
MDSK20 - to suit diameters 4.0mm to 20.0mm.
MDSK25 - to suit diameters 8.0mm to 25.4mm.
As our Major Dream Holder is based on the Slim Chuck it requires a collet. This collet first requires selecting and loading into the nut (direct chucking is not possible).
Major Dream currently has 2 types of 8 degree collet available to select from. They are:
Milling Collet - Example SK16-16A (No collapse & 3 microns accuracy).
NEW Mechanically Sealed Coolant Collet - Example SK16-16AC (Designed for coolant hole cutters. No collapse & 3 microns accuracy).
Both of these SK collets can also be used in conjunction with our 'Jetter' system to control the coolant supply as to suit the specific process - depending on the cutter type and requirement.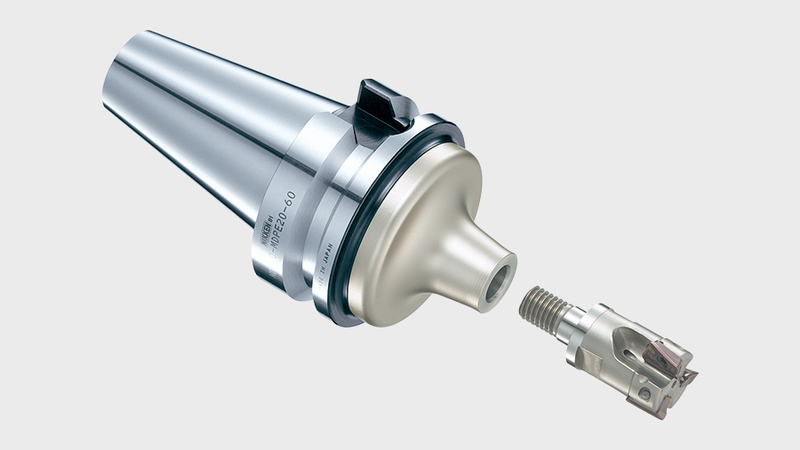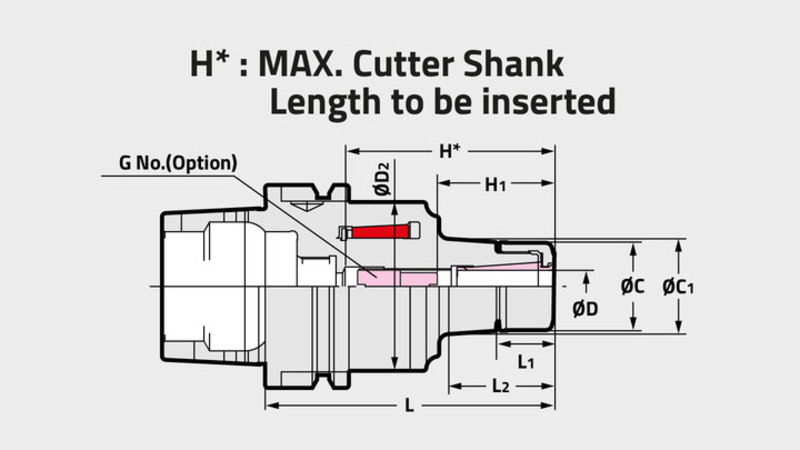 NIKKEN Major Dream in Action
| | Capacity 'D' | Code | Grip Length 'H' | Length 'L' | Nut / Nose Dia 'D1' | Shank |
| --- | --- | --- | --- | --- | --- | --- |
| HSK100A-MDSK10-110 | 3.0-10.0 | MDSK10 | 30-50 | 110 | 27.5 | HSK100A |
| HSK100A-MDSK10-125 | 3.0-10.0 | MDSK10 | 30-50 | 125 | 27.5 | HSK100A |
| HSK100A-MDSK10-140 | 3.0-10.0 | MDSK10 | 30-50 | 140 | 27.5 | HSK100A |
| HSK100A-MDSK10-165 | 3.0-10.0 | MDSK10 | 30-50 | 165 | 27.5 | HSK100A |
| HSK100A-MDSK13-110 | 3.0-13.0 | MDSK13 | 31-52 | 110 | 33 | HSK100A |
| HSK100A-MDSK13-125 | 3.0-13.0 | MDSK13 | 31-54 | 125 | 33 | HSK100A |
| HSK100A-MDSK13-140 | 3.0-13.0 | MDSK13 | 31-54 | 140 | 33 | HSK100A |
| HSK100A-MDSK13-165 | 3.0-13.0 | MDSK13 | 31-54 | 165 | 33 | HSK100A |
| HSK100A-MDSK16-125 | 3.0-16.0 | MDSK16 | 45-65 | 125 | 40 | HSK100A |
| HSK100A-MDSK16-140 | 3.0-16.0 | MDSK16 | 45-70 | 140 | 40 | HSK100A |
| HSK100A-MDSK16-165 | 3.0-16.0 | MDSK16 | 40-70 | 165 | 40 | HSK100A |
| HSK100A-MDSK20-140 | 4.0-20.0 | MDSK20 | 47-70 | 140 | 48 | HSK100A |
| HSK100A-MDSK20-165 | 4.0-20.0 | MDSK20 | 47-80 | 165 | 48 | HSK100A |
| HSK100A-MDSK25-140 | 8.0-25.4 | MDSK25 | 55-75 | 140 | 55 | HSK100A |
| HSK100A-MDSK25-165 | 8.0-25.4 | MDSK25 | 55-85 | 165 | 55 | HSK100A |
| HSK100A-MDSK6-110 | 3.0-6.0 | MDSK6 | 21-35 | 110 | 19.5 | HSK100A |
| HSK100A-MDSK6-125 | 3.0-6.0 | MDSK6 | 21-35 | 125 | 19.5 | HSK100A |
| HSK100A-MDSK6-140 | 3.0-6.0 | MDSK6 | 21-35 | 140 | 19.5 | HSK100A |
| HSK100A-MDSK6-165 | 3.0-6.0 | MDSK6 | 21-35 | 165 | 19.5 | HSK100A |
| HSK50A-MDSK10-70 | 3.0-10.0 | MDSK10 | 46 | 70 | 27.5 | HSK50A |
| HSK50A-MDSK10-90 | 3.0-10.0 | MDSK10 | 35-41 | 90 | 27.5 | HSK50A |
| HSK50A-MDSK13-90 | 3.0-13.0 | MDSK13 | 66 | 90 | 33 | HSK50A |
| HSK50A-MDSK16-115 | 3.0-16.0 | MDSK16 | 45-70 | 115 | 40 | HSK50A |
| HSK50A-MDSK6-70 | 3.0-6.0 | MDSK6 | 48 | 70 | 19.5 | HSK50A |
| HSK50A-MDSK6-90 | 3.0-6.0 | MDSK6 | 21-35 | 90 | 19.5 | HSK50A |
| HSK63A-MDSK10-105 | 3.0-10.0 | MDSK10 | 31-50 | 105 | 27.5 | HSK63A |
| HSK63A-MDSK10-120 | 3.0-10.0 | MDSK10 | 30-50 | 120 | 27.5 | HSK63A |
| HSK63A-MDSK10-135 | 3.0-10.0 | MDSK10 | 30-50 | 135 | 27.5 | HSK63A |
| HSK63A-MDSK10-75 | 3.0-10.0 | MDSK10 | 49 | 75 | 27.5 | HSK63A |
| HSK63A-MDSK10-90 | 3.0-10.0 | MDSK10 | 31-40 | 90 | 27.5 | HSK63A |
| HSK63A-MDSK13-105 | 3.0-13.0 | MDSK13 | 31-54 | 105 | 33 | HSK63A |
| HSK63A-MDSK13-120 | 3.0-13.0 | MDSK13 | 31-54 | 120 | 33 | HSK63A |
| HSK63A-MDSK13-135 | 3.0-13.0 | MDSK13 | 31-54 | 135 | 33 | HSK63A |
| HSK63A-MDSK13-80 | 3.0-13.0 | MDSK13 | 54 | 80 | 33 | HSK63A |
| HSK63A-MDSK13-90 | 3.0-13.0 | MDSK13 | 64 | 90 | 33 | HSK63A |
| HSK63A-MDSK16-105 | 3.0-16.0 | MDSK16 | 45-60 | 105 | 40 | HSK63A |
| HSK63A-MDSK16-120 | 3.0-16.0 | MDSK16 | 45-60 | 120 | 40 | HSK63A |
| HSK63A-MDSK16-135 | 3.0-16.0 | MDSK16 | 45-60 | 135 | 40 | HSK63A |
| HSK63A-MDSK16-80 | 3.0-16.0 | MDSK16 | 54 | 80 | 40 | HSK63A |
| HSK63A-MDSK16-90 | 3.0-16.0 | MDSK16 | 64 | 90 | 40 | HSK63A |
| HSK63A-MDSK20-105 | 4.0-20.0 | MDSK20 | 79 | 105 | 48 | HSK63A |
| HSK63A-MDSK20-120 | 4.0-20.0 | MDSK20 | 47-70 | 120 | 48 | HSK63A |
| HSK63A-MDSK20-135 | 4.0-20.0 | MDSK20 | 47-70 | 135 | 48 | HSK63A |
| HSK63A-MDSK20-90 | 4.0-20.0 | MDSK20 | 64 | 90 | 48 | HSK63A |
| HSK63A-MDSK6-105 | 3.0-6.0 | MDSK6 | 21-35 | 105 | 19.5 | HSK63A |
| HSK63A-MDSK6-120 | 3.0-6.0 | MDSK6 | 21-35 | 120 | 19.5 | HSK63A |
| HSK63A-MDSK6-75 | 3.0-6.0 | MDSK6 | 21-28 | 75 | 19.5 | HSK63A |
| HSK63A-MDSK6-90 | 3.0-6.0 | MDSK6 | 21-35 | 90 | 19.5 | HSK63A |
| NBT30-MDSK10-50 | 3.0-10.0 | MDSK10 | 30-50 | 50 | 27.5 | NBT30 |
| NBT30-MDSK10-60 | 3.0-10.0 | MDSK10 | 30-50 | 60 | 27.5 | NBT30 |
| NBT30-MDSK10-75 | 3.0-10.0 | MDSK10 | 30-50 | 75 | 27.5 | NBT30 |
| NBT30-MDSK10-90 | 3.0-10.0 | MDSK10 | 30-50 | 90 | 27.5 | NBT30 |
| NBT30-MDSK13-60 | 3.0-13.0 | MDSK13 | 31-43 | 60 | 33 | NBT30 |
| NBT30-MDSK13-75 | 3.0-13.0 | MDSK13 | 31-60 | 75 | 33 | NBT30 |
| NBT30-MDSK13-90 | 3.0-13.0 | MDSK13 | 31-60 | 90 | 33 | NBT30 |
| NBT30-MDSK16-75 | 3.0-16.0 | MDSK16 | 45-70 | 75 | 40 | NBT30 |
| NBT30-MDSK16-75 | 3.0-16.0 | MDSK16 | 45-60 | 75 | 40 | NBT30 |
| NBT30-MDSK6-50 | 3.0-6.0 | MDSK6 | 21-35 | 50 | 19.5 | NBT30 |
| NBT30-MDSK6-60 | 3.0-6.0 | MDSK6 | 21-35 | 60 | 19.5 | NBT30 |
| NBT30-MDSK6-75 | 3.0-6.0 | MDSK6 | 21-35 | 75 | 19.5 | NBT30 |
| NBT30-MDSK6-90 | 3.0-6.0 | MDSK6 | 21-35 | 90 | 19.5 | NBT30 |
| NBT40-MDSK10-105 | 3.0-10.0 | MDSK10 | 30-50 | 105 | 27.5 | NBT40 |
| NBT40-MDSK10-120 | 3.0-10.0 | MDSK10 | 30-50 | 120 | 27.5 | NBT40 |
| NBT40-MDSK10-150 | 3.0-10.0 | MDSK10 | 30-50 | 150 | 27.5 | NBT40 |
| NBT40-MDSK10-60 | 3.0-10.0 | MDSK10 | 30-50 | 60 | 27.5 | NBT40 |
| NBT40-MDSK10-75 | 3.0-10.0 | MDSK10 | 30-50 | 75 | 27.5 | NBT40 |
| NBT40-MDSK10-90 | 3.0-10.0 | MDSK10 | 30-50 | 90 | 27.5 | NBT40 |
| NBT40-MDSK13-105 | 3.0-13.0 | MDSK13 | 31-60 | 105 | 33 | NBT40 |
| NBT40-MDSK13-120 | 3.0-13.0 | MDSK13 | 31-60 | 120 | 33 | NBT40 |
| NBT40-MDSK13-15 | 3.0-13.0 | MDSK13 | 31-60 | 150 | 33 | NBT40 |
| NBT40-MDSK13-180 | 3.0-13.0 | MDSK13 | 31-60 | 180 | 33 | NBT40 |
| NBT40-MDSK13-65 | 3.0-13.0 | MDSK13 | 31-60 | 65 | 33 | NBT40 |
| NBT40-MDSK13-75 | 3.0-13.0 | MDSK13 | 31-60 | 75 | 33 | NBT40 |
| NBT40-MDSK13-90 | 3.0-13.0 | MDSK13 | 31-60 | 90 | 33 | NBT40 |
| NBT40-MDSK16-105 | 3.0-16.0 | MDSK16 | 45-70 | 105 | 40 | NBT40 |
| NBT40-MDSK16-120 | 3.0-16.0 | MDSK16 | 45-70 | 120 | 40 | NBT40 |
| NBT40-MDSK16-150 | 3.0-16.0 | MDSK16 | 45-70 | 150 | 40 | NBT40 |
| NBT40-MDSK16-65 | 3.0-16.0 | MDSK16 | 45-60 | 65 | 40 | NBT40 |
| NBT40-MDSK16-75 | 3.0-16.0 | MDSK16 | 45-70 | 75 | 40 | NBT40 |
| NBT40-MDSK16-90 | 3.0-16.0 | MDSK16 | 45-70 | 90 | 40 | NBT40 |
| NBT40-MDSK20-105 | 4.0-20.0 | MDSK20 | 50-73 | 105 | 48 | NBT40 |
| NBT40-MDSK20-120 | 4.0-20.0 | MDSK20 | 50-73 | 120 | 48 | NBT40 |
| NBT40-MDSK20-75 | 4.0-20.0 | MDSK20 | 50-73 | 75 | 48 | NBT40 |
| NBT40-MDSK20-90 | 4.0-20.0 | MDSK20 | 50-73 | 90 | 48 | NBT40 |
| NBT40-MDSK6-105 | 3.0-6.0 | MDSK6 | 21-35 | 105 | 19.5 | NBT40 |
| NBT40-MDSK6-120 | 3.0-6.0 | MDSK6 | 21-35 | 120 | 19.5 | NBT40 |
| NBT40-MDSK6-60 | 3.0-6.0 | MDSK6 | 21-35 | 60 | 19.5 | NBT40 |
| NBT40-MDSK6-75 | 3.0-6.0 | MDSK6 | 21-35 | 75 | 19.5 | NBT40 |
| NBT40-MDSK6-90 | 3.0-6.0 | MDSK6 | 21-35 | 90 | 19.5 | NBT40 |
| NBT50-MDSK10-105 | 3.0-10.0 | MDSK10 | 30-50 | 105 | 27.5 | NBT50 |
| NBT50-MDSK10-120 | 3.0-10.0 | MDSK10 | 30-50 | 120 | 27.5 | NBT50 |
| NBT50-MDSK10-135 | 3.0-10.0 | MDSK10 | 30-50 | 135 | 27.5 | NBT50 |
| NBT50-MDSK10-165 | 3.0-10.0 | MDSK10 | 30-50 | 165 | 27.5 | NBT50 |
| NBT50-MDSK10-195 | 3.0-10.0 | MDSK10 | 30-50 | 195 | 27.5 | NBT50 |
| NBT50-MDSK13-105 | 3.0-13.0 | MDSK13 | 31-60 | 105 | 33 | NBT50 |
| NBT50-MDSK13-120 | 3.0-13.0 | MDSK13 | 31-60 | 120 | 33 | NBT50 |
| NBT50-MDSK13-135 | 3.0-13.0 | MDSK13 | 31-60 | 135 | 33 | NBT50 |
| NBT50-MDSK13-165 | 3.0-13.0 | MDSK13 | 31-60 | 165 | 33 | NBT50 |
| NBT50-MDSK13-195 | 3.0-13.0 | MDSK13 | 31-60 | 195 | 33 | NBT50 |
| NBT50-MDSK16-105 | 3.0-16.0 | MDSK16 | 45-70 | 105 | 40 | NBT50 |
| NBT50-MDSK16-120 | 3.0-16.0 | MDSK16 | 45-70 | 120 | 40 | NBT50 |
| NBT50-MDSK16-135 | 3.0-16.0 | MDSK16 | 45-70 | 135 | 40 | NBT50 |
| NBT50-MDSK16-165 | 3.0-16.0 | MDSK16 | 45-70 | 165 | 40 | NBT50 |
| NBT50-MDSK16-195 | 3.0-16.0 | MDSK16 | 45-70 | 195 | 40 | NBT50 |
| NBT50-MDSK20-105 | 4.0-20.0 | MDSK20 | 47-80 | 105 | 48 | NBT50 |
| NBT50-MDSK20-135 | 4.0-20.0 | MDSK20 | 47-80 | 135 | 48 | NBT50 |
| NBT50-MDSK20-165 | 4.0-20.0 | MDSK20 | 47-80 | 165 | 48 | NBT50 |
| NBT50-MDSK20-195 | 4.0-20.0 | MDSK20 | 47-80 | 195 | 48 | NBT50 |
| NBT50-MDSK25-105 | 8.0-25.4 | MDSK25 | 55-85 | 105 | 55 | NBT50 |
| NBT50-MDSK25-135 | 8.0-25.4 | MDSK25 | 55-85 | 135 | 55 | NBT50 |
| NBT50-MDSK25-165 | 8.0-25.4 | MDSK25 | 55-85 | 165 | 55 | NBT50 |
| NBT50-MDSK25-195 | 8.0-25.4 | MDSK25 | 55-85 | 195 | 55 | NBT50 |
| NBT50-MDSK6-105 | 3.0-6.0 | MDSK6 | 21-35 | 105 | 19.5 | NBT50 |
| NBT50-MDSK6-120 | 3.0-6.0 | MDSK6 | 21-35 | 120 | 19.5 | NBT50 |
| NIT40N-MDSK10-105 | 3.0-10.0 | MDSK10 | 30-50 | 105 | 27.5 | NIT40N |
| NIT40N-MDSK10-120 | 3.0-10.0 | MDSK10 | 30-50 | 120 | 27.5 | NIT40N |
| NIT40N-MDSK10-150 | 3.0-10.0 | MDSK10 | 30-50 | 150 | 27.5 | NIT40N |
| NIT40N-MDSK10-180 | 3.0-10.0 | MDSK10 | 30-50 | 180 | 27.5 | NIT40N |
| NIT40N-MDSK10-60 | 3.0-10.0 | MDSK10 | 30-50 | 60 | 27.5 | NIT40N |
| NIT40N-MDSK10-75 | 3.0-10.0 | MDSK10 | 30-50 | 75 | 27.5 | NIT40N |
| NIT40N-MDSK10-90 | 3.0-10.0 | MDSK10 | 30-50 | 90 | 27.5 | NIT40N |
| NIT40N-MDSK13-105 | 3.0-13.0 | MDSK13 | 31-60 | 105 | 33 | NIT40N |
| NIT40N-MDSK13-120 | 3.0-13.0 | MDSK13 | 31-60 | 120 | 33 | NIT40N |
| NIT40N-MDSK13-150 | 3.0-13.0 | MDSK13 | 31-60 | 150 | 33 | NIT40N |
| NIT40N-MDSK13-180 | 3.0-13.0 | MDSK13 | 31-60 | 180 | 33 | NIT40N |
| NIT40N-MDSK13-65 | 3.0-13.0 | MDSK13 | 31-60 | 65 | 33 | NIT40N |
| NIT40N-MDSK13-75 | 3.0-13.0 | MDSK13 | 31-60 | 75 | 33 | NIT40N |
| NIT40N-MDSK13-90 | 3.0-13.0 | MDSK13 | 31-60 | 90 | 33 | NIT40N |
| NIT40N-MDSK16-105 | 3.0-16.0 | MDSK16 | 45-70 | 105 | 45-70 | NIT40N |
| NIT40N-MDSK16-120 | 3.0-16.0 | MDSK16 | 45-70 | 120 | 40 | NIT40N |
| NIT40N-MDSK16-150 | 3.0-16.0 | MDSK16 | 45-70 | 150 | 40 | NIT40N |
| NIT40N-MDSK16-180 | 3.0-16.0 | MDSK16 | 45-70 | 180 | 40 | NIT40N |
| NIT40N-MDSK16-65 | 3.0-16.0 | MDSK16 | 45-60 | 65 | 40 | NIT40N |
| NIT40N-MDSK16-75 | 3.0-16.0 | MDSK16 | 45-70 | 75 | 40 | NIT40N |
| NIT40N-MDSK16-90 | 3.0-16.0 | MDSK16 | 45-70 | 90 | 40 | NIT40N |
| NIT40N-MDSK20-105 | 4.0-20.0 | MDSK20 | 50-73 | 105 | 48 | NIT40N |
| NIT40N-MDSK20-120 | 4.0-20.0 | MDSK20 | 50-73 | 120 | 48 | NIT40N |
| NIT40N-MDSK20-75 | 4.0-20.0 | MDSK20 | 50-73 | 75 | 48 | NIT40N |
| NIT40N-MDSK20-90 | 4.0-20.0 | MDSK20 | 50-73 | 90 | 48 | NIT40N |
| NIT40N-MDSK6-105 | 3.0-6.0 | MDSK6 | 21-35 | 105 | 19.5 | NIT40N |
| NIT40N-MDSK6-120 | 3.0-6.0 | MDSK6 | 21-35 | 120 | 19.5 | NIT40N |
| NIT40N-MDSK6-60 | 3.0-6.0 | MDSK6 | 21-35 | 60 | 19.5 | NIT40N |
| NIT40N-MDSK6-75 | 3.0-6.0 | MDSK6 | 21-35 | 75 | 19.5 | NIT40N |
| NIT40N-MDSK6-90 | 3.0-6.0 | MDSK6 | 21-35 | 90 | 19.5 | NIT40N |
| NIT50-MDSK10-105 | 3.0-10.0 | MDSK10 | 30-50 | 105 | 27.5 | NIT50 |
| NIT50-MDSK10-120 | 3.0-10.0 | MDSK10 | 30-50 | 120 | 27.5 | NIT50 |
| NIT50-MDSK10-135 | 3.0-10.0 | MDSK10 | 30-50 | 135 | 27.5 | NIT50 |
| NIT50-MDSK10-165 | 3.0-10.0 | MDSK10 | 30-50 | 165 | 27.5 | NIT50 |
| NIT50-MDSK10-195 | 3.0-10.0 | MDSK10 | 30-50 | 195 | 27.5 | NIT50 |
| NIT50-MDSK13-105 | 3.0-13.0 | MDSK13 | 31-60 | 105 | 33 | NIT50 |
| NIT50-MDSK13-120 | 3.0-13.0 | MDSK13 | 31-60 | 120 | 33 | NIT50 |
| NIT50-MDSK13-135 | 3.0-13.0 | MDSK13 | 31-60 | 135 | 33 | NIT50 |
| NIT50-MDSK13-165 | 3.0-13.0 | MDSK13 | 31-60 | 165 | 33 | NIT50 |
| NIT50-MDSK13-195 | 3.0-13.0 | MDSK13 | 31-60 | 195 | 33 | NIT50 |
| NIT50-MDSK16-105 | 3.0-16.0 | MDSK16 | 45-70 | 105 | 40 | NIT50 |
| NIT50-MDSK16-120 | 3.0-16.0 | MDSK16 | 45-70 | 120 | 40 | NIT50 |
| NIT50-MDSK16-135 | 3.0-16.0 | MDSK16 | 45-70 | 135 | 40 | NIT50 |
| NIT50-MDSK16-165 | 3.0-16.0 | MDSK16 | 45-70 | 165 | 40 | NIT50 |
| NIT50-MDSK16-195 | 3.0-16.0 | MDSK16 | 45-70 | 195 | 40 | NIT50 |
| NIT50-MDSK20-105 | 4.0-20.0 | MDSK20 | 47-80 | 105 | 48 | NIT50 |
| NIT50-MDSK20-135 | 4.0-20.0 | MDSK20 | 47-80 | 135 | 48 | NIT50 |
| NIT50-MDSK20-165 | 4.0-20.0 | MDSK20 | 47-80 | 165 | 48 | NIT50 |
| NIT50-MDSK20-195 | 4.0-20.0 | MDSK20 | 47-80 | 195 | 48 | NIT50 |
| NIT50-MDSK25-105 | 8.0-25.4 | MDSK25 | 55-85 | 105 | 55 | NIT50 |
| NIT50-MDSK25-135 | 8.0-25.4 | MDSK25 | 55-85 | 135 | 55 | NIT50 |
| NIT50-MDSK25-165 | 8.0-25.4 | MDSK25 | 55-85 | 165 | 55 | NIT50 |
| NIT50-MDSK25-195 | 8.0-25.4 | MDSK25 | 55-85 | 195 | 55 | NIT50 |
| NIT50-MDSK6-105 | 3.0-6.0 | MDSK6 | 21-35 | 105 | 19.5 | NIT50 |
| NIT50-MDSK6-120 | 3.0-6.0 | MDSK6 | 21-35 | 120 | 19.5 | NIT50 |
| NIT50-MDSK6-135 | 3.0-6.0 | MDSK6 | 21-35 | 135 | 19.5 | NIT50 |