The NIKKEN ZMAC Advanced modular boring range provides fantastic and precise performance for any semi-finishing and fine finishing process.
Available with exclusive NIKKEN selected insert choices and grades we have two distinct solutions to meet any requirement:
NIKKEN MP/MS - Triangular insert geometry and pocket for fine finishing.
NIKKEN CC - Rhomboidal insert geometry and pocket for semi-finishing.
Also available, should a third party insert choice be preferred, is our NIKKEN ZMAC Advanced ISO option with cartridge pockets to suit more standard inserts choices as required.
ZMAC is our ultimate fine boring solution - The boring cartridge itself, unlike competitor solutions, features a highly rigid double-contact support which is designed to fully support the insert seat throughout the entire range of its range of travel.
The locking bolt is applied precisely at 90 degrees to the adjustment screw to negate any possiblity of deflection and preset measurment variation.
ZMAC is constructed using a precise graduated micron dial ring which features an internally ground thread and is special heat treated to HV800. This is mated to a precision ground cartridge thread which is also hardened and heat treated to HRC50-55.
The solution is supplied with centre through coolant supply as standard which feeds the coolant through the arbor, any spacers and through the ZMAC head directly above the cutting insert for optimum cooling even in a confined bore.
To reduce the weight of the assembly and operate at higher rotation speeds we can also provide our ZMAC Alpha option. This is constructed from a special hardened light alloy material and features an internal balance system to counter vibration.
Our standard modular ZMAC and ZMAC Alpha (from ZMAC25) boring heads, depending on tool shank, are available in 10 sizes:
ZMAC16 - to suit diameters 15.9mm to 20.2mm.
ZMAC20 - to suit diameters 19.8mm to 25.2mm.
ZMAC25 - to suit diameters 24.8mm to 32.2mm.
ZMAC32 - to suit diameters 31.8mm to 42.2mm.
ZMAC42 - to suit diameters 41.8mm to 55.2mm.
ZMAC55 - to suit diameters 54.8mm to 70.2mm.
ZMAC70 - to suit diameters 69.8mm to 85.2mm.
ZMAC85 - to suit diameters 84.8mm to 100.2mm.
ZMAC100 - to suit diameters 99.5mm to 140.5mm.
ZMAC140 - to suit diameters 139.5mm to 180.5mm.
High precision with simple micron adjustment

Light alloy available for higher speeds

Unique double contact support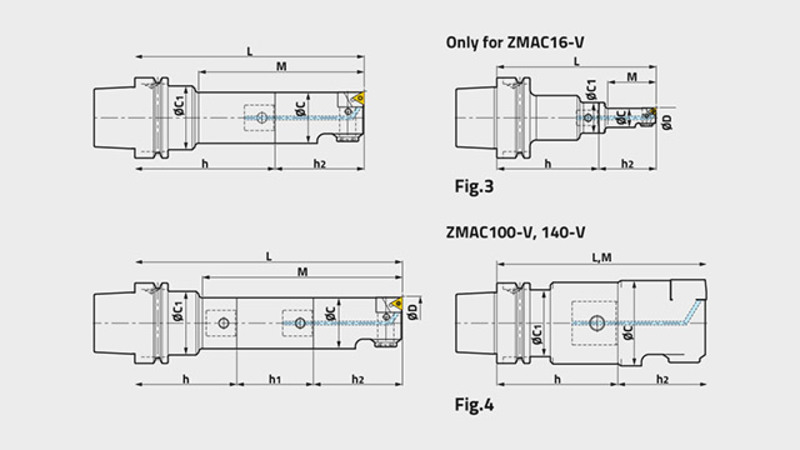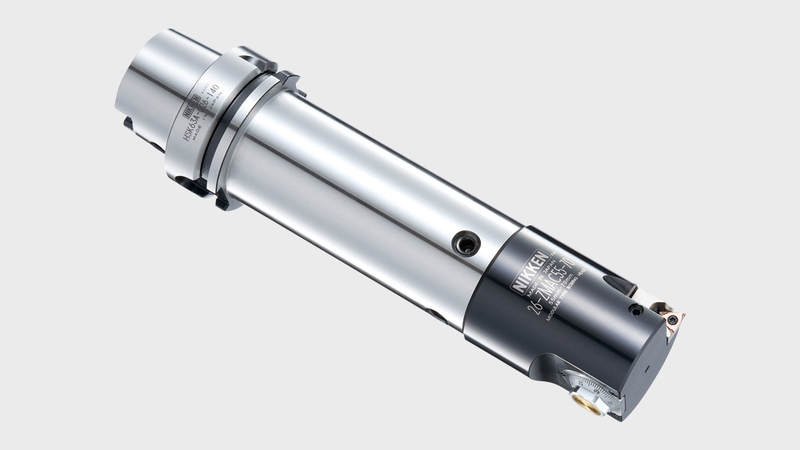 Sizes & Capacities available
| | Shank | Boring Arbor | Spacer / Plate | Head / Cartridge / Bit | DIA 'D' MIN | DIA 'D' MAX | BORING DEPTH 'H' | INSERT | Application |
| --- | --- | --- | --- | --- | --- | --- | --- | --- | --- |
| BT40-Q12-110 + ~ + 12-ZMAC25-40AAV | BT40 | BT40-Q12-110 | ~ | 12-ZMAC25-40AAV | 24.8 | 32.2 | 90.0 | 3MP | High speeds / deep hole drilling |
| BT40-Q12-110 + ~ + 12-ZMAC25-40V | BT40 | BT40-Q12-110 | ~ | 12-ZMAC25-40V | 24.8 | 32.2 | 90.0 | 3MP | Finishing |
| BT40-Q12-80 + ~ + 12-ZMAC16-45AAV | BT40 | BT40-Q12-80 | ~ | 12-ZMAC16-45AAV | 15.9 | 20.2 | 38.0 | 3MP | High speeds / deep hole grinding |
| BT40-Q12-80 + ~ + 12-ZMAC16-45V | BT40 | BT40-Q12-80 | ~ | 12-ZMAC16-45V | 15.9 | 20.2 | 38.0 | 3MP | High speeds / deep hole grinding |
| BT40-Q12-80 + ~ + 12-ZMAC16-55AAV | BT40 | BT40-Q12-80 | ~ | 12-ZMAC16-55AAV | 15.9 | 20.2 | 48.0 | 3MP | High speeds / deep hole grinding |
| BT40-Q12-80 + ~ + 12-ZMAC16-55V | BT40 | BT40-Q12-80 | ~ | 12-ZMAC16-55V | 15.9 | 20.2 | 48.0 | 3MP | High speeds / deep hole grinding |
| BT40-Q12-80 + ~ + 12-ZMAC25-40AAV | BT40 | BT40-Q12-80 | ~ | 12-ZMAC25-40AAV | 24.8 | 32.2 | 52.0 | 3MP | High speeds / deep hole grinding |
| BT40-Q12-80 + ~ + 12-ZMAC25-40V | BT40 | BT40-Q12-80 | ~ | 12-ZMAC25-40V | 24.8 | 32.2 | 52.0 | 3MP | Finishing |
| BT40-Q12-80 + SP12-12-45 + 12-ZMAC25-40AAV | BT40 | BT40-Q12-80 | SP12-12-45 | 12-ZMAC25-40AAV | 24.8 | 32.2 | 97.0 | 3MP | High speeds / deep hole grinding |
| BT40-Q12-80 + SP12-12-45 + 12-ZMAC25-40V | BT40 | BT40-Q12-80 | SP12-12-45 | 12-ZMAC25-40V | 24.8 | 32.2 | 97.0 | 3MP | Finishing |
| BT40-Q16-125 + ~ + 16-ZMAC32-55AAV | BT40 | BT40-Q16-125 | ~ | 16-ZMAC32-55AAV | 31.8 | 42.2 | 110.0 | 4MP | High speeds / deep hole grinding |
| BT40-Q16-125 + ~ + 16-ZMAC32-55V | BT40 | BT40-Q16-125 | ~ | 16-ZMAC32-55V | 31.8 | 42.2 | 110.0 | 4MP | Finishing |
| BT40-Q16-125 + ~ + 16-ZMAC32R-55AAV | BT40 | BT40-Q16-125 | ~ | 16-ZMAC32R-55AAV | 31.8 | 42.2 | 110.0 | CC06 | High speeds / deep hole drilling |
| BT40-Q16-125 + ~ + 16-ZMAC32R-55V | BT40 | BT40-Q16-125 | ~ | 16-ZMAC32R-55V | 31.8 | 42.2 | 110.0 | CC06 | Finishing |
| BT40-Q16-95 + ~ + 16-ZMAC32-55AAV | BT40 | BT40-Q16-95 | ~ | 16-ZMAC32-55AAV | 31.8 | 42.2 | 77.0 | 4MP | High speeds / deep hole drilling |
| BT40-Q16-95 + ~ + 16-ZMAC32-55V | BT40 | BT40-Q16-95 | ~ | 16-ZMAC32-55V | 31.8 | 42.2 | 77.0 | 4MP | Finishing |
| BT40-Q16-95 + ~ + 16-ZMAC32R-55AAV | BT40 | BT40-Q16-95 | ~ | 16-ZMAC32R-55AAV | 31.8 | 42.2 | 77.0 | CC06 | High speeds / deep hole drilling |
| BT40-Q16-95 + ~ + 16-ZMAC32R-55V | BT40 | BT40-Q16-95 | ~ | 16-ZMAC32R-55V | 31.8 | 42.2 | 77.0 | CC06 | Finishing |
| BT40-Q16-95 + SP16-16-45 + 16-ZMAC32-55AAV | BT40 | BT40-Q16-95 | SP16-16-45 | 16-ZMAC32-55AAV | 31.8 | 42.2 | 122.0 | 4MP | High speeds / deep hole drilling |
| BT40-Q16-95 + SP16-16-45 + 16-ZMAC32-55V | BT40 | BT40-Q16-95 | SP16-16-45 | 16-ZMAC32-55V | 31.8 | 42.2 | 122.0 | 4MP | Finishing |
| BT40-Q16-95 + SP16-16-45 + 16-ZMAC32R-55AAV | BT40 | BT40-Q16-95 | SP16-16-45 | 16-ZMAC32R-55AAV | 31.8 | 42.2 | 122.0 | CC06 | High speeds / deep hole drilling |
| BT40-Q16-95 + SP16-16-45 + 16-ZMAC32R-55V | BT40 | BT40-Q16-95 | SP16-16-45 | 16-ZMAC32R-55V | 31.8 | 42.2 | 122.0 | CC06 | Finishing |
| BT40-Q20-110 + ~ + 20-ZMAC42-70AAV | BT40 | BT40-Q20-110 | ~ | 20-ZMAC42-70AAV | 41.8 | 55.2 | 130.0 | 6MP | High speeds / deep hole drilling |
| BT40-Q20-110 + ~ + 20-ZMAC42-70V | BT40 | BT40-Q20-110 | ~ | 20-ZMAC42-70V | 41.8 | 55.2 | 130.0 | 6MP | Finishing |
| BT40-Q20-110 + ~ + 20-ZMAC42R-70AAV | BT40 | BT40-Q20-110 | ~ | 20-ZMAC42R-70AAV | 41.8 | 55.2 | 130.0 | CC06 | High speeds / deep hole drilling |
| BT40-Q20-110 + ~ + 20-ZMAC42R-70V | BT40 | BT40-Q20-110 | ~ | 20-ZMAC42R-70V | 41.8 | 55.2 | 130.0 | CC06 | Finishing |
| BT40-Q20-80 + ~ + 20-ZMAC42-70AAV | BT40 | BT40-Q20-80 | ~ | 20-ZMAC42-70AAV | 41.8 | 55.2 | 97.0 | 6MP | High speeds / deep hole drilling |
| BT40-Q20-80 + ~ + 20-ZMAC42-70V | BT40 | BT40-Q20-80 | ~ | 20-ZMAC42-70V | 41.8 | 55.2 | 97.0 | 6MP | Finishing |
| BT40-Q20-80 + ~ + 20-ZMAC42R-70AAV | BT40 | BT40-Q20-80 | ~ | 20-ZMAC42R-70AAV | 41.8 | 55.2 | 97.0 | CC06 | High speeds / deep hole drilling |
| BT40-Q20-80 + ~ + 20-ZMAC42R-70V | BT40 | BT40-Q20-80 | ~ | 20-ZMAC42R-70V | 41.8 | 55.2 | 97.0 | CC06 | Finishing |
| BT40-Q20-80 + SP20-20-60 + 20-ZMAC42-70AAV | BT40 | BT40-Q20-80 | SP20-20-60 | 20-ZMAC42-70AAV | 41.8 | 55.2 | 157.0 | 6MP | High speeds / deep hole drilling |
| BT40-Q20-80 + SP20-20-60 + 20-ZMAC42-70V | BT40 | BT40-Q20-80 | SP20-20-60 | 20-ZMAC42-70V | 41.8 | 55.2 | 157.0 | 6MP | Finishing |
| BT40-Q20-80 + SP20-20-60 + 20-ZMAC42R-70AAV | BT40 | BT40-Q20-80 | SP20-20-60 | 20-ZMAC42R-70AAV | 41.8 | 55.2 | 157.0 | CC06 | High speeds / deep hole drilling |
| BT40-Q20-80 + SP20-20-60 + 20-ZMAC42R-70V | BT40 | BT40-Q20-80 | SP20-20-60 | 20-ZMAC42R-70V | 41.8 | 55.2 | 157.0 | CC06 | Finishing |
| BT40-Q26-140 + ~ + 26-ZMAC55-70AAV | BT40 | BT40-Q26-140 | ~ | 26-ZMAC55-70AAV | 54.8 | 70.2 | 180.0 | 6MP | High speeds / deep hole drilling |
| BT40-Q26-140 + ~ + 26-ZMAC55-70V | BT40 | BT40-Q26-140 | ~ | 26-ZMAC55-70V | 54.8 | 70.2 | 180.0 | 6MP | Finishing |
| BT40-Q26-140 + ~ + 26-ZMAC55R-70AAV | BT40 | BT40-Q26-140 | ~ | 26-ZMAC55R-70AAV | 54.8 | 70.2 | 180.0 | CC06 | High speeds / deep hole drilling |
| BT40-Q26-140 + ~ + 26-ZMAC55R-70V | BT40 | BT40-Q26-140 | ~ | 26-ZMAC55R-70V | 54.8 | 70.2 | 180.0 | CC06 | Finishing |
| BT40-Q26-95 + ~ + 26-ZMAC55-70AAV | BT40 | BT40-Q26-95 | ~ | 26-ZMAC55-70AAV | 54.8 | 70.2 | 135.0 | 6MP | High speeds / deep hole drilling |
| BT40-Q26-95 + ~ + 26-ZMAC55-70V | BT40 | BT40-Q26-95 | ~ | 26-ZMAC55-70V | 54.8 | 70.2 | 135.0 | 6MP | Finishing |
| BT40-Q26-95 + ~ + 26-ZMAC55R-70AAV | BT40 | BT40-Q26-95 | ~ | 26-ZMAC55R-70AAV | 54.8 | 70.2 | 135.0 | CC06 | High speeds / deep hole drilling |
| BT40-Q26-95 + ~ + 26-ZMAC55R-70V | BT40 | BT40-Q26-95 | ~ | 26-ZMAC55R-70V | 54.8 | 70.2 | 135.0 | CC06 | Finishing |
| BT40-Q26-95 + SP26-26-60 + 26-ZMAC55-70AAV | BT40 | BT40-Q26-95 | SP26-26-60 | 26-ZMAC55-70AAV | 54.8 | 70.2 | 195.0 | 6MP | High speeds / deep hole drilling |
| BT40-Q26-95 + SP26-26-60 + 26-ZMAC55-70V | BT40 | BT40-Q26-95 | SP26-26-60 | 26-ZMAC55-70V | 54.8 | 70.2 | 195.0 | 6MP | Finishing |
| BT40-Q26-95 + SP26-26-60 + 26-ZMAC55R-70AAV | BT40 | BT40-Q26-95 | SP26-26-60 | 26-ZMAC55R-70AAV | 54.8 | 70.2 | 195.0 | CC06 | High speeds / deep hole drilling |
| BT40-Q26-95 + SP26-26-60 + 26-ZMAC55R-70V | BT40 | BT40-Q26-95 | SP26-26-60 | 26-ZMAC55R-70V | 54.8 | 70.2 | 195.0 | CC06 | Finishing |
| BT40-Q34-110 + ~ + 34-ZMAC70-70AAV | BT40 | BT40-Q34-110 | ~ | 34-ZMAC70-70AAV | 69.8 | 85.2 | 180.0 | 6MP | High speeds / deep hole drilling |
| BT40-Q34-110 + ~ + 34-ZMAC70-70V | BT40 | BT40-Q34-110 | ~ | 34-ZMAC70-70V | 69.8 | 85.2 | 180.0 | 6MP | Finishing |
| BT40-Q34-110 + ~ + 34-ZMAC70R-70AAV | BT40 | BT40-Q34-110 | ~ | 34-ZMAC70R-70AAV | 69.8 | 85.2 | 180.0 | CC08 | High speeds / deep hole drilling |
| BT40-Q34-110 + ~ + 34-ZMAC70R-70V | BT40 | BT40-Q34-110 | ~ | 34-ZMAC70R-70V | 69.8 | 85.2 | 180.0 | CC08 | Finishing |
| BT40-Q34-95 + ~ + 34-ZMAC70-70AAV | BT40 | BT40-Q34-95 | ~ | 34-ZMAC70-70AAV | 69.8 | 85.2 | 165.0 | 6MP | High speeds / deep hole drilling |
| BT40-Q34-95 + ~ + 34-ZMAC70-70V | BT40 | BT40-Q34-95 | ~ | 34-ZMAC70-70V | 69.8 | 85.2 | 165.0 | 6MP | Finishing |
| BT40-Q34-95 + ~ + 34-ZMAC70R-70AAV | BT40 | BT40-Q34-95 | ~ | 34-ZMAC70R-70AAV | 69.8 | 85.2 | 165.0 | CC08 | High speeds / deep hole drilling |
| BT40-Q34-95 + ~ + 34-ZMAC70R-70V | BT40 | BT40-Q34-95 | ~ | 34-ZMAC70R-70V | 69.8 | 85.2 | 165.0 | CC08 | Finishing |
| BT40-Q34-95 + SP34-34-95 + 34-ZMAC70-70AAV | BT40 | BT40-Q34-95 | SP34-34-95 | 34-ZMAC70-70AAV | 69.8 | 85.2 | 225.0 | 6MP | High speeds / deep hole drilling |
| BT40-Q34-95 + SP34-34-95 + 34-ZMAC70-70V | BT40 | BT40-Q34-95 | SP34-34-95 | 34-ZMAC70-70V | 69.8 | 85.2 | 225.0 | 6MP | Finishing |
| BT40-Q34-95 + SP34-34-95 + 34-ZMAC70R-70AAV | BT40 | BT40-Q34-95 | SP34-34-95 | 34-ZMAC70R-70AAV | 69.8 | 85.2 | 225.0 | CC08 | High speeds / deep hole drilling |
| BT40-Q34-95 + SP34-34-95 + 34-ZMAC70R-70V | BT40 | BT40-Q34-95 | SP34-34-95 | 34-ZMAC70R-70V | 69.8 | 85.2 | 225.0 | CC08 | Finishing |
| BT40-Q42-125 + SP42-42-90 + 42-ZMAC85-100AAV | BT50 | BT40-Q42-125 | SP42-42-90 | 42-ZMAC85-100AAV | 84.8 | 100.2 | 272.0 | 6MP | High speeds / deep hole drilling |
| BT40-Q42-125 + SP42-42-90 + 42-ZMAC85-100V | BT50 | BT40-Q42-125 | SP42-42-90 | 42-ZMAC85-100V | 84.8 | 100.2 | 272.0 | 6MP | Finishing |
| BT40-Q42-125 + SP42-42-90 + 42-ZMAC85R-100AAV | BT40 | BT40-Q42-125 | SP42-42-90 | 42-ZMAC85R-100AAV | 84.8 | 100.2 | 272.0 | CC08 | High speeds / deep hole drilling |
| BT40-Q42-125 + SP42-42-90 + 42-ZMAC85R-100V | BT40 | BT40-Q42-125 | SP42-42-90 | 42-ZMAC85R-100V | 84.8 | 100.2 | 272.0 | CC08 | Finishing |
| BT40-Q42-95 + ~ + 42-ZMAC85-100AAV | BT40 | BT40-Q42-95 | ~ | 42-ZMAC85-100AAV | 84.8 | 100.2 | 195.0 | 6MP | High speeds / deep hole drilling |
| BT40-Q42-95 + ~ + 42-ZMAC85-100V | BT40 | BT40-Q42-95 | ~ | 42-ZMAC85-100V | 84.8 | 100.2 | 195.0 | 6MP | Finishing |
| BT40-Q42-95 + ~ + 42-ZMAC85R-100AAV | BT40 | BT40-Q42-95 | ~ | 42-ZMAC85R-100AAV | 84.8 | 100.2 | 195.0 | CC08 | High speeds / deep hole drilling |
| BT40-Q42-95 + ~ + 42-ZMAC85R-100V | BT40 | BT40-Q42-95 | ~ | 42-ZMAC85R-100V | 84.8 | 100.2 | 195.0 | CC08 | Finishing |
| BT40-Q9-80 + ~ + 9-ZMAC20-40AAV | BT40 | BT40-Q9-80 | ~ | 9-ZMAC20-40AAV | 19.8 | 25.2 | 45.0 | 3MP | High speeds / deep hole drilling |
| BT40-Q9-80 + ~ + 9-ZMAC20-40V | BT40 | BT40-Q9-80 | ~ | 9-ZMAC20-40V | 19.8 | 25.2 | 45.0 | 3MP | Finishing |
| BT40-Q9-80 + SP9-9-30 + 9-ZMAC20-40AAV | BT40 | BT40-Q9-80 | SP9-9-30 | 9-ZMAC20-40AAV | 19.8 | 25.2 | 75.0 | 3MP | High speeds / deep hole drilling |
| BT40-Q9-80 + SP9-9-30 + 9-ZMAC20-40V | BT40 | BT40-Q9-80 | SP9-9-30 | 9-ZMAC20-40V | 19.8 | 25.2 | 75.0 | 3MP | Finishing |
| BT40-Q9-95N + ~ + 9-ZMAC20-40AAV | BT40 | BT40-Q9-95N | ~ | 9-ZMAC20-40AAV | 19.8 | 25.2 | 67.0 | 3MP | High speeds / deep hole drilling |
| BT40-Q9-95N + ~ + 9-ZMAC20-40V | BT40 | BT40-Q9-95N | ~ | 9-ZMAC20-40V | 19.8 | 25.2 | 67.0 | 3MP | Finishing |
| BT50-Q12-125 + ~ + 12-ZMAC25-40AAV | BT50 | BT50-Q12-125 | ~ | 12-ZMAC25-40AAV | 24.8 | 32.2 | 90.0 | 3MP | High speeds / deep hole drilling |
| BT50-Q12-125 + ~ + 12-ZMAC25-40V | BT50 | BT50-Q12-125 | ~ | 12-ZMAC25-40V | 24.8 | 32.2 | 90.0 | 3MP | Finishing |
| BT50-Q12-95 + ~ + 12-ZMAC16-45AAV | BT50 | BT50-Q12-95 | ~ | 12-ZMAC16-45AAV | 15.9 | 20.2 | 38.0 | 3MP | High speeds / deep hole drilling |
| BT50-Q12-95 + ~ + 12-ZMAC16-45V | BT50 | BT50-Q12-95 | ~ | 12-ZMAC16-45V | 15.9 | 20.2 | 38.0 | 3MP | Finishing |
| BT50-Q12-95 + ~ + 12-ZMAC16-55AAV | BT50 | BT50-Q12-95 | ~ | 12-ZMAC16-55AAV | 15.9 | 20.2 | 48.0 | 3MP | High speeds / deep hole drilling |
| BT50-Q12-95 + ~ + 12-ZMAC16-55V | BT50 | BT50-Q12-95 | ~ | 12-ZMAC16-55V | 15.9 | 20.2 | 48.0 | 3MP | Finishing |
| BT50-Q12-95 + ~ + 12-ZMAC25-40AAV | BT50 | BT50-Q12-95 | ~ | 12-ZMAC25-40AAV | 24.8 | 32.2 | 52.0 | 3MP | High speeds / deep hole drilling |
| BT50-Q12-95 + ~ + 12-ZMAC25-40V | BT50 | BT50-Q12-95 | ~ | 12-ZMAC25-40V | 24.8 | 32.2 | 52.0 | 3MP | Finishing |
| BT50-Q12-95 + SP12-12-45 + 12-ZMAC25-40AAV | BT50 | BT50-Q12-95 | SP12-12-45 | 12-ZMAC25-40AAV | 24.8 | 32.2 | 97.0 | 3MP | High speeds / deep hole drilling |
| BT50-Q12-95 + SP12-12-45 + 12-ZMAC25-40V | BT50 | BT50-Q12-95 | SP12-12-45 | 12-ZMAC25-40V | 24.8 | 32.2 | 97.0 | 3MP | Finishing |
| BT50-Q16-125N + ~ + 16-ZMAC32-55AAV | BT50 | BT50-Q16-125N | ~ | 16-ZMAC32-55AAV | 31.8 | 42.2 | 77.0 | 4MP | High speeds / deep hole drilling |
| BT50-Q16-125N + ~ + 16-ZMAC32-55V | BT50 | BT50-Q16-125N | ~ | 16-ZMAC32-55V | 31.8 | 42.2 | 77.0 | 4MP | Finishing |
| BT50-Q16-125N + ~ + 16-ZMAC32R-55AAV | BT50 | BT50-Q16-125N | ~ | 16-ZMAC32R-55AAV | 31.8 | 42.2 | 77.0 | CC06 | High speeds / deep hole drilling |
| BT50-Q16-125N + ~ + 16-ZMAC32R-55V | BT50 | BT50-Q16-125N | ~ | 16-ZMAC32R-55V | 31.8 | 42.2 | 77.0 | CC06 | Finishing |
| BT50-Q16-125N + SP16-16-45 + 16-ZMAC32-55AAV | BT50 | BT50-Q16-125N | SP16-16-45 | 16-ZMAC32-55AAV | 31.8 | 42.2 | 122.0 | 4MP | High speeds / deep hole drilling |
| BT50-Q16-125N + SP16-16-45 + 16-ZMAC32-55V | BT50 | BT50-Q16-125N | SP16-16-45 | 16-ZMAC32-55V | 31.8 | 42.2 | 122.0 | 4MP | Finishing |
| BT50-Q16-125N + SP16-16-45 + 16-ZMAC32R-55AAV | BT50 | BT50-Q16-125N | SP16-16-45 | 16-ZMAC32R-55AAV | 31.8 | 42.2 | 122.0 | CC06 | High speeds / deep hole drilling |
| BT50-Q16-125N + SP16-16-45 + 16-ZMAC32R-55V | BT50 | BT50-Q16-125N | SP16-16-45 | 16-ZMAC32R-55V | 31.8 | 42.2 | 122.0 | CC06 | Finishing |
| BT50-Q16-155 + ~ + 16-ZMAC32-55AAV | BT50 | BT50-Q16-155 | ~ | 16-ZMAC32-55AAV | 31.8 | 42.2 | 110.0 | 4MP | High speeds / deep hole drilling |
| BT50-Q16-155 + ~ + 16-ZMAC32-55V | BT50 | BT50-Q16-155 | ~ | 16-ZMAC32-55V | 31.8 | 42.2 | 110.0 | 4MP | Finishing |
| BT50-Q16-155 + ~ + 16-ZMAC32R-55AAV | BT50 | BT50-Q16-155 | ~ | 16-ZMAC32R-55AAV | 31.8 | 42.2 | 110.0 | CC06 | High speeds / deep hole drilling |
| BT50-Q16-155 + ~ + 16-ZMAC32R-55V | BT50 | BT50-Q16-155 | ~ | 16-ZMAC32R-55V | 31.8 | 42.2 | 110.0 | CC06 | Finishing |
| BT50-Q20-110 + ~ + 20-ZMAC42-70AAV | BT50 | BT50-Q20-110 | ~ | 20-ZMAC42-70AAV | 41.8 | 55.2 | 97.0 | 6MP | High speeds / deep hole drilling |
| BT50-Q20-110 + ~ + 20-ZMAC42-70V | BT50 | BT50-Q20-110 | ~ | 20-ZMAC42-70V | 41.8 | 55.2 | 97.0 | 6MP | Finishing |
| BT50-Q20-110 + ~ + 20-ZMAC42R-70AAV | BT50 | BT50-Q20-110 | ~ | 20-ZMAC42R-70AAV | 41.8 | 55.2 | 97.0 | CC06 | High speeds / deep hole drilling |
| BT50-Q20-110 + ~ + 20-ZMAC42R-70V | BT50 | BT50-Q20-110 | ~ | 20-ZMAC42R-70V | 41.8 | 55.2 | 97.0 | CC06 | Finishing |
| BT50-Q20-110 + SP20-20-45 + 20-ZMAC42-70AAV | BT50 | BT50-Q20-110 | SP20-20-45 | 20-ZMAC42-70AAV | 41.8 | 55.2 | 142.0 | 6MP | High speeds / deep hole drilling |
| BT50-Q20-110 + SP20-20-45 + 20-ZMAC42-70V | BT50 | BT50-Q20-110 | SP20-20-45 | 20-ZMAC42-70V | 41.8 | 55.2 | 142.0 | 6MP | Finishing |
| BT50-Q20-110 + SP20-20-45 + 20-ZMAC42R-70AAV | BT50 | BT50-Q20-110 | SP20-20-45 | 20-ZMAC42R-70AAV | 41.8 | 55.2 | 142.0 | CC06 | High speeds / deep hole drilling |
| BT50-Q20-110 + SP20-20-45 + 20-ZMAC42R-70V | BT50 | BT50-Q20-110 | SP20-20-45 | 20-ZMAC42R-70V | 41.8 | 55.2 | 142.0 | CC06 | Finishing |
| BT50-Q20-110 + SP20-20-60 + 20-ZMAC42-70AAV | BT50 | BT50-Q20-110 | SP20-20-60 | 20-ZMAC42-70AAV | 41.8 | 55.2 | 157.0 | 6MP | High speeds / deep hole drilling |
| BT50-Q20-110 + SP20-20-60 + 20-ZMAC42-70V | BT50 | BT50-Q20-110 | SP20-20-60 | 20-ZMAC42-70V | 41.8 | 55.2 | 157.0 | 6MP | Finishing |
| BT50-Q20-110 + SP20-20-60 + 20-ZMAC42R-70AAV | BT50 | BT50-Q20-110 | SP20-20-60 | 20-ZMAC42R-70AAV | 41.8 | 55.2 | 157.0 | CC06 | High speeds / deep hole drilling |
| BT50-Q20-110 + SP20-20-60 + 20-ZMAC42R-70V | BT50 | BT50-Q20-110 | SP20-20-60 | 20-ZMAC42R-70V | 41.8 | 55.2 | 157.0 | CC06 | Finishing |
| BT50-Q20-125 + ~ + 20-ZMAC42-70AAV | BT50 | BT50-Q20-125 | ~ | 20-ZMAC42-70AAV | 41.8 | 55.2 | 130.0 | 6MP | High speeds / deep hole drilling |
| BT50-Q20-125 + ~ + 20-ZMAC42-70V | BT50 | BT50-Q20-125 | ~ | 20-ZMAC42-70V | 41.8 | 55.2 | 130.0 | 6MP | Finishing |
| BT50-Q20-125 + ~ + 20-ZMAC42R-70AAV | BT50 | BT50-Q20-125 | ~ | 20-ZMAC42R-70AAV | 41.8 | 55.2 | 130.0 | CC06 | High speeds / deep hole drilling |
| BT50-Q20-125 + ~ + 20-ZMAC42R-70V | BT50 | BT50-Q20-125 | ~ | 20-ZMAC42R-70V | 41.8 | 55.2 | 130.0 | CC06 | Finishing |
| BT50-Q26-140 + ~ + 26-ZMAC55-70AAV | BT50 | BT50-Q26-140 | ~ | 26-ZMAC55-70AAV | 54.8 | 70.2 | 117.0 | 6MP | High speeds / deep hole drilling |
| BT50-Q26-140 + ~ + 26-ZMAC55-70V | BT50 | BT50-Q26-140 | ~ | 26-ZMAC55-70V | 54.8 | 70.2 | 117.0 | 6MP | Finishing |
| BT50-Q26-140 + ~ + 26-ZMAC55R-70AAV | BT50 | BT50-Q26-140 | ~ | 26-ZMAC55R-70AAV | 54.8 | 70.2 | 117.0 | CC06 | High speeds / deep hole drilling |
| BT50-Q26-140 + ~ + 26-ZMAC55R-70V | BT50 | BT50-Q26-140 | ~ | 26-ZMAC55R-70V | 54.8 | 70.2 | 117.0 | CC06 | Finishing |
| BT50-Q26-140 + SP26-26-60 + 26-ZMAC55-70AAV | BT50 | BT50-Q26-140 | SP26-26-60 | 26-ZMAC55-70AAV | 54.8 | 70.2 | 177.0 | 6MP | High speeds / deep hole drilling |
| BT50-Q26-140 + SP26-26-60 + 26-ZMAC55-70V | BT50 | BT50-Q26-140 | SP26-26-60 | 26-ZMAC55-70V | 54.8 | 70.2 | 177.0 | 6MP | Finishing |
| BT50-Q26-140 + SP26-26-60 + 26-ZMAC55R-70AAV | BT50 | BT50-Q26-140 | SP26-26-60 | 26-ZMAC55R-70AAV | 54.8 | 70.2 | 177.0 | CC06 | High speeds / deep hole drilling |
| BT50-Q26-140 + SP26-26-60 + 26-ZMAC55R-70V | BT50 | BT50-Q26-140 | SP26-26-60 | 26-ZMAC55R-70V | 54.8 | 70.2 | 177.0 | CC06 | Finishing |
| BT50-Q26-170N + ~ + 26-ZMAC55-70AAV | BT50 | BT50-Q26-170N | ~ | 26-ZMAC55-70AAV | 54.8 | 70.2 | 182.0 | 6MP | High speeds / deep hole drilling |
| BT50-Q26-170N + ~ + 26-ZMAC55-70V | BT50 | BT50-Q26-170N | ~ | 26-ZMAC55-70V | 54.8 | 70.2 | 182.0 | 6MP | Finishing |
| BT50-Q26-170N + ~ + 26-ZMAC55R-70AAV | BT50 | BT50-Q26-170N | ~ | 26-ZMAC55R-70AAV | 54.8 | 70.2 | 182.0 | CC06 | High speeds / deep hole drilling |
| BT50-Q26-170N + ~ + 26-ZMAC55R-70V | BT50 | BT50-Q26-170N | ~ | 26-ZMAC55R-70V | 54.8 | 70.2 | 182.0 | CC06 | Finishing |
| BT50-Q34-170 + ~ + 34-ZMAC70-70AAV | BT50 | BT50-Q34-170 | ~ | 34-ZMAC70-70AAV | 69.8 | 85.2 | 190.0 | 6MP | High speeds / deep hole drilling |
| BT50-Q34-170 + ~ + 34-ZMAC70-70V | BT50 | BT50-Q34-170 | ~ | 34-ZMAC70-70V | 69.8 | 85.2 | 190.0 | 6MP | Finishing |
| BT50-Q34-170 + ~ + 34-ZMAC70R-70AAV | BT50 | BT50-Q34-170 | ~ | 34-ZMAC70R-70AAV | 69.8 | 85.2 | 190.0 | CC08 | High speeds / deep hole drilling |
| BT50-Q34-170 + ~ + 34-ZMAC70R-70V | BT50 | BT50-Q34-170 | ~ | 34-ZMAC70R-70V | 69.8 | 85.2 | 190.0 | CC08 | Finishing |
| BT50-Q34-170 + SP34-34-60 + 34-ZMAC70-70AAV | BT50 | BT50-Q34-170 | SP34-34-60 | 34-ZMAC70-70AAV | 69.8 | 85.2 | 250.0 | 6MP | High speeds / deep hole drilling |
| BT50-Q34-170 + SP34-34-60 + 34-ZMAC70-70V | BT50 | BT50-Q34-170 | SP34-34-60 | 34-ZMAC70-70V | 69.8 | 85.2 | 250.0 | 6MP | Finishing |
| BT50-Q34-170 + SP34-34-60 + 34-ZMAC70R-70AAV | BT50 | BT50-Q34-170 | SP34-34-60 | 34-ZMAC70R-70AAV | 69.8 | 85.2 | 250.0 | CC08 | High speeds / deep hole drilling |
| BT50-Q34-170 + SP34-34-60 + 34-ZMAC70R-70V | BT50 | BT50-Q34-170 | SP34-34-60 | 34-ZMAC70R-70V | 69.8 | 85.2 | 250.0 | CC08 | Finishing |
| BT50-Q34-200 + ~ + 34-ZMAC70-70AAV | BT50 | BT50-Q34-200 | ~ | 34-ZMAC70-70AAV | 69.8 | 85.2 | 220.0 | 6MP | High speeds / deep hole drilling |
| BT50-Q34-200 + ~ + 34-ZMAC70-70V | BT50 | BT50-Q34-200 | ~ | 34-ZMAC70-70V | 69.8 | 85.2 | 220.0 | 6MP | Finishing |
| BT50-Q34-200 + ~ + 34-ZMAC70R-70AAV | BT50 | BT50-Q34-200 | ~ | 34-ZMAC70R-70AAV | 69.8 | 85.2 | 220.0 | CC08 | High speeds / deep hole drilling |
| BT50-Q34-200 + ~ + 34-ZMAC70R-70V | BT50 | BT50-Q34-200 | ~ | 34-ZMAC70R-70V | 69.8 | 85.2 | 220.0 | CC08 | Finishing |
| BT50-Q42-125 + ~ + 42-ZMAC100-100AAV | BT50 | BT50-Q42-125 | ~ | 42-ZMAC100-100AAV | 99.5 | 140.5 | 225.0 | 6MP | High speeds / deep hole drilling |
| BT50-Q42-125 + ~ + 42-ZMAC100-100V | BT50 | BT50-Q42-125 | ~ | 42-ZMAC100-100V | 99.5 | 140.5 | 225.0 | 6MP | Finishing |
| BT50-Q42-125 + ~ + 42-ZMAC100R-100AAV | BT50 | BT50-Q42-125 | ~ | 42-ZMAC100R-100AAV | 99.5 | 140.5 | 225.0 | CC12 | High speeds / deep hole drilling |
| BT50-Q42-125 + ~ + 42-ZMAC100R-100V | BT50 | BT50-Q42-125 | ~ | 42-ZMAC100R-100V | 99.5 | 140.5 | 225.0 | CC12 | Finishing |
| BT50-Q42-125 + ~ + 42-ZMAC140-100AAV | BT50 | BT50-Q42-125 | ~ | 42-ZMAC140-100AAV | 139.5 | 180.5 | 225.0 | 6MP | High speeds / deep hole drilling |
| BT50-Q42-125 + ~ + 42-ZMAC140-100V | BT50 | BT50-Q42-125 | ~ | 42-ZMAC140-100V | 139.5 | 180.5 | 225.0 | 6MP | Finishing |
| BT50-Q42-125 + ~ + 42-ZMAC140R-100AAV | BT50 | BT50-Q42-125 | ~ | 42-ZMAC140R-100AAV | 139.5 | 180.5 | 225.0 | CC12 | High speeds / deep hole drilling |
| BT50-Q42-125 + ~ + 42-ZMAC140R-100V | BT50 | BT50-Q42-125 | ~ | 42-ZMAC140R-100V | 139.5 | 180.5 | 225.0 | CC12 | Finishing |
| BT50-Q42-125 + ~ + 42-ZMAC85-100AAV | BT50 | BT50-Q42-125 | ~ | 42-ZMAC85-100AAV | 84.8 | 100.2 | 182.0 | 6MP | High speeds / deep hole drilling |
| BT50-Q42-125 + ~ + 42-ZMAC85-100V | BT50 | BT50-Q42-125 | ~ | 42-ZMAC85-100V | 84.8 | 100.2 | 182.0 | 6MP | Finishing |
| BT50-Q42-125 + ~ + 42-ZMAC85R-100AAV | BT50 | BT50-Q42-125 | ~ | 42-ZMAC85R-100AAV | 84.8 | 100.2 | 182.0 | CC08 | High speeds / deep hole drilling |
| BT50-Q42-125 + ~ + 42-ZMAC85R-100V | BT50 | BT50-Q42-125 | ~ | 42-ZMAC85R-100V | 84.8 | 100.2 | 182.0 | CC08 | Finishing |
| BT50-Q42-190 + ~ + 42-ZMAC100-100AAV | BT50 | BT50-Q42-190 | ~ | 42-ZMAC100-100AAV | 99.5 | 140.5 | 290.0 | 6MP | High speeds / deep hole drilling |
| BT50-Q42-190 + ~ + 42-ZMAC100-100V | BT50 | BT50-Q42-190 | ~ | 42-ZMAC100-100V | 99.5 | 140.5 | 290.0 | 6MP | Finishing |
| BT50-Q42-190 + ~ + 42-ZMAC100R-100AAV | BT50 | BT50-Q42-190 | ~ | 42-ZMAC100R-100AAV | 99.5 | 140.5 | 290.0 | CC12 | High speeds / deep hole drilling |
| BT50-Q42-190 + ~ + 42-ZMAC100R-100V | BT50 | BT50-Q42-190 | ~ | 42-ZMAC100R-100V | 99.5 | 140.5 | 290.0 | CC12 | Finishing |
| BT50-Q42-190 + ~ + 42-ZMAC140-100AAV | BT50 | BT50-Q42-190 | ~ | 42-ZMAC140-100AAV | 139.5 | 180.5 | 290.0 | 6MP | High speeds / deep hole drilling |
| BT50-Q42-190 + ~ + 42-ZMAC140-100V | BT50 | BT50-Q42-190 | ~ | 42-ZMAC140-100V | 139.5 | 180.5 | 290.0 | 6MP | Finishing |
| BT50-Q42-190 + ~ + 42-ZMAC140R-100AAV | BT50 | BT50-Q42-190 | ~ | 42-ZMAC140R-100AAV | 139.5 | 180.5 | 290.0 | CC12 | High speeds / deep hole drilling |
| BT50-Q42-190 + ~ + 42-ZMAC140R-100V | BT50 | BT50-Q42-190 | ~ | 42-ZMAC140R-100V | 139.5 | 180.5 | 290.0 | CC12 | Finishing |
| BT50-Q42-190 + ~ + 42-ZMAC85-100AAV | BT50 | BT50-Q42-190 | ~ | 42-ZMAC85-100AAV | 84.8 | 100.2 | 247.0 | 6MP | High speeds / deep hole drilling |
| BT50-Q42-190 + ~ + 42-ZMAC85-100V | BT50 | BT50-Q42-190 | ~ | 42-ZMAC85-100V | 84.8 | 100.2 | 247.0 | 6MP | Finishing |
| BT50-Q42-190 + ~ + 42-ZMAC85R-100AAV | BT50 | BT50-Q42-190 | ~ | 42-ZMAC85R-100AAV | 84.8 | 100.2 | 247.0 | CC08 | High speeds / deep hole drilling |
| BT50-Q42-190 + ~ + 42-ZMAC85R-100V | BT50 | BT50-Q42-190 | ~ | 42-ZMAC85R-100V | 84.8 | 100.2 | 247.0 | CC08 | Finishing |
| BT50-Q42-225A + ~ + 42-ZMAC100-100AAV | BT50 | BT50-Q42-225A | ~ | 42-ZMAC100-100AAV | 99.5 | 140.5 | 325.0 | 6MP | High speeds / deep hole drilling |
| BT50-Q42-225A + ~ + 42-ZMAC100-100V | BT50 | BT50-Q42-225A | ~ | 42-ZMAC100-100V | 99.5 | 140.5 | 325.0 | 6MP | Finishing |
| BT50-Q42-225A + ~ + 42-ZMAC100R-100AAV | BT50 | BT50-Q42-225A | ~ | 42-ZMAC100R-100AAV | 99.5 | 140.5 | 325.0 | CC12 | High speeds / deep hole drilling |
| BT50-Q42-225A + ~ + 42-ZMAC100R-100V | BT50 | BT50-Q42-225A | ~ | 42-ZMAC100R-100V | 99.5 | 140.5 | 325.0 | CC12 | Finishing |
| BT50-Q42-225A + ~ + 42-ZMAC140-100AAV | BT50 | BT50-Q42-225A | ~ | 42-ZMAC140-100AAV | 139.5 | 180.5 | 325.0 | 6MP | High speeds / deep hole drilling |
| BT50-Q42-225A + ~ + 42-ZMAC140-100V | BT50 | BT50-Q42-225A | ~ | 42-ZMAC140-100V | 139.5 | 180.5 | 325.0 | 6MP | Finishing |
| BT50-Q42-225A + ~ + 42-ZMAC140R-100AAV | BT50 | BT50-Q42-225A | ~ | 42-ZMAC140R-100AAV | 139.5 | 180.5 | 325.0 | CC12 | High speeds / deep hole drilling |
| BT50-Q42-225A + ~ + 42-ZMAC140R-100V | BT50 | BT50-Q42-225A | ~ | 42-ZMAC140R-100V | 139.5 | 180.5 | 325.0 | CC12 | Finishing |
| BT50-Q42-275A + ~ + 42-ZMAC100-100AAV | BT50 | BT50-Q42-275A | ~ | 42-ZMAC100-100AAV | 99.5 | 140.5 | 375.0 | 6MP | High speeds / deep hole drilling |
| BT50-Q42-275A + ~ + 42-ZMAC100-100V | BT50 | BT50-Q42-275A | ~ | 42-ZMAC100-100V | 99.5 | 140.5 | 375.0 | 6MP | Finishing |
| BT50-Q42-275A + ~ + 42-ZMAC100R-100AAV | BT50 | BT50-Q42-275A | ~ | 42-ZMAC100R-100AAV | 99.5 | 140.5 | 375.0 | CC12 | High speeds / deep hole drilling |
| BT50-Q42-275A + ~ + 42-ZMAC100R-100V | BT50 | BT50-Q42-275A | ~ | 42-ZMAC100R-100V | 99.5 | 140.5 | 375.0 | CC12 | Finishing |
| BT50-Q42-275A + ~ + 42-ZMAC140-100AAV | BT50 | BT50-Q42-275A | ~ | 42-ZMAC140-100AAV | 139.5 | 180.5 | 375.0 | 6MP | High speeds / deep hole drilling |
| BT50-Q42-275A + ~ + 42-ZMAC140-100V | BT50 | BT50-Q42-275A | ~ | 42-ZMAC140-100V | 139.5 | 180.5 | 375.0 | 6MP | Finishing |
| BT50-Q42-275A + ~ + 42-ZMAC140R-100AAV | BT50 | BT50-Q42-275A | ~ | 42-ZMAC140R-100AAV | 139.5 | 180.5 | 375.0 | CC12 | High speeds / deep hole drilling |
| BT50-Q42-275A + ~ + 42-ZMAC140R-100V | BT50 | BT50-Q42-275A | ~ | 42-ZMAC140R-100V | 139.5 | 180.5 | 375.0 | CC12 | Finishing |
| BT50-Q42-325A + ~ + 42-ZMAC100-100AAV | BT50 | BT50-Q42-325A | ~ | 42-ZMAC100-100AAV | 99.5 | 140.5 | 425.0 | 6MP | High speeds / deep hole drilling |
| BT50-Q42-325A + ~ + 42-ZMAC100-100V | BT50 | BT50-Q42-325A | ~ | 42-ZMAC100-100V | 99.5 | 140.5 | 425.0 | 6MP | Finishing |
| BT50-Q42-325A + ~ + 42-ZMAC100R-100AAV | BT50 | BT50-Q42-325A | ~ | 42-ZMAC100R-100AAV | 99.5 | 140.5 | 425.0 | CC12 | High speeds / deep hole drilling |
| BT50-Q42-325A + ~ + 42-ZMAC100R-100V | BT50 | BT50-Q42-325A | ~ | 42-ZMAC100R-100V | 99.5 | 140.5 | 425.0 | CC12 | Finishing |
| BT50-Q42-325A + ~ + 42-ZMAC140-100AAV | BT50 | BT50-Q42-325A | ~ | 42-ZMAC140-100AAV | 139.5 | 180.5 | 425.0 | 6MP | High speeds / deep hole drilling |
| BT50-Q42-325A + ~ + 42-ZMAC140-100V | BT50 | BT50-Q42-325A | ~ | 42-ZMAC140-100V | 139.5 | 180.5 | 425.0 | 6MP | Finishing |
| BT50-Q42-325A + ~ + 42-ZMAC140R-100AAV | BT50 | BT50-Q42-325A | ~ | 42-ZMAC140R-100AAV | 139.5 | 180.5 | 425.0 | CC12 | High speeds / deep hole drilling |
| BT50-Q42-325A + ~ + 42-ZMAC140R-100V | BT50 | BT50-Q42-325A | ~ | 42-ZMAC140R-100V | 139.5 | 180.5 | 425.0 | CC12 | Finishing |
| BT50-Q9-110 + ~ + 9-ZMAC20-40AAV | BT50 | BT50-Q9-110 | ~ | 9-ZMAC20-40AAV | 19.8 | 25.2 | 45.0 | 3MP | High speeds / deep hole drilling |
| BT50-Q9-110 + ~ + 9-ZMAC20-40V | BT50 | BT50-Q9-110 | ~ | 9-ZMAC20-40V | 19.8 | 25.2 | 45.0 | 3MP | Finishing |
| BT50-Q9-110 + SP9-9-30 + 9-ZMAC20-40AAV | BT50 | BT50-Q9-110 | SP9-9-30 | 9-ZMAC20-40AAV | 19.8 | 25.2 | 75.0 | 3MP | High speeds / deep hole drilling |
| BT50-Q9-110 + SP9-9-30 + 9-ZMAC20-40V | BT50 | BT50-Q9-110 | SP9-9-30 | 9-ZMAC20-40V | 19.8 | 25.2 | 75.0 | 3MP | Finishing |
| BT50-Q9-125N + ~ + 9-ZMAC20-40AAV | BT50 | BT50-Q9-125N | ~ | 9-ZMAC20-40AAV | 19.8 | 25.2 | 67.0 | 3MP | High speeds / deep hole drilling |
| BT50-Q9-125N + ~ + 9-ZMAC20-40V | BT50 | BT50-Q9-125N | ~ | 9-ZMAC20-40V | 19.8 | 25.2 | 67.0 | 3MP | Finishing |
| HSK100A-Q12-125 + ~ + 12-ZMAC25-40V | HSK100A | HSK100A-Q12-125 | ~ | 12-ZMAC25-40V | 24.8 | 32.2 | 90.0 | 3MP | Finishing |
| HSK100A-Q12-95 + ~ + 12-ZMAC16-45V | HSK100A | HSK100A-Q12-95 | ~ | 12-ZMAC16-45V | 15.9 | 20.2 | 38.0 | 3MP | Finishing |
| HSK100A-Q12-95 + ~ + 12-ZMAC16-55V | HSK100A | HSK100A-Q12-95 | ~ | 12-ZMAC16-55V | 15.9 | 20.2 | 48.0 | 3MP | Finishing |
| HSK100A-Q12-95 + ~ + 12-ZMAC25-40V | HSK100A | HSK100A-Q12-95 | ~ | 12-ZMAC25-40V | 24.8 | 32.2 | 52.0 | 3MP | Finishing |
| HSK100A-Q26-140 + SP26-26-60 + 26-ZMAC55-70V | HSK100A | HSK100A-Q26-140 | SP26-26-60 | 26-ZMAC55-70V | 54.8 | 70.2 | 177.0 | 6MP | Finishing |
| HSK100A-Q26-170N + ~ + 26-ZMAC55-70V | HSK100A | HSK100A-Q26-170N | ~ | 26-ZMAC55-70V | 54.8 | 70.2 | 182.0 | 6MP | Finishing |
| HSK100A-Q34-170 + ~ + 34-ZMAC70-70V | HSK100A | HSK100A-Q34-170 | ~ | 34-ZMAC70-70V | 69.8 | 85.2 | 190.0 | 6MP | Finishing |
| HSK100A-Q34-200 + ~ + 34-ZMAC70-70V | HSK100A | HSK100A-Q34-200 | ~ | 34-ZMAC70-70V | 69.8 | 85.2 | 220.0 | 6MP | Finishing |
| HSK100A-Q9-110 + ~ + 9-ZMAC20-40V | HSK100A | HSK100A-Q9-110 | ~ | 9-ZMAC20-40V | 19.8 | 25.2 | 45.0 | 3MP | Finishing |
| HSK100A-Q9-110 + SP9-9-30 + 9-ZMAC20-40V | HSK100A | HSK100A-Q9-110 | SP9-9-30 | 9-ZMAC20-40V | 19.8 | 25.2 | 75.0 | 3MP | Finishing |
| HSK100A-Q9-125N + ~ + 9-ZMAC20-40V | HSK100A | HSK100A-Q9-125N | ~ | 9-ZMAC20-40V | 19.8 | 25.2 | 67.0 | 3MP | Finishing |
| HSK63A-Q12-110 + ~ + 12-ZMAC25-40AAV | HSK63A | HSK63A-Q12-110 | ~ | 12-ZMAC25-40AAV | 24.8 | 32.2 | 90.0 | 3MP | High speeds / deep hole drilling |
| HSK63A-Q12-110 + ~ + 12-ZMAC25-40V | HSK63A | HSK63A-Q12-110 | ~ | 12-ZMAC25-40V | 24.8 | 32.2 | 90.0 | 3MP | Finishing |
| HSK63A-Q12-80 + ~ + 12-ZMAC16-45AAV | HSK63A | HSK63A-Q12-80 | ~ | 12-ZMAC16-45AAV | 15.9 | 20.2 | 38.0 | 3MP | High speeds / deep hole drilling |
| HSK63A-Q12-80 + ~ + 12-ZMAC16-45V | HSK63A | HSK63A-Q12-80 | ~ | 12-ZMAC16-45V | 15.9 | 20.2 | 38.0 | 3MP | Finishing |
| HSK63A-Q12-80 + ~ + 12-ZMAC16-55AAV | HSK63A | HSK63A-Q12-80 | ~ | 12-ZMAC16-55AAV | 15.9 | 20.2 | 48.0 | 3MP | High speeds / deep hole drilling |
| HSK63A-Q12-80 + ~ + 12-ZMAC16-55V | HSK63A | HSK63A-Q12-80 | ~ | 12-ZMAC16-55V | 15.9 | 20.2 | 48.0 | 3MP | Finishing |
| HSK63A-Q12-80 + ~ + 12-ZMAC25-40AAV | HSK63A | HSK63A-Q12-80 | ~ | 12-ZMAC25-40AAV | 24.8 | 32.2 | 52.0 | 3MP | High speeds / deep hole drilling |
| HSK63A-Q12-80 + ~ + 12-ZMAC25-40V | HSK63A | HSK63A-Q12-80 | ~ | 12-ZMAC25-40V | 24.8 | 32.2 | 52.0 | 3MP | Finishing |
| HSK63A-Q12-80 + SP12-12-45 + 12-ZMAC25-40AAV | HSK63A | HSK63A-Q12-80 | SP12-12-45 | 12-ZMAC25-40AAV | 24.8 | 32.2 | 97.0 | 3MP | High speeds / deep hole drilling |
| HSK63A-Q12-80 + SP12-12-45 + 12-ZMAC25-40V | HSK63A | HSK63A-Q12-80 | SP12-12-45 | 12-ZMAC25-40V | 24.8 | 32.2 | 97.0 | 3MP | Finishing |
| HSK63A-Q16-125 + ~ + 16-ZMAC32-55V | HSK63A | HSK63A-Q16-125 | ~ | 16-ZMAC32-55V | 31.8 | 42.2 | 110.0 | 4MP | Finishing |
| HSK63A-Q16-95 + ~ + 16-ZMAC32-55AAV | HSK63A | HSK63A-Q16-95 | ~ | 16-ZMAC32-55AAV | 31.8 | 42.2 | 77.0 | 4MP | High speeds / deep hole drilling |
| HSK63A-Q16-95 + ~ + 16-ZMAC32-55V | HSK63A | HSK63A-Q16-95 | ~ | 16-ZMAC32-55V | 31.8 | 42.2 | 77.0 | 4MP | Finishing |
| HSK63A-Q34-95 + SP34-34-95 + 34-ZMAC70-70AAV | HSK63A | HSK63A-Q34-95 | SP34-34-95 | 34-ZMAC70-70AAV | 69.8 | 85.2 | 225.0 | 6MP | High speeds / deep hole drilling |
| HSK63A-Q34-95 + SP34-34-95 + 34-ZMAC70-70V | HSK63A | HSK63A-Q34-95 | SP34-34-95 | 34-ZMAC70-70V | 69.8 | 85.2 | 225.0 | 6MP | Finishing |
| HSK63A-Q42-95 + ~ + 42-ZMAC85-100AAV | HSK63A | HSK63A-Q42-95 | ~ | 42-ZMAC85-100AAV | 84.8 | 100.2 | 195.0 | 6MP | High speeds / deep hole drilling |
| HSK63A-Q42-95 + ~ + 42-ZMAC85-100V | HSK63A | HSK63A-Q42-95 | ~ | 42-ZMAC85-100V | 84.8 | 100.2 | 195.0 | 6MP | Finishing |
| HSK63A-Q9-80 + ~ + 9-ZMAC20-40AAV | HSK63A | HSK63A-Q9-80 | ~ | 9-ZMAC20-40AAV | 19.8 | 25.2 | 45.0 | 3MP | High speeds / deep hole drilling |
| HSK63A-Q9-80 + ~ + 9-ZMAC20-40V | HSK63A | HSK63A-Q9-80 | ~ | 9-ZMAC20-40V | 19.8 | 25.2 | 45.0 | 3MP | Finishing |
| HSK63A-Q9-80 + SP9-9-30 + 9-ZMAC20-40AAV | HSK63A | HSK63A-Q9-80 | SP9-9-30 | 9-ZMAC20-40AAV | 19.8 | 25.2 | 75.0 | 3MP | High speeds / deep hole drilling |
| HSK63A-Q9-80 + SP9-9-30 + 9-ZMAC20-40V | HSK63A | HSK63A-Q9-80 | SP9-9-30 | 9-ZMAC20-40V | 19.8 | 25.2 | 75.0 | 3MP | Finishing |
| HSK63A-Q9-95N + ~ + 9-ZMAC20-40AAV | HSK63A | HSK63A-Q9-95N | ~ | 9-ZMAC20-40AAV | 19.8 | 25.2 | 67.0 | 3MP | High speeds / deep hole drilling |
| HSK63A-Q9-95N + ~ + 9-ZMAC20-40V | HSK63A | HSK63A-Q9-95N | ~ | 9-ZMAC20-40V | 19.8 | 25.2 | 67.0 | 3MP | Finishing |
| IT40-Q12-110 + ~ + 12-ZMAC25-40AAV | IT40 | IT40-Q12-110 | ~ | 12-ZMAC25-40AAV | 24.8 | 32.2 | 90.0 | 3MP | High speeds / deep hole drilling |
| IT40-Q12-110 + ~ + 12-ZMAC25-40V | IT40 | IT40-Q12-110 | ~ | 12-ZMAC25-40V | 24.8 | 32.2 | 90.0 | 3MP | Finishing |
| IT40-Q12-80 + ~ + 12-ZMAC16-45AAV | IT40 | IT40-Q12-80 | ~ | 12-ZMAC16-45AAV | 15.9 | 20.2 | 38.0 | 3MP | High speeds / deep hole drilling |
| IT40-Q12-80 + ~ + 12-ZMAC16-45V | IT40 | IT40-Q12-80 | ~ | 12-ZMAC16-45V | 15.9 | 20.2 | 38.0 | 3MP | Finishing |
| IT40-Q12-80 + ~ + 12-ZMAC16-55AAV | IT40 | IT40-Q12-80 | ~ | 12-ZMAC16-55AAV | 15.9 | 20.2 | 48.0 | 3MP | High speeds / deep hole drilling |
| IT40-Q12-80 + ~ + 12-ZMAC16-55V | IT40 | IT40-Q12-80 | ~ | 12-ZMAC16-55V | 15.9 | 20.2 | 48.0 | 3MP | Finishing |
| IT40-Q12-80 + ~ + 12-ZMAC25-40AAV | IT40 | IT40-Q12-80 | ~ | 12-ZMAC25-40AAV | 24.8 | 32.2 | 52.0 | 3MP | High speeds / deep hole drilling |
| IT40-Q12-80 + ~ + 12-ZMAC25-40V | IT40 | IT40-Q12-80 | ~ | 12-ZMAC25-40V | 24.8 | 32.2 | 52.0 | 3MP | Finishing |
| IT40-Q12-80 + SP12-12-45 + 12-ZMAC25-40AAV | IT40 | IT40-Q12-80 | SP12-12-45 | 12-ZMAC25-40AAV | 24.8 | 32.2 | 97.0 | 3MP | High speeds / deep hole drilling |
| IT40-Q12-80 + SP12-12-45 + 12-ZMAC25-40V | IT40 | IT40-Q12-80 | SP12-12-45 | 12-ZMAC25-40V | 24.8 | 32.2 | 97.0 | 3MP | Finishing |
| IT40-Q16-125 + ~ + 16-ZMAC32-55AAV | IT40 | IT40-Q16-125 | ~ | 16-ZMAC32-55AAV | 31.8 | 42.2 | 110.0 | 4MP | High speeds / deep hole drilling |
| IT40-Q16-125 + ~ + 16-ZMAC32-55V | IT40 | IT40-Q16-125 | ~ | 16-ZMAC32-55V | 31.8 | 42.2 | 110.0 | 4MP | Finishing |
| IT40-Q16-125 + ~ + 16-ZMAC32R-55AAV | IT40 | IT40-Q16-125 | ~ | 16-ZMAC32R-55AAV | 31.8 | 42.2 | 110.0 | CC06 | High speeds / deep hole drilling |
| IT40-Q16-125 + ~ + 16-ZMAC32R-55V | IT40 | IT40-Q16-125 | ~ | 16-ZMAC32R-55V | 31.8 | 42.2 | 110.0 | CC06 | Finishing |
| IT40-Q16-95 + ~ + 16-ZMAC32-55AAV | IT40 | IT40-Q16-95 | ~ | 16-ZMAC32-55AAV | 31.8 | 42.2 | 77.0 | 4MP | High speeds / deep hole drilling |
| IT40-Q16-95 + ~ + 16-ZMAC32-55V | IT40 | IT40-Q16-95 | ~ | 16-ZMAC32-55V | 31.8 | 42.2 | 77.0 | 4MP | Finishing |
| IT40-Q16-95 + ~ + 16-ZMAC32R-55AAV | IT40 | IT40-Q16-95 | ~ | 16-ZMAC32R-55AAV | 31.8 | 42.2 | 77.0 | CC06 | High speeds / deep hole drilling |
| IT40-Q16-95 + ~ + 16-ZMAC32R-55V | IT40 | IT40-Q16-95 | ~ | 16-ZMAC32R-55V | 31.8 | 42.2 | 77.0 | CC06 | Finishing |
| IT40-Q16-95 + SP16-16-45 + 16-ZMAC32-55AAV | IT40 | IT40-Q16-95 | SP16-16-45 | 16-ZMAC32-55AAV | 31.8 | 42.2 | 122.0 | 4MP | High speeds / deep hole drilling |
| IT40-Q16-95 + SP16-16-45 + 16-ZMAC32-55V | IT40 | IT40-Q16-95 | SP16-16-45 | 16-ZMAC32-55V | 31.8 | 42.2 | 122.0 | 4MP | Finishing |
| IT40-Q16-95 + SP16-16-45 + 16-ZMAC32R-55AAV | IT40 | IT40-Q16-95 | SP16-16-45 | 16-ZMAC32R-55AAV | 31.8 | 42.2 | 122.0 | CC06 | High speeds / deep hole drilling |
| IT40-Q16-95 + SP16-16-45 + 16-ZMAC32R-55V | IT40 | IT40-Q16-95 | SP16-16-45 | 16-ZMAC32R-55V | 31.8 | 42.2 | 122.0 | CC06 | Finishing |
| IT40-Q20-110 + ~ + 20-ZMAC42-70AAV | IT40 | IT40-Q20-110 | ~ | 20-ZMAC42-70AAV | 41.8 | 55.2 | 130.0 | 6MP | High speeds / deep hole drilling |
| IT40-Q20-110 + ~ + 20-ZMAC42-70V | IT40 | IT40-Q20-110 | ~ | 20-ZMAC42-70V | 41.8 | 55.2 | 130.0 | 6MP | Finishing |
| IT40-Q20-110 + ~ + 20-ZMAC42R-70AAV | IT40 | IT40-Q20-110 | ~ | 20-ZMAC42R-70AAV | 41.8 | 55.2 | 130.0 | CC06 | High speeds / deep hole drilling |
| IT40-Q20-110 + ~ + 20-ZMAC42R-70V | IT40 | IT40-Q20-110 | ~ | 20-ZMAC42R-70V | 41.8 | 55.2 | 130.0 | CC06 | Finishing |
| IT40-Q20-80 + ~ + 20-ZMAC42-70AAV | IT40 | IT40-Q20-80 | ~ | 20-ZMAC42-70AAV | 41.8 | 55.2 | 97.0 | 6MP | High speeds / deep hole drilling |
| IT40-Q20-80 + ~ + 20-ZMAC42-70V | IT40 | IT40-Q20-80 | ~ | 20-ZMAC42-70V | 41.8 | 55.2 | 97.0 | 6MP | Finishing |
| IT40-Q20-80 + ~ + 20-ZMAC42R-70AAV | IT40 | IT40-Q20-80 | ~ | 20-ZMAC42R-70AAV | 41.8 | 55.2 | 97.0 | CC06 | High speeds / deep hole drilling |
| IT40-Q20-80 + ~ + 20-ZMAC42R-70V | IT40 | IT40-Q20-80 | ~ | 20-ZMAC42R-70V | 41.8 | 55.2 | 97.0 | CC06 | Finishing |
| IT40-Q20-80 + SP20-20-60 + 20-ZMAC42-70AAV | IT40 | IT40-Q20-80 | SP20-20-60 | 20-ZMAC42-70AAV | 41.8 | 55.2 | 157.0 | 6MP | High speeds / deep hole drilling |
| IT40-Q20-80 + SP20-20-60 + 20-ZMAC42-70V | IT40 | IT40-Q20-80 | SP20-20-60 | 20-ZMAC42-70V | 41.8 | 55.2 | 157.0 | 6MP | Finishing |
| IT40-Q20-80 + SP20-20-60 + 20-ZMAC42R-70AAV | IT40 | IT40-Q20-80 | SP20-20-60 | 20-ZMAC42R-70AAV | 41.8 | 55.2 | 157.0 | CC06 | High speeds / deep hole drilling |
| IT40-Q20-80 + SP20-20-60 + 20-ZMAC42R-70V | IT40 | IT40-Q20-80 | SP20-20-60 | 20-ZMAC42R-70V | 41.8 | 55.2 | 157.0 | CC06 | Finishing |
| IT40-Q26-140 + ~ + 26-ZMAC55-70AAV | IT40 | IT40-Q26-140 | ~ | 26-ZMAC55-70AAV | 54.8 | 70.2 | 180.0 | 6MP | High speeds / deep hole drilling |
| IT40-Q26-140 + ~ + 26-ZMAC55-70V | IT40 | IT40-Q26-140 | ~ | 26-ZMAC55-70V | 54.8 | 70.2 | 180.0 | 6MP | Finishing |
| IT40-Q26-140 + ~ + 26-ZMAC55R-70AAV | IT40 | IT40-Q26-140 | ~ | 26-ZMAC55R-70AAV | 54.8 | 70.2 | 180.0 | CC06 | High speeds / deep hole drilling |
| IT40-Q26-140 + ~ + 26-ZMAC55R-70V | IT40 | IT40-Q26-140 | ~ | 26-ZMAC55R-70V | 54.8 | 70.2 | 180.0 | CC06 | Finishing |
| IT40-Q26-95 + ~ + 26-ZMAC55-70AAV | IT40 | IT40-Q26-95 | ~ | 26-ZMAC55-70AAV | 54.8 | 70.2 | 135.0 | 6MP | High speeds / deep hole drilling |
| IT40-Q26-95 + ~ + 26-ZMAC55-70V | IT40 | IT40-Q26-95 | ~ | 26-ZMAC55-70V | 54.8 | 70.2 | 135.0 | 6MP | Finishing |
| IT40-Q26-95 + ~ + 26-ZMAC55R-70AAV | IT40 | IT40-Q26-95 | ~ | 26-ZMAC55R-70AAV | 54.8 | 70.2 | 135.0 | CC06 | High speeds / deep hole drilling |
| IT40-Q26-95 + ~ + 26-ZMAC55R-70V | IT40 | IT40-Q26-95 | ~ | 26-ZMAC55R-70V | 54.8 | 70.2 | 135.0 | CC06 | Finishing |
| IT40-Q26-95 + SP26-26-60 + 26-ZMAC55-70AAV | IT40 | IT40-Q26-95 | SP26-26-60 | 26-ZMAC55-70AAV | 54.8 | 70.2 | 195.0 | 6MP | High speeds / deep hole drilling |
| IT40-Q26-95 + SP26-26-60 + 26-ZMAC55-70V | IT40 | IT40-Q26-95 | SP26-26-60 | 26-ZMAC55-70V | 54.8 | 70.2 | 195.0 | 6MP | Finishing |
| IT40-Q26-95 + SP26-26-60 + 26-ZMAC55R-70AAV | IT40 | IT40-Q26-95 | SP26-26-60 | 26-ZMAC55R-70AAV | 54.8 | 70.2 | 195.0 | CC06 | High speeds / deep hole drilling |
| IT40-Q26-95 + SP26-26-60 + 26-ZMAC55R-70V | IT40 | IT40-Q26-95 | SP26-26-60 | 26-ZMAC55R-70V | 54.8 | 70.2 | 195.0 | CC06 | Finishing |
| IT40-Q34-110 + ~ + 34-ZMAC70-70AAV | IT40 | IT40-Q34-110 | ~ | 34-ZMAC70-70AAV | 69.8 | 85.2 | 180.0 | 6MP | High speeds / deep hole drilling |
| IT40-Q34-110 + ~ + 34-ZMAC70-70V | IT40 | IT40-Q34-110 | ~ | 34-ZMAC70-70V | 69.8 | 85.2 | 180.0 | 6MP | Finishing |
| IT40-Q34-110 + ~ + 34-ZMAC70R-70AAV | IT40 | IT40-Q34-110 | ~ | 34-ZMAC70R-70AAV | 69.8 | 85.2 | 180.0 | CC08 | High speeds / deep hole drilling |
| IT40-Q34-110 + ~ + 34-ZMAC70R-70V | IT40 | IT40-Q34-110 | ~ | 34-ZMAC70R-70V | 69.8 | 85.2 | 180.0 | CC08 | High speeds / deep hole drilling |
| IT40-Q34-95 + ~ + 34-ZMAC70-70AAV | IT40 | IT40-Q34-95 | ~ | 34-ZMAC70-70AAV | 69.8 | 85.2 | 165.0 | 6MP | High speeds / deep hole drilling |
| IT40-Q34-95 + ~ + 34-ZMAC70-70V | IT40 | IT40-Q34-95 | ~ | 34-ZMAC70-70V | 69.8 | 85.2 | 165.0 | 6MP | Finishing |
| IT40-Q34-95 + ~ + 34-ZMAC70R-70AAV | IT40 | IT40-Q34-95 | ~ | 34-ZMAC70R-70AAV | 69.8 | 85.2 | 165.0 | CC08 | High speeds / deep hole drilling |
| IT40-Q34-95 + ~ + 34-ZMAC70R-70V | IT40 | IT40-Q34-95 | ~ | 34-ZMAC70R-70V | 69.8 | 85.2 | 165.0 | CC08 | Finishing |
| IT40-Q34-95 + SP34-34-95 + 34-ZMAC70-70AAV | IT40 | IT40-Q34-95 | SP34-34-95 | 34-ZMAC70-70AAV | 69.8 | 85.2 | 225.0 | 6MP | High speeds / deep hole drilling |
| IT40-Q34-95 + SP34-34-95 + 34-ZMAC70-70V | IT40 | IT40-Q34-95 | SP34-34-95 | 34-ZMAC70-70V | 69.8 | 85.2 | 225.0 | 6MP | Finishing |
| IT40-Q34-95 + SP34-34-95 + 34-ZMAC70R-70AAV | IT40 | IT40-Q34-95 | SP34-34-95 | 34-ZMAC70R-70AAV | 69.8 | 85.2 | 225.0 | CC08 | High speeds / deep hole drilling |
| IT40-Q34-95 + SP34-34-95 + 34-ZMAC70R-70V | IT40 | IT40-Q34-95 | SP34-34-95 | 34-ZMAC70R-70V | 69.8 | 85.2 | 225.0 | CC08 | Finishing |
| IT40-Q42-125 + SP42-42-90 + 42-ZMAC85-100AAV | IT50 | IT40-Q42-125 | SP42-42-90 | 42-ZMAC85-100AAV | 84.8 | 100.2 | 272.0 | 6MP | High speeds / deep hole drilling |
| IT40-Q42-125 + SP42-42-90 + 42-ZMAC85-100V | IT40 | IT40-Q42-125 | SP42-42-90 | 42-ZMAC85-100V | 84.8 | 100.2 | 272.0 | 6MP | Finishing |
| IT40-Q42-125 + SP42-42-90 + 42-ZMAC85R-100AAV | IT40 | IT40-Q42-125 | SP42-42-90 | 42-ZMAC85R-100AAV | 84.8 | 100.2 | 272.0 | CC08 | High speeds / deep hole drilling |
| IT40-Q42-125 + SP42-42-90 + 42-ZMAC85R-100V | IT40 | IT40-Q42-125 | SP42-42-90 | 42-ZMAC85R-100V | 84.8 | 100.2 | 272.0 | CC08 | Finishing |
| IT40-Q42-95 + ~ + 42-ZMAC85-100AAV | IT40 | IT40-Q42-95 | ~ | 42-ZMAC85-100AAV | 84.8 | 100.2 | 195.0 | 6MP | High speeds / deep hole drilling |
| IT40-Q42-95 + ~ + 42-ZMAC85-100V | IT40 | IT40-Q42-95 | ~ | 42-ZMAC85-100V | 84.8 | 100.2 | 195.0 | 6MP | Finishing |
| IT40-Q42-95 + ~ + 42-ZMAC85R-100AAV | IT40 | IT40-Q42-95 | ~ | 42-ZMAC85R-100AAV | 84.8 | 100.2 | 195.0 | CC08 | High speeds / deep hole drilling |
| IT40-Q9-80 + ~ + 9-ZMAC20-40AAV | IT40 | IT40-Q9-80 | ~ | 9-ZMAC20-40AAV | 19.8 | 25.2 | 45.0 | 3MP | High speeds / deep hole drilling |
| IT40-Q9-80 + ~ + 9-ZMAC20-40V | IT40 | IT40-Q9-80 | ~ | 9-ZMAC20-40V | 19.8 | 25.2 | 45.0 | 3MP | Finishing |
| IT40-Q9-80 + SP9-9-30 + 9-ZMAC20-40AAV | IT40 | IT40-Q9-80 | SP9-9-30 | 9-ZMAC20-40AAV | 19.8 | 25.2 | 75.0 | 3MP | High speeds / deep hole drilling |
| IT40-Q9-80 + SP9-9-30 + 9-ZMAC20-40V | IT40 | IT40-Q9-80 | SP9-9-30 | 9-ZMAC20-40V | 19.8 | 25.2 | 75.0 | 3MP | Finishing |
| IT40-Q9-95N + ~ + 9-ZMAC20-40AAV | IT40 | IT40-Q9-95N | ~ | 9-ZMAC20-40AAV | 19.8 | 25.2 | 67.0 | 3MP | High speeds / deep hole drilling |
| IT40-Q9-95N + ~ + 9-ZMAC20-40V | IT40 | IT40-Q9-95N | ~ | 9-ZMAC20-40V | 19.8 | 25.2 | 67.0 | 3MP | Finishing |
| IT50-Q12-125 + ~ + 12-ZMAC25-40AAV | IT50 | IT50-Q12-125 | ~ | 12-ZMAC25-40AAV | 24.8 | 32.2 | 90.0 | 3MP | High speeds / deep hole drilling |
| IT50-Q12-125 + ~ + 12-ZMAC25-40V | IT50 | IT50-Q12-125 | IT50-Q12-125 | 12-ZMAC25-40V | 24.8 | 32.2 | 90.0 | 3MP | Finishing |
| IT50-Q12-95 + ~ + 12-ZMAC16-45AAV | IT50 | IT50-Q12-95 | ~ | 12-ZMAC16-45AAV | 15.9 | 20.2 | 38.0 | 3MP | High speeds / deep hole drilling |
| IT50-Q12-95 + ~ + 12-ZMAC16-45V | IT50 | IT50-Q12-95 | ~ | 12-ZMAC16-45V | 15.9 | 20.2 | 38.0 | 3MP | Finishing |
| IT50-Q12-95 + ~ + 12-ZMAC16-55AAV | IT50 | IT50-Q12-95 | ~ | 12-ZMAC16-55AAV | 15.9 | 20.2 | 48.0 | 3MP | High speeds / deep hole drilling |
| IT50-Q12-95 + ~ + 12-ZMAC16-55V | IT50 | IT50-Q12-95 | ~ | 12-ZMAC16-55V | 15.9 | 20.2 | 48.0 | 3MP | Finishing |
| IT50-Q12-95 + ~ + 12-ZMAC25-40AAV | IT50 | IT50-Q12-95 | ~ | 12-ZMAC25-40AAV | 24.8 | 32.2 | 52.0 | 3MP | High speeds / deep hole drilling |
| IT50-Q12-95 + ~ + 12-ZMAC25-40V | IT50 | IT50-Q12-95 | ~ | 12-ZMAC25-40V | 24.8 | 32.2 | 52.0 | 3MP | Finishing |
| IT50-Q12-95 + SP12-12-45 + 12-ZMAC25-40AAV | IT50 | IT50-Q12-95 | SP12-12-45 | 12-ZMAC25-40AAV | 24.8 | 32.2 | 97.0 | 3MP | High speeds / deep hole drilling |
| IT50-Q12-95 + SP12-12-45 + 12-ZMAC25-40V | IT50 | IT50-Q12-95 | SP12-12-45 | 12-ZMAC25-40V | 24.8 | 32.2 | 97.0 | 3MP | Finishing |
| IT50-Q16-125N + ~ + 16-ZMAC32-55AAV | IT50 | IT50-Q16-125N | ~ | 16-ZMAC32-55AAV | 31.8 | 42.2 | 77.0 | 4MP | High speeds / deep hole drilling |
| IT50-Q16-125N + ~ + 16-ZMAC32-55V | IT50 | IT50-Q16-125N | ~ | 16-ZMAC32-55V | 31.8 | 42.2 | 77.0 | 4MP | Finishing |
| IT50-Q16-125N + ~ + 16-ZMAC32R-55AAV | IT50 | IT50-Q16-125N | ~ | 16-ZMAC32R-55AAV | 31.8 | 42.2 | 77.0 | CC06 | High speeds / deep hole drilling |
| IT50-Q16-125N + ~ + 16-ZMAC32R-55V | IT50 | IT50-Q16-125N | ~ | 16-ZMAC32R-55V | 31.8 | 42.2 | 77.0 | CC06 | Finishing |
| IT50-Q16-125N + SP16-16-45 + 16-ZMAC32-55AAV | IT50 | IT50-Q16-125N | SP16-16-45 | 16-ZMAC32-55AAV | 31.8 | 42.2 | 122.0 | 4MP | High speeds / deep hole drilling |
| IT50-Q16-125N + SP16-16-45 + 16-ZMAC32-55V | IT50 | IT50-Q16-125N | SP16-16-45 | 16-ZMAC32-55V | 31.8 | 42.2 | 122.0 | 4MP | Finishing |
| IT50-Q16-125N + SP16-16-45 + 16-ZMAC32R-55V | IT50 | IT50-Q16-125N | SP16-16-45 | 16-ZMAC32R-55V | 31.8 | 42.2 | 122.0 | CC06 | Finishing |
| IT50-Q16-155 + ~ + 16-ZMAC32-55AAV | IT50 | IT50-Q16-155 | ~ | 16-ZMAC32-55AAV | 31.8 | 42.2 | 110.0 | 4MP | High speeds / deep hole drilling |
| IT50-Q16-155 + ~ + 16-ZMAC32-55V | IT50 | IT50-Q16-155 | ~ | 16-ZMAC32-55V | 31.8 | 42.2 | 110.0 | 4MP | Finishing |
| IT50-Q16-155 + ~ + 16-ZMAC32R-55AAV | IT50 | IT50-Q16-155 | ~ | 16-ZMAC32R-55AAV | 31.8 | 42.2 | 110.0 | CC06 | High speeds / deep hole drilling |
| IT50-Q16-155 + ~ + 16-ZMAC32R-55V | IT50 | IT50-Q16-155 | ~ | 16-ZMAC32R-55V | 31.8 | 42.2 | 110.0 | CC06 | Finishing |
| IT50-Q20-110 + ~ + 20-ZMAC42-70AAV | IT50 | IT50-Q20-110 | ~ | 20-ZMAC42-70AAV | 41.8 | 55.2 | 97.0 | 6MP | High speeds / deep hole drilling |
| IT50-Q20-110 + ~ + 20-ZMAC42-70V | IT50 | IT50-Q20-110 | ~ | 20-ZMAC42-70V | 41.8 | 55.2 | 97.0 | 6MP | Finishing |
| IT50-Q20-110 + ~ + 20-ZMAC42R-70V | IT50 | IT50-Q20-110 | ~ | 20-ZMAC42R-70V | 41.8 | 55.2 | 97.0 | CC06 | Finishing |
| IT50-Q20-110 + SP20-20-45 + 20-ZMAC42-70AAV | IT50 | IT50-Q20-110 | SP20-20-45 | 20-ZMAC42-70AAV | 41.8 | 55.2 | 142.0 | 6MP | High speeds / deep hole drilling |
| IT50-Q20-110 + SP20-20-45 + 20-ZMAC42-70V | IT50 | IT50-Q20-110 | SP20-20-45 | 20-ZMAC42-70V | 41.8 | 55.2 | 142.0 | 6MP | Finishing |
| IT50-Q20-110 + SP20-20-45 + 20-ZMAC42R-70V | IT50 | IT50-Q20-110 | SP20-20-45 | 20-ZMAC42R-70V | 41.8 | 55.2 | 142.0 | CC06 | Finishing |
| IT50-Q20-110 + SP20-20-60 + 20-ZMAC42-70AAV | IT50 | IT50-Q20-110 | SP20-20-60 | 20-ZMAC42-70AAV | 41.8 | 55.2 | 157.0 | 6MP | High speeds / deep hole drilling |
| IT50-Q20-110 + SP20-20-60 + 20-ZMAC42-70V | IT50 | IT50-Q20-110 | SP20-20-60 | 20-ZMAC42-70V | 41.8 | 55.2 | 157.0 | 6MP | Finishing |
| IT50-Q20-110 + SP20-20-60 + 20-ZMAC42R-70V | IT50 | IT50-Q20-110 | SP20-20-60 | 20-ZMAC42R-70V | 41.8 | 55.2 | 157.0 | CC06 | Finishing |
| IT50-Q20-125 + ~ + 20-ZMAC42-70AAV | IT50 | IT50-Q20-125 | ~ | 20-ZMAC42-70AAV | 41.8 | 55.2 | 130.0 | 6MP | High speeds / deep hole drilling |
| IT50-Q20-125 + ~ + 20-ZMAC42-70V | IT50 | IT50-Q20-125 | ~ | 20-ZMAC42-70V | 41.8 | 55.2 | 130.0 | 6MP | Finishing |
| IT50-Q20-125 + ~ + 20-ZMAC42R-70V | IT50 | IT50-Q20-125 | ~ | 20-ZMAC42R-70V | 41.8 | 55.2 | 130.0 | CC06 | Finishing |
| IT50-Q26-140 + ~ + 26-ZMAC55-70AAV | IT50 | IT50-Q26-140 | ~ | 26-ZMAC55-70AAV | 54.8 | 70.2 | 117.0 | 6MP | High speeds / deep hole drilling |
| IT50-Q26-140 + ~ + 26-ZMAC55-70V | IT50 | IT50-Q26-140 | ~ | 26-ZMAC55-70V | 54.8 | 70.2 | 117.0 | 6MP | Finishing |
| IT50-Q26-140 + ~ + 26-ZMAC55R-70V | IT50 | IT50-Q26-140 | ~ | 26-ZMAC55R-70V | 54.8 | 70.2 | 117.0 | CC06 | Finishing |
| IT50-Q26-140 + SP26-26-60 + 26-ZMAC55-70AAV | IT50 | IT50-Q26-140 | SP26-26-60 | 26-ZMAC55-70AAV | 54.8 | 70.2 | 177.0 | 6MP | High speeds / deep hole drilling |
| IT50-Q26-140 + SP26-26-60 + 26-ZMAC55-70V | IT50 | IT50-Q26-140 | SP26-26-60 | 26-ZMAC55-70V | 54.8 | 70.2 | 177.0 | 6MP | Finishing |
| IT50-Q26-140 + SP26-26-60 + 26-ZMAC55R-70V | IT50 | IT50-Q26-140 | SP26-26-60 | 26-ZMAC55R-70V | 54.8 | 70.2 | 177.0 | CC06 | Finishing |
| IT50-Q26-170N + ~ + 26-ZMAC55-70AAV | IT50 | IT50-Q26-170N | ~ | 26-ZMAC55-70AAV | 54.8 | 70.2 | 182.0 | 6MP | High speeds / deep hole drilling |
| IT50-Q26-170N + ~ + 26-ZMAC55-70V | IT50 | IT50-Q26-170N | ~ | 26-ZMAC55-70V | 54.8 | 70.2 | 182.0 | 6MP | Finishing |
| IT50-Q26-170N + ~ + 26-ZMAC55R-70V | IT50 | IT50-Q26-170N | ~ | 26-ZMAC55R-70V | 54.8 | 70.2 | 182.0 | CC06 | Finishing |
| IT50-Q34-170 + ~ + 34-ZMAC70-70AAV | IT50 | IT50-Q34-170 | ~ | 34-ZMAC70-70AAV | 69.8 | 85.2 | 190.0 | 6MP | High speeds / deep hole drilling |
| IT50-Q34-170 + ~ + 34-ZMAC70-70V | IT50 | IT50-Q34-170 | ~ | 34-ZMAC70-70V | 69.8 | 85.2 | 190.0 | 6MP | Finishing |
| IT50-Q34-170 + ~ + 34-ZMAC70R-70V | IT50 | IT50-Q34-170 | ~ | 34-ZMAC70R-70V | 69.8 | 85.2 | 190.0 | CC08 | Finishing |
| IT50-Q34-170 + SP34-34-60 + 34-ZMAC70-70AAV | IT50 | IT50-Q34-170 | SP34-34-60 | 34-ZMAC70-70AAV | 69.8 | 85.2 | 250.0 | 6MP | High speeds / deep hole drilling |
| IT50-Q34-170 + SP34-34-60 + 34-ZMAC70-70V | IT50 | IT50-Q34-170 | SP34-34-60 | 34-ZMAC70-70V | 69.8 | 85.2 | 250.0 | 6MP | Finishing |
| IT50-Q34-170 + SP34-34-60 + 34-ZMAC70R-70AAV | IT50 | IT50-Q34-170 | SP34-34-60 | 34-ZMAC70R-70AAV | 69.8 | 85.2 | 250.0 | CC08 | High speeds / deep hole drilling |
| IT50-Q34-170 + SP34-34-60 + 34-ZMAC70R-70V | IT50 | IT50-Q34-170 | SP34-34-60 | 34-ZMAC70R-70V | 69.8 | 85.2 | 250.0 | CC08 | Finishing |
| IT50-Q34-200 + ~ + 34-ZMAC70-70AAV | IT50 | IT50-Q34-200 | ~ | 34-ZMAC70-70AAV | 69.8 | 85.2 | 220.0 | 6MP | High speeds / deep hole drilling |
| IT50-Q34-200 + ~ + 34-ZMAC70-70V | IT50 | IT50-Q34-200 | ~ | 34-ZMAC70-70V | 69.8 | 85.2 | 220.0 | 6MP | Finishing |
| IT50-Q34-200 + ~ + 34-ZMAC70R-70AAV | IT50 | IT50-Q34-200 | ~ | 34-ZMAC70R-70AAV | 69.8 | 85.2 | 220.0 | CC08 | High speeds / deep hole drilling |
| IT50-Q34-200 + ~ + 34-ZMAC70R-70V | IT50 | IT50-Q34-200 | ~ | 34-ZMAC70R-70V | 69.8 | 85.2 | 220.0 | CC08 | Finishing |
| IT50-Q42-125 + ~ + 42-ZMAC100-100AAV | IT50 | IT50-Q42-125 | ~ | 42-ZMAC100-100AAV | 99.5 | 140.5 | 225.0 | 6MP | High speeds / deep hole drilling |
| IT50-Q42-125 + ~ + 42-ZMAC100-100V | IT50 | IT50-Q42-125 | ~ | 42-ZMAC100-100V | 99.5 | 140.5 | 225.0 | 6MP | Finishing |
| IT50-Q42-125 + ~ + 42-ZMAC100R-100AAV | IT50 | IT50-Q42-125 | ~ | 42-ZMAC100R-100AAV | 99.5 | 140.5 | 225.0 | CC12 | High speeds / deep hole drilling |
| IT50-Q42-125 + ~ + 42-ZMAC100R-100V | IT50 | IT50-Q42-125 | ~ | 42-ZMAC100R-100V | 99.5 | 140.5 | 225.0 | CC12 | Finishing |
| IT50-Q42-125 + ~ + 42-ZMAC140-100AAV | IT50 | IT50-Q42-125 | ~ | 42-ZMAC140-100AAV | 139.5 | 180.5 | 225.0 | 6MP | High speeds / deep hole drilling |
| IT50-Q42-125 + ~ + 42-ZMAC140-100V | IT50 | IT50-Q42-125 | ~ | 42-ZMAC140-100V | 139.5 | 180.5 | 225.0 | 6MP | Finishing |
| IT50-Q42-125 + ~ + 42-ZMAC140R-100AAV | IT50 | IT50-Q42-125 | ~ | 42-ZMAC140R-100AAV | 139.5 | 180.5 | 225.0 | CC12 | High speeds / deep hole drilling |
| IT50-Q42-125 + ~ + 42-ZMAC140R-100V | IT50 | IT50-Q42-125 | ~ | 42-ZMAC140R-100V | 139.5 | 180.5 | 225.0 | CC12 | Finishing |
| IT50-Q42-125 + ~ + 42-ZMAC85-100AAV | IT50 | IT50-Q42-125 | ~ | 42-ZMAC85-100AAV | 84.8 | 100.2 | 182.0 | 6MP | High speeds / deep hole drilling |
| IT50-Q42-125 + ~ + 42-ZMAC85-100V | IT50 | IT50-Q42-125 | ~ | 42-ZMAC85-100V | 84.8 | 100.2 | 182.0 | 6MP | Finishing |
| IT50-Q42-125 + ~ + 42-ZMAC85R-100AAV | IT50 | IT50-Q42-125 | ~ | 42-ZMAC85R-100AAV | 84.8 | 100.2 | 182.0 | CC08 | High speeds / deep hole drilling |
| IT50-Q42-125 + ~ + 42-ZMAC85R-100V | IT50 | IT50-Q42-125 | ~ | 42-ZMAC85R-100V | 84.8 | 100.2 | 182.0 | CC08 | Finishing |
| IT50-Q42-190 + ~ + 42-ZMAC100-100AAV | IT50 | IT50-Q42-190 | ~ | 42-ZMAC100-100AAV | 99.5 | 140.5 | 290.0 | 6MP | High speeds / deep hole drilling |
| IT50-Q42-190 + ~ + 42-ZMAC100-100V | IT50 | IT50-Q42-190 | ~ | 42-ZMAC100-100V | 99.5 | 140.5 | 290.0 | 6MP | Finishing |
| IT50-Q42-190 + ~ + 42-ZMAC100R-100AAV | IT50 | IT50-Q42-190 | ~ | 42-ZMAC100R-100AAV | 99.5 | 140.5 | 290.0 | CC12 | High speeds / deep hole drilling |
| IT50-Q42-190 + ~ + 42-ZMAC100R-100V | IT50 | IT50-Q42-190 | ~ | 42-ZMAC100R-100V | 99.5 | 140.5 | 290.0 | CC12 | Finishing |
| IT50-Q42-190 + ~ + 42-ZMAC140-100AAV | IT50 | IT50-Q42-190 | ~ | 42-ZMAC140-100AAV | 139.5 | 180.5 | 290.0 | 6MP | High speeds / deep hole drilling |
| IT50-Q42-190 + ~ + 42-ZMAC140-100V | IT50 | IT50-Q42-190 | ~ | 42-ZMAC140-100V | 139.5 | 180.5 | 290.0 | 6MP | Finishing |
| IT50-Q42-190 + ~ + 42-ZMAC140R-100AAV | IT50 | IT50-Q42-190 | ~ | 42-ZMAC140R-100AAV | 139.5 | 180.5 | 290.0 | CC12 | High speeds / deep hole drilling |
| IT50-Q42-190 + ~ + 42-ZMAC85-100AAV | IT50 | IT50-Q42-190 | ~ | 42-ZMAC85-100AAV | 84.8 | 100.2 | 247.0 | 6MP | High speeds / deep hole drilling |
| IT50-Q42-190 + ~ + 42-ZMAC85-100V | IT50 | IT50-Q42-190 | ~ | 42-ZMAC85-100V | 84.8 | 100.2 | 247.0 | 6MP | Finishing |
| IT50-Q42-190 + ~ + 42-ZMAC85R-100AAV | IT50 | IT50-Q42-190 | ~ | 42-ZMAC85R-100AAV | 84.8 | 100.2 | 247.0 | CC08 | High speeds / deep hole drilling |
| IT50-Q42-190 + ~ + 42-ZMAC85R-100V | IT50 | IT50-Q42-190 | ~ | 42-ZMAC85R-100V | 84.8 | 100.2 | 247.0 | CC08 | Finishing |
| IT50-Q42-225A + ~ + 42-ZMAC100-100AAV | IT50 | IT50-Q42-225A | ~ | 42-ZMAC100-100AAV | 99.5 | 140.5 | 325.0 | 6MP | High speeds / deep hole drilling |
| IT50-Q42-225A + ~ + 42-ZMAC100-100V | IT50 | IT50-Q42-225A | ~ | 42-ZMAC100-100V | 99.5 | 140.5 | 325.0 | 6MP | Finishing |
| IT50-Q42-225A + ~ + 42-ZMAC100R-100V | IT50 | IT50-Q42-225A | ~ | 42-ZMAC100R-100V | 99.5 | 140.5 | 325.0 | CC12 | Finishing |
| IT50-Q42-225A + ~ + 42-ZMAC140-100AAV | IT50 | IT50-Q42-225A | ~ | 42-ZMAC140-100AAV | 139.5 | 180.5 | 325.0 | 6MP | High speeds / deep hole drilling |
| IT50-Q42-225A + ~ + 42-ZMAC140-100V | IT50 | IT50-Q42-225A | ~ | 42-ZMAC140-100V | 139.5 | 180.5 | 325.0 | 6MP | Finishing |
| IT50-Q42-225A + ~ + 42-ZMAC140R-100AAV | IT50 | IT50-Q42-225A | ~ | 42-ZMAC140R-100AAV | 139.5 | 180.5 | 325.0 | CC12 | High speeds / deep hole drilling |
| IT50-Q42-275A + ~ + 42-ZMAC100-100AAV | IT50 | IT50-Q42-275A | ~ | 42-ZMAC100-100AAV | 99.5 | 140.5 | 375.0 | 6MP | High speeds / deep hole drilling |
| IT50-Q42-275A + ~ + 42-ZMAC100-100V | IT50 | IT50-Q42-275A | ~ | 42-ZMAC100-100V | 99.5 | 140.5 | 375.0 | 6MP | Schlichten |
| IT50-Q42-275A + ~ + 42-ZMAC100R-100AAV | IT50 | IT50-Q42-275A | ~ | 42-ZMAC100R-100AAV | 99.5 | 140.5 | 375.0 | CC12 | High speeds / deep hole drilling |
| IT50-Q42-275A + ~ + 42-ZMAC100R-100V | IT50 | IT50-Q42-275A | ~ | 42-ZMAC100R-100V | 99.5 | 140.5 | 375.0 | CC12 | Finishing |
| IT50-Q42-275A + ~ + 42-ZMAC140-100AAV | IT50 | IT50-Q42-275A | ~ | 42-ZMAC140-100AAV | 139.5 | 180.5 | 375.0 | 6MP | High speeds / deep hole drilling |
| IT50-Q42-275A + ~ + 42-ZMAC140-100V | IT50 | IT50-Q42-275A | ~ | 42-ZMAC140-100V | 139.5 | 180.5 | 375.0 | 6MP | Finishing |
| IT50-Q42-275A + ~ + 42-ZMAC140R-100AAV | IT50 | IT50-Q42-275A | ~ | 42-ZMAC140R-100AAV | 139.5 | 180.5 | 375.0 | CC12 | High speeds / deep hole drilling |
| IT50-Q42-325A + ~ + 42-ZMAC100-100AAV | IT50 | IT50-Q42-325A | ~ | 42-ZMAC100-100AAV | 99.5 | 140.5 | 425.0 | 6MP | High speeds / deep hole drilling |
| IT50-Q42-325A + ~ + 42-ZMAC100-100V | IT50 | IT50-Q42-325A | ~ | 42-ZMAC100-100V | 99.5 | 140.5 | 425.0 | 6MP | Finishing |
| IT50-Q42-325A + ~ + 42-ZMAC100R-100V | IT50 | IT50-Q42-325A | ~ | 42-ZMAC100R-100V | 99.5 | 140.5 | 425.0 | CC12 | Finishing |
| IT50-Q42-325A + ~ + 42-ZMAC140-100AAV | IT50 | IT50-Q42-325A | ~ | 42-ZMAC140-100AAV | 139.5 | 180.5 | 425.0 | 6MP | High speeds / deep hole drilling |
| IT50-Q42-325A + ~ + 42-ZMAC140-100V | IT50 | IT50-Q42-325A | ~ | 42-ZMAC140-100V | 139.5 | 180.5 | 425.0 | 6MP | Finishing |
| IT50-Q42-325A + ~ + 42-ZMAC140R-100AAV | IT50 | IT50-Q42-325A | ~ | 42-ZMAC140R-100AAV | 139.5 | 180.5 | 425.0 | CC12 | High speeds / deep hole drilling |
| IT50-Q9-110 + ~ + 9-ZMAC20-40AAV | IT50 | IT50-Q9-110 | ~ | 9-ZMAC20-40AAV | 19.8 | 25.2 | 45.0 | 3MP | High speeds / deep hole drilling |
| IT50-Q9-110 + ~ + 9-ZMAC20-40V | IT50 | IT50-Q9-110 | ~ | 9-ZMAC20-40V | 19.8 | 25.2 | 45.0 | 3MP | Finishing |
| IT50-Q9-110 + SP9-9-30 + 9-ZMAC20-40AAV | IT50 | IT50-Q9-110 | SP9-9-30 | 9-ZMAC20-40AAV | 19.8 | 25.2 | 75.0 | 3MP | High speeds / deep hole drilling |
| IT50-Q9-110 + SP9-9-30 + 9-ZMAC20-40V | IT50 | IT50-Q9-110 | SP9-9-30 | 9-ZMAC20-40V | 19.8 | 25.2 | 75.0 | 3MP | Finishing |
| IT50-Q9-125N + ~ + 9-ZMAC20-40AAV | IT50 | IT50-Q9-125N | ~ | 9-ZMAC20-40AAV | 19.8 | 25.2 | 67.0 | 3MP | High speeds / deep hole drilling |
| IT50-Q9-125N + ~ + 9-ZMAC20-40V | IT50 | IT50-Q9-125N | ~ | 9-ZMAC20-40V | 19.8 | 25.2 | 67.0 | 3MP | Finishing |