The NIKKEN eMAC Digital modular boring system is a fine boring head with a digital display precisely indicating the incremental movement of the radial slide traverse.
This means that, once the initial diameter is set and established, further target adjustments can be achieved easily, quickly and precisely either in the tool presetter or directly inside the machine tool spindle.
The NIKKEN eMAC Digital Boring Solution is relatively straight forward to use and features a single button providing three operations for 'On' & 'Reset', and to change between mm/inch.
eMAC utilises a modular blade system which can accept either boring bits or a range of boring blades to provide optimum versatility and also quite an impressive range from only two sizes of boring head.
The system caters for a centre through coolant supply as standard (up to 4 MPa) with the output either being directly to the end of the boring bit or, via a nozzle, on the body should blades be used.
Being IP67 waterproof rated the system is more than suitable for demanding machine environments where coolant is present.
eMAC modular boring is available in two sizes:
eMAC - Boring range, depending on bit/blade selected, 6.0mm to 110mm.
eMAC-W (coming soon) - Boring range, depending on bit/blade selected, 6.0mm to 200.0mm.
Digital display resolution Ø2µm

Through coolant as standard

IP67 protection (IP68 coming soon)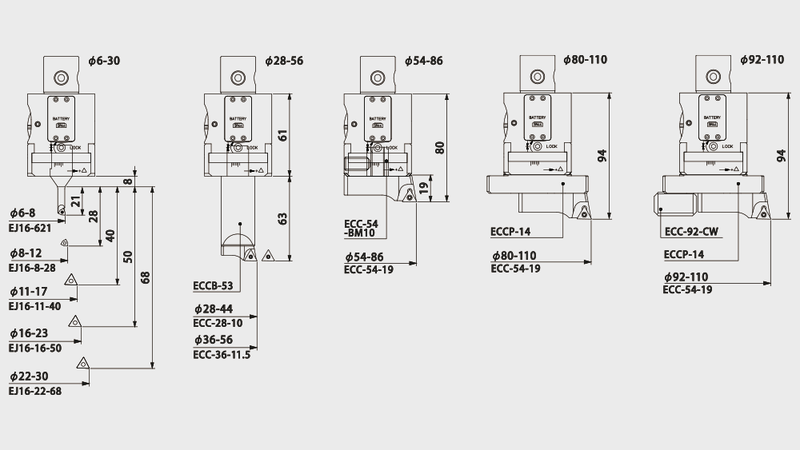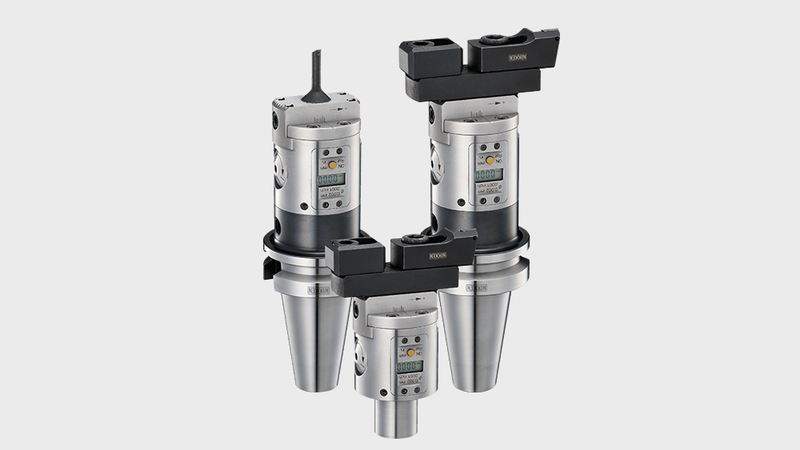 | | Shank | BORING ARBOR | SPACER/PLATE | HEAD/CARTRIDGE/BIT | DIA 'D' MIN | DIA 'D' MAX | BORING DEPTH 'H' | INSERT | APPLICATION |
| --- | --- | --- | --- | --- | --- | --- | --- | --- | --- |
| BT40-Q26-50 + ECCB-53 + Q26-EMAC6110-61 + ECC-28-10 | BT40 | BT40-Q26-50 | ECCB-53 | Q26-EMAC6110-61 + ECC-28-10 | 28.0 | 44.0 | 63.0 | EM09 | Finish |
| BT40-Q26-50 + ~ + Q26-EMAC6110-61 + EJ16-16-60 | BT40 | BT40-Q26-50 | ~ | Q26-EMAC6110-61 + EJ16-16-60 | 16.0 | 23.0 | 50.0 | EM09 | Finish |
| BT40-Q26-50 + ~ + Q26-EMAC6110-61 + EJ16-22-68 | BT40 | BT40-Q26-50 | ~ | Q26-EMAC6110-61 + EJ16-22-68 | 22.0 | 30.0 | 68.0 | EM09 | Finish |
| BT40-Q26-50 + ~ + Q26-EMAC6110-61 + EJ16-6-21 | BT40 | BT40-Q26-50 | ~ | Q26-EMAC6110-61 + EJ16-6-21 | 6.0 | 8.0 | 21.0 | EM02 | Finish |
| BT40-Q26-50 + ~ + Q26-EMAC6110-61 + EJ16-8-28 | BT40 | BT40-Q26-50 | ~ | Q26-EMAC6110-61 + EJ16-8-28 | 8.0 | 12.0 | 28.0 | EM02 | Finish |
| BT40-Q26-50 + ~ + Q26-EMAC6110-61 + EJ16-8-40 | BT40 | BT40-Q26-50 | ~ | Q26-EMAC6110-61 + EJ16-8-40 | 11.0 | 17.0 | 40.0 | EM02 | Finish |
| BT50-Q26-65 + ~ + Q26-EMAC6110-61 + EJ16-6-21 | BT50 | BT50-Q26-65 | ~ | Q26-EMAC6110-61 + EJ16-6-21 | 6.0 | 8.0 | 21.0 | EM02 | Finish |
| BT50-Q26-65 + ~ + Q26-EMAC6110-61 + EJ16-8-28 | BT50 | BT50-Q26-65 | ~ | Q26-EMAC6110-61 + EJ16-8-28 | 8.0 | 12.0 | 28.0 | EM02 | Finish |
| BT50-Q26-65 + ~ + Q26-EMAC6110-61 + EJ16-8-40 | BT50 | BT50-Q26-65 | ~ | Q26-EMAC6110-61 + EJ16-8-40 | 11.0 | 17.0 | 40.0 | EM02 | Finish |
| HSK100A-Q26-170N + ECC-54-BM10 + Q26-EMAC6110-61 + ECC-54-19 | HSK100A | HSK100A-Q26-170N | ECC-54-BM10 | Q26-EMAC6110-61 + ECC-54-19 | 54.0 | 86.0 | 80.0 | EM11 | Finish |
| HSK100A-Q26-170N + ECCP-14 + ECC-92-CW + Q26-EMAC6110-61 + ECC-54-19 | HSK100A | HSK100A-Q26-170N | ECCP-14 + ECC-92-CW | Q26-EMAC6110-61 + ECC-54-19 | 92.0 | 110.0 | 94.0 | EM11 | Finish |
| HSK100A-Q26-170N + ECCP-14 + Q26-EMAC6110-61 + ECC-54-19 | HSK100A | HSK100A-Q26-170N | ECCP-14 | Q26-EMAC6110-61 + ECC-54-19 | 80.0 | 100.0 | 94.0 | EM11 | Finish |
| HSK63A-Q26-95 + ECCB-53 + Q26-EMAC6110-61 + ECC-28-10 | HSK63A | HSK63A-Q26-95 | ECCB-53 | Q26-EMAC6110-61 + ECC-28-10 | 28.0 | 44.0 | 63.0 | EM09 | Finish |
| HSK63A-Q26-95 + ~ + Q26-EMAC6110-61 + EJ16-16-60 | HSK63A | HSK63A-Q26-95 | ~ | Q26-EMAC6110-61 + EJ16-16-60 | 16.0 | 23.0 | 50.0 | EM09 | Finish |
| HSK63A-Q26-95 + ~ + Q26-EMAC6110-61 + EJ16-22-68 | HSK63A | HSK63A-Q26-95 | ~ | Q26-EMAC6110-61 + EJ16-22-68 | 22.0 | 30.0 | 68.0 | EM09 | Finish |
| IT40-Q26-50 + ~ + Q26-EMAC6110-61 + EJ16-6-21 | IT40 | IT40-Q26-50 | ~ | Q26-EMAC6110-61 + EJ16-6-21 | 6.0 | 8.0 | 21.0 | EM02 | Finish |
| IT40-Q26-50 + ~ + Q26-EMAC6110-61 + EJ16-8-28 | IT40 | IT40-Q26-50 | ~ | Q26-EMAC6110-61 + EJ16-8-28 | 8.0 | 12.0 | 28.0 | EM02 | Finish |
| IT40-Q26-50 + ~ + Q26-EMAC6110-61 + EJ16-8-40 | IT40 | IT40-Q26-50 | ~ | Q26-EMAC6110-61 + EJ16-8-40 | 11.0 | 17.0 | 40.0 | EM02 | Finish |
| IT50-Q26-170N + ECC-54-BM10 + Q26-EMAC6110-61 + ECC-54-19 | IT50 | IT50-Q26-170N | ECC-54-BM10 | Q26-EMAC6110-61 + ECC-54-19 | 54.0 | 86.0 | 80.0 | EM11 | Finish |
| IT50-Q26-170N + ECCB-53 + Q26-EMAC6110-61 + ECC-36-11.5 | IT50 | IT50-Q26-170N | ECCB-53 | Q26-EMAC6110-61 + ECC-36-11.5 | 36.0 | 56.0 | 63.0 | EM09 | Finish |
| IT50-Q26-170N + ECCP-14 + Q26-EMAC6110-61 + ECC-54-19 | IT50 | IT50-Q26-170N | ECCP-14 | Q26-EMAC6110-61 + ECC-54-19 | 80.0 | 100.0 | 94.0 | EM11 | Finish |
| MBT40-Q26-95 + ~ + Q26-EMAC6110-61 + EJ16-16-60 | MBT40 | MBT40-Q26-95 | ~ | Q26-EMAC6110-61 + EJ16-16-60 | 16.0 | 23.0 | 50.0 | EM09 | Finish |
| MBT40-Q26-95 + ~ + Q26-EMAC6110-61 + EJ16-22-68 | MBT40 | MBT40-Q26-95 | ~ | Q26-EMAC6110-61 + EJ16-22-68 | 22.0 | 30.0 | 68.0 | EM09 | Finish |
| MBT40-Q26-95 + ~ + Q26-EMAC6110-61 + EJ16-8-40 | MBT40 | MBT40-Q26-95 | ~ | Q26-EMAC6110-61 + EJ16-8-40 | 11.0 | 17.0 | 40.0 | EM02 | Finish |
| MBT50-Q26-65 + ECC-54-BM10 + Q26-EMAC6110-61 + ECC-54-19 | MBT50 | MBT50-Q26-65 | ECC-54-BM10 | Q26-EMAC6110-61 + ECC-54-19 | 54.0 | 86.0 | 80.0 | EM11 | Finish |
| MBT50-Q26-65 + ECCP-14 + ECC-92-CW + Q26-EMAC6110-61 + ECC-54-19 | MBT50 | MBT50-Q26-65 | ECCP-14 + ECC-92-CW | Q26-EMAC6110-61 + ECC-54-19 | 92.0 | 110.0 | 94.0 | EM11 | Finish |
| MBT50-Q26-65 + ECCP-14 + Q26-EMAC6110-61 + ECC-54-19 | MBT50 | MBT50-Q26-65 | ECCP-14 | Q26-EMAC6110-61 + ECC-54-19 | 80.0 | 100.0 | 94.0 | EM11 | Finish |
| NBT50-Q26-65 + ~ + Q26-EMAC6110-61 + EJ16-6-21 | NBT50 | NBT50-Q26-65 | ~ | Q26-EMAC6110-61 + EJ16-6-21 | 6.0 | 8.0 | 21.0 | EM02 | Finish |
| NBT50-Q26-65 + ~ + Q26-EMAC6110-61 + EJ16-8-28 | NBT50 | NBT50-Q26-65 | ~ | Q26-EMAC6110-61 + EJ16-8-28 | 8.0 | 12.0 | 28.0 | EM02 | Finish |
| NBT50-Q26-65 + ~ + Q26-EMAC6110-61 + EJ16-8-40 | NBT50 | NBT50-Q26-65 | ~ | Q26-EMAC6110-61 + EJ16-8-40 | 11.0 | 17.0 | 40.0 | EM02 | Finish |