For optimum versatility NIKKEN's DJ modular boring system adopts simply two sizes of head alongside an ever increasing range of boring bits. This makes the NIKKEN DJ perfect to meet the demands of smaller boring processes.
The system allows for micron accuracy and adjustment catering any requirement and material by simply replacing the boring bit itself. The range of adjustment provided by the boring head remains the same with the step increase in diameter being fundamentally achieved by the respective boring bit chosen.
The NIKKEN DJ features a main body/head with a micron adjustment dial which actuates a slide containing a bore to mount a wide range of boring bit.
Based around two sizes of DJ head and the corresponding two sizes of boring bit the scope and range possible from the solution is extremely useful for most processes and requirements.
Our DJ adjustment dial is very precise and features a main graduated dial marked at 0.01mm increments alongside a vernier style housing which is read using a 0.005mm scale - using this combined solution provides and ensures smooth adjustment and high precision boring.
As stated earlier NIKKEN's DJ modular head is available in two sizes:
DJ3 - Boring range from 3.0mm to 28.0mm.
DJ8 - Boring range from 5.0mm to 50.0mm.
DJ Boring bits, on the whole, feature solid carbide shanks for optimum performance and anti-vibration capabilities which are available in two ranges - J10 (for DJ3) and J16 (for DJ8).
We also have available our 9DJ8-J10-ADP adaptor sleeve which allows the smaller J10 boring bits to be used in conjunction with the DJ8 boring head.
Options for the DJ include the possiblity for centre through coolant supply (please contact us) and also a complete 'boxed set' containing one boring head and a selection of boring bits - check the catalogue for more details.
Straight forward, precise and accurate micron adjustment

Carbide boring bits as standard to negate vibration

New adaptor sleeve available - DJ8 can use DJ3 boring bits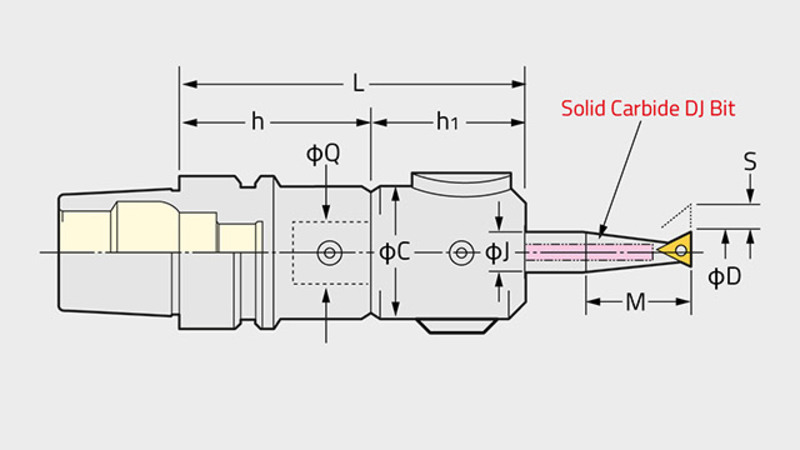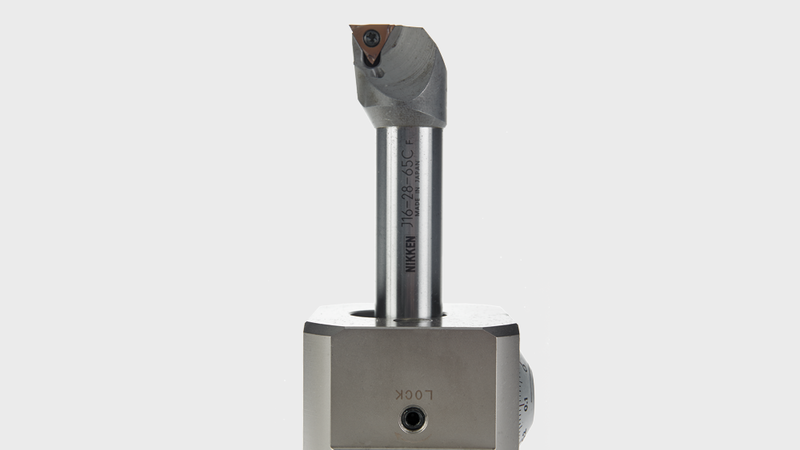 | | Shank | BORING ARBOR | SPACER/PLATE | HEAD/CARTRIDGE/BIT | DIA 'D' MIN | DIA 'D' MAX | BORING DEPTH 'H' | INSERT | APPLICATION |
| --- | --- | --- | --- | --- | --- | --- | --- | --- | --- |
| BT40-Q26-50 + ~ + Q26-DJ3-40A-BD + J10-3-14 | BT40 | BT40-Q26-50 | ~ | Q26-DJ3-40A-BD + J10-3-14 | 3.0 | 8.0 | 14.0 | ~ | Finishing |
| BT40-Q26-50 + ~ + Q26-DJ3-40A-BD + J10-5-30 | BT40 | BT40-Q26-50 | ~ | Q26-DJ3-40A-BD + J10-5-30 | 5.0 | 15.0 | 30.0 | CC03 | Finishing |
| BT40-Q26-50 + ~ + Q26-DJ3-40A-BD + J10-5-35 | BT40 | BT40-Q26-50 | ~ | Q26-DJ3-40A-BD + J10-5-35 | 5.0 | 15.0 | 35.0 | CC03 | Finishing |
| BT40-Q26-50 + ~ + Q26-DJ3-40A-BD + J10-8-35 | BT40 | BT40-Q26-50 | ~ | Q26-DJ3-40A-BD + J10-8-35 | 8.0 | 18.0 | 35.0 | 3MP | Finishing |
| BT40-Q26-50 + ~ + Q26-DJ3-40A-BD + J10-8-40 | BT40 | BT40-Q26-50 | ~ | Q26-DJ3-40A-BD + J10-8-40 | 8.0 | 18.0 | 40.0 | 3MP | Finishing |
| BT40-Q26-50 + ~ + Q26-DJ3-40A-BD + J10-8-55 | BT40 | BT40-Q26-50 | ~ | Q26-DJ3-40A-BD + J10-8-55 | 8.0 | 18.0 | 55.0 | 3MP | Finishing |
| HSK63A-Q26-50 + ~ + Q26-DJ3-40A-BD + J10-5-30 | HSK63A | HSK63A-Q26-50 | ~ | Q26-DJ3-40A-BD + J10-5-30 | 5.0 | 15.0 | 30.0 | CC03 | Finishing |
| HSK63A-Q26-50 + ~ + Q26-DJ3-40A-BD + J10-5-35 | HSK63A | HSK63A-Q26-50 | ~ | Q26-DJ3-40A-BD + J10-5-35 | 5.0 | 15.0 | 35.0 | CC03 | Finishing |
| HSK63A-Q26-50 + ~ + Q26-DJ8-44AN-BD + J16-5-25 | HSK63A | HSK63A-Q26-50 | ~ | Q26-DJ8-44AN-BD + J16-5-25 | 5.0 | 15.0 | 25.0 | CC03 | Finishing |
| HSK63A-Q26-50 + ~ + Q26-DJ8-44AN-BD + J16-5-35 | HSK63A | HSK63A-Q26-50 | ~ | Q26-DJ8-44AN-BD + J16-5-35 | 5.0 | 15.0 | 35.0 | CC03 | Finishing |
| HSK63A-Q26-95 + ~ + Q26-DJ3-40A-BD + J10-5-30 | HSK63A | HSK63A-Q26-95 | ~ | Q26-DJ3-40A-BD + J10-5-30 | 5.0 | 15.0 | 30.0 | CC03 | Finishing |
| HSK63A-Q26-95 + ~ + Q26-DJ3-40A-BD + J10-5-35 | HSK63A | HSK63A-Q26-95 | ~ | Q26-DJ3-40A-BD + J10-5-35 | 5.0 | 15.0 | 35.0 | CC03 | Finishing |
| HSK63A-Q26-95 + ~ + Q26-DJ8-44AN-BD + J16-5-25 | HSK63A | HSK63A-Q26-95 | ~ | Q26-DJ8-44AN-BD + J16-5-25 | 5.0 | 15.0 | 25.0 | ~ | Finishing |
| HSK63A-Q26-95 + ~ + Q26-DJ8-44AN-BD + J16-5-35 | HSK63A | HSK63A-Q26-95 | ~ | Q26-DJ8-44AN-BD + J16-5-35 | 5.0 | 15.0 | 35.0 | CC03 | Finishing |